Delicious marinade for pork ribs
Pork ribs are not only very tasty, but also a healthy dish. They contain enough protein, vitamins of group B, E and PP, as well as minerals that are important for the body. Ribs are fried in a pan, baked in the oven or grilled. An important step in the preparation of meat for the cooking process is pickling. Due to long-term presence in spices and spices, the product becomes tender, juicy and acquires a special taste and aroma. In our article we will tell about how to cook marinade for pork ribs. Choose from several recipes from different ingredients.
Pork ribs in honey marinade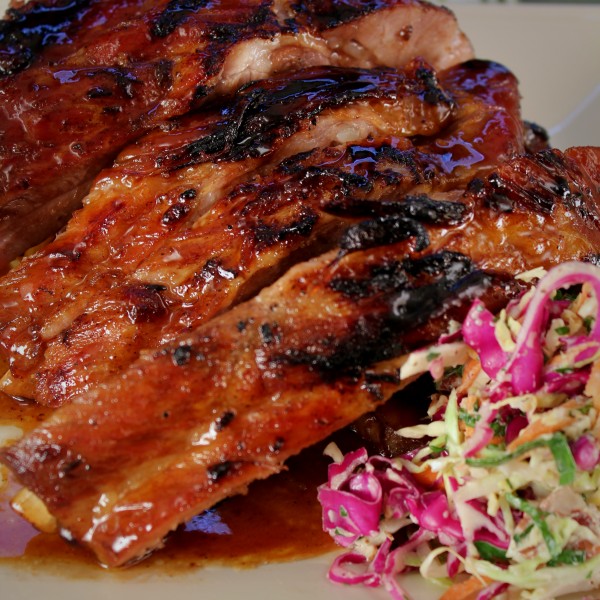 Juicy and soft meat with a spicy sweetish flavor can be obtained by preparing it according to the following recipe. Ribs are baked in the sleeve, which allows them to be tender, literally melting in the mouth. And in order for the pork to turn a ruddy and delicious crust, the package is recommended to be cut before removing it from the oven.Immediately before cooking, the meat should be well marinated for 3-4 hours.
Preparing marinade for pork ribs with honey and olive oil (2 tbsp. Spoons), soy sauce (4 tbsp. Spoons), mustard (1 tbsp.), Vinegar 6% (1 tbsp. Spoon) and garlic squeezed through a press ( 3 slices). First, each piece of meat (500 g) is rubbed with hands with black pepper. Then the ribs are mixed with the marinade, after which the container is covered with cling film and sent to the refrigerator. After 4 hours, the meat is transferred to the baking sleeve and sent to the preheated 200 ° oven for 40 minutes. In order to brown the package, you need to cut it and continue cooking for another 15 minutes.
Roasted ribs in honey-wine marinade
According to this recipe, the meat can be baked in the oven or cooked in a pan. Regardless of the option chosen, the ribs will be equally soft. But the success of the dish is not in the way of cooking, but in the marinade. It is thanks to the correctly selected spices that the meat acquires a special taste, aroma and appetizing crust.
According to this recipe, pork ribs in marinade are prepared in the following sequence:
In a deep bowl, mix dry wine (75 ml), honey and lemon juice (1 tablespoon), olive oil (3 tablespoons), garlic (2 slices), sliced ​​plates, dried basil, black pepper, salt and bay leaf .
Pork ribs (700-800 g) are dipped into cooked marinade. The bowl is covered with foil and sent to the refrigerator.
To fry ribs, they must be laid out on a hot frying pan along with a portion of the marinade. Cooked meat under the lid for 15 minutes. Then the remaining marinade is poured to the ribs. Now they will roast until tender, until the liquid has completely evaporated and the crust acquires a beautiful color.
Soy marinade for pork ribs
This dish is recommended to cook in the oven. And the ribs are baked, not in a special sleeve and foil, but on a conventional baking sheet. Taste the dish gives the marinade for pork ribs. In the oven, this meat is incredibly soft.
Preparation of the marinade itself takes no more than 5 minutes. To do this, mix soy sauce (6-7 tablespoons) and a pinch of salt. It is important not to overdo it with spices, as soy sauce has a rather rich and specific taste.The ribs are sent to the cooked marinade for 2 hours, while during this time they need to be mixed periodically. Marinated meat is transferred to a baking sheet and sent to the oven for 40 minutes.
Spicy honey-soy marinade with balsamic vinegar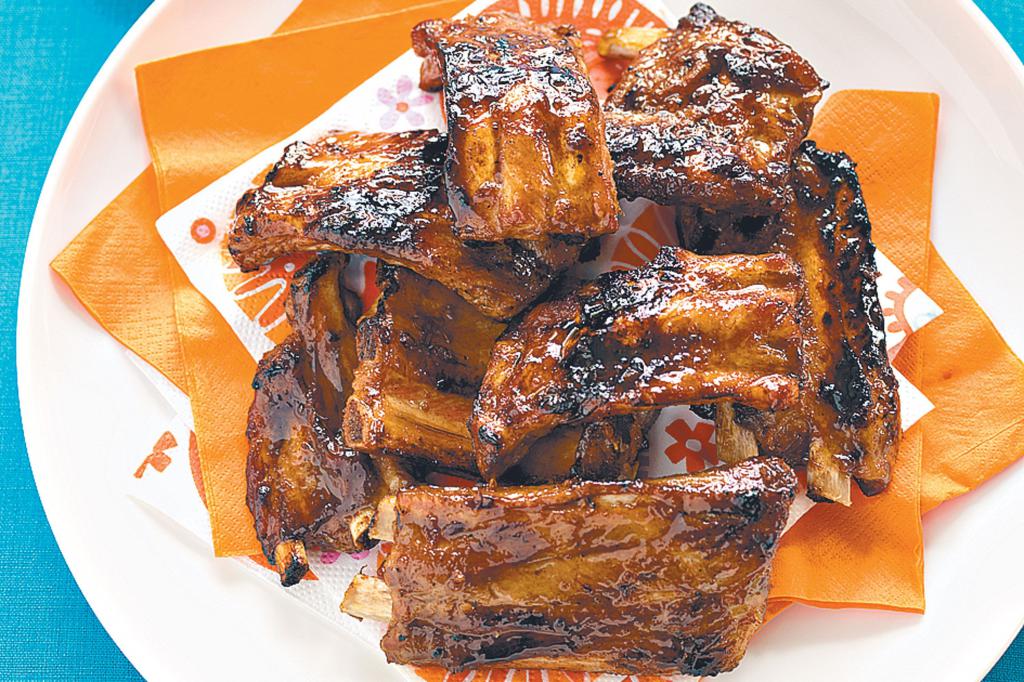 The following dish will especially appeal to lovers of oriental cuisine. Marinade for pork ribs prepared on the basis of soy sauce, honey and spicy spices. According to this recipe, we recommend cooking ribs in a frying pan. However, if desired, they can be baked in the oven or on the grill.
The step-by-step cooking process is as follows:
The ribs (600 g) are washed in clean water and dried with a towel.
In a deep bowl, the prepared meat is poured with soy sauce (3 tablespoons), balsamic vinegar, honey and olive oil (1 tablespoon each).
Further spices are added to the ribs (on a pinch of dried coriander, basil and marjoram), salt (1 tsp), red and black pepper (¼ tsp), and lemon juice (1 tbsp).
In the marinade, the meat is left for 2 hours.
To fry ribs, they are laid out on a pre-heated pan and covered with a lid.As soon as the meat is reddened on one side, it is turned over, it is poured with marinade and cooked until complete evaporation of the liquid and golden brown.
Recipe for tomato soy marinade for ribs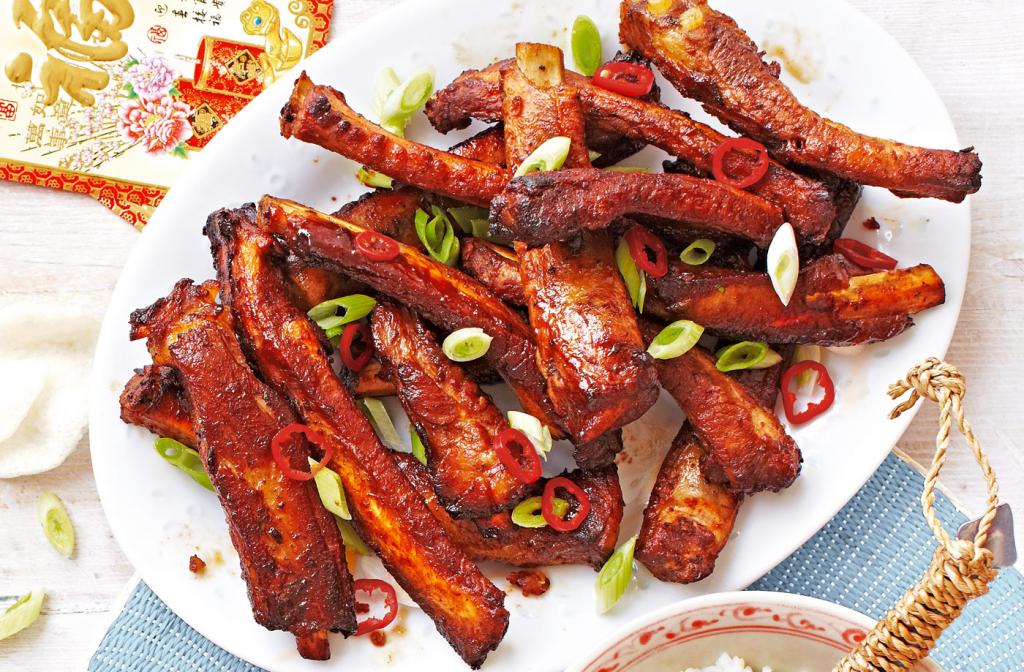 You can cook this dish right in the oven in a baking dish. But pre-ribs are recommended to marinate in soy and tomato sauce (ketchup), spices and herbs. Thanks to this method of cooking, the meat will become beautiful and fragrant.
Marinade for pork ribs (1200 g) is made from soy sauce (50 ml), ketchup (4 tablespoons), rosemary sprigs (3 pcs.), Squeezed through a garlic press (3 cloves) and black pepper. Salt is added at will (no more than a pinch). In such a marinade, the meat should "rest" for at least 1 hour. Immediately before baking, it should be mixed with vegetable oil (3 tbsp. Spoons) and put in a form. At a temperature of 200 ° pork will be cooked for 60 minutes.
Tasty ribs in mustard marinade in the oven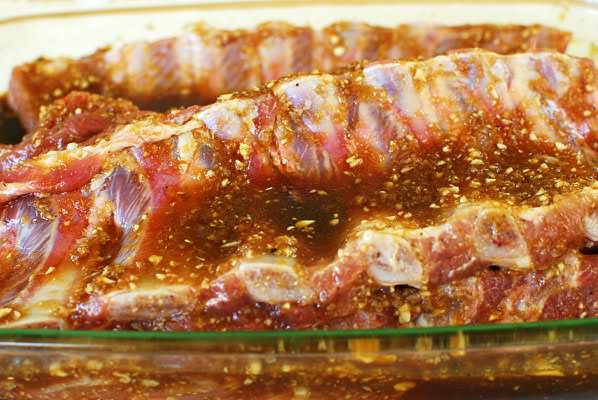 An interesting taste is the dish prepared according to the following recipe. For roasting pork ribs can be divided or cooked with a whole plate, and cut them already when eaten. The taste of the dish gives it the marinade.He also allows you to achieve a beautiful crust on top when baking.
To prepare the marinade you need to mix:
mustard - 2 tbsp. spoons;
vegetable oil - 5 tbsp. spoons;
garlic - 2 cloves;
dried parsley;
hops-suneli;
salt;
black pepper.
Each rib is rubbed with this marinade and sent to the refrigerator for at least 1 hour 30 minutes. Only then can you start cooking it.
Pork ribs in mustard marinade are baked in a preheated 200 ° oven for 50 minutes. The finished dish is recommended to be served with a side dish of rice.
Marinade for ribs on the grill with orange juice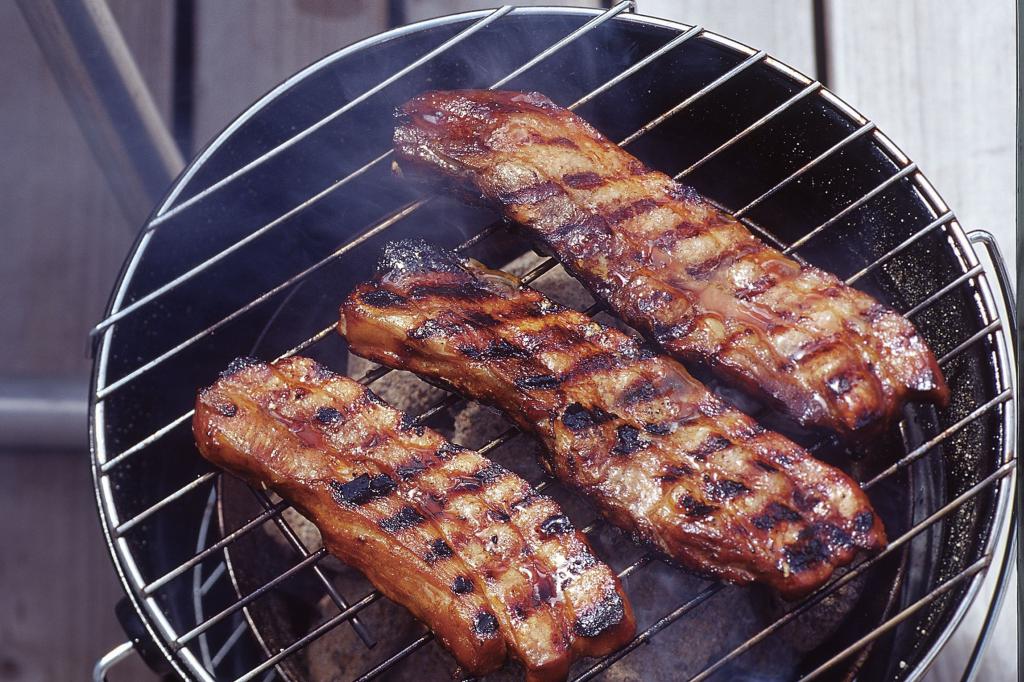 Juicy kebabs can be cooked not only from a pork neck. No less tasty dish is obtained from pork ribs. Marinade is prepared for him very simply. The recipe is designed for 1.5-1.7 kg of young pork ribs. Step by step preparation is as follows:
The ribs are washed, dried and cut into batch segments. The meat is folded into a large pot.
Finely chopped onion (2 pcs.) And poured out on top of the ribs. It can also be crushed in a blender, and for the marinade use the resulting gruel.
Orange juice (100 ml) is poured onto the ribs, soy and tomato sauce (60 ml), and honey (1.5 tablespoons) are added. This ingredient will promote the formation of an appetizing crust on meat.
As spices, it is recommended to use a mixture of peppers and sweet paprika.
Spicy herbs (basil, cilantro, parsley) add a pleasant flavor to the dish. Fresh greens are recommended to chop and add to the pan to the ribs.
All ingredients must be thoroughly mixed by hand, and the meat put in the fridge overnight so that it is well marinated.
Fry ribs on the grill over the burned coal for 20 minutes.
Garlic marinade for ribs
This dish cooked on the grill will have a savory taste and aroma. For garlic marinade, in addition to the main ingredient, and you need a whole head of it, low-fat sour cream (300 ml) or kefir is used. It is fermented milk products that make meat soft and very tasty.
For the marinade, you must mix the squeezed garlic, chopped onion, sour cream or kefir, salt, dill, parsley, cilantro. The ribs are mixed with the marinade and put in the fridge for at least 3 hours.Only then can the meat be grilled.
Marinade for ribs with onions and vinegar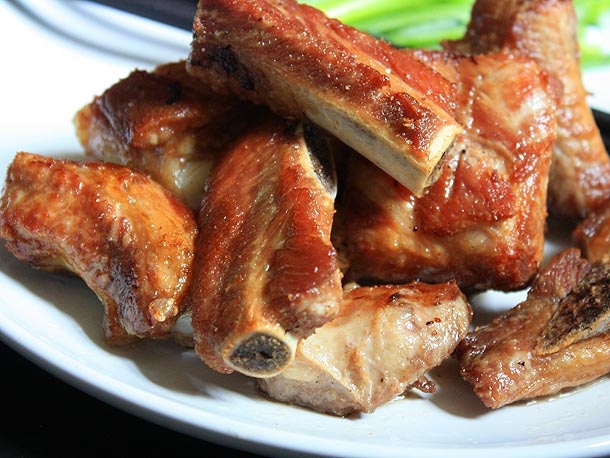 If you plan to roast meat on the grill in the near future, it is not recommended to put the pan with pork in the marinade in the fridge. So ribs marinate faster. It will be enough just 2-3 hours.
To prepare the marinade, mix the rings of two onions, sliced ​​garlic (2 cloves), black pepper and a pinch of hot, salt and 9% vinegar (50 ml). The resulting marinade is poured into ribs cut into portions, folded into a saucepan. The meat is mixed, after which the pan is covered with a lid. If you plan to fry it the next day, then you need to put the pan in the fridge. In the process of cooking the ribs are recommended to water with marinade Then their taste will be more vivid.
Related news
Delicious marinade for pork ribs image, picture, imagery