How to make a flash drive from epoxy resin, exotic wood and mammoth tusk
Today we will talk about how I make these flash drives:
So, let's begin! The woods that I use as material, unfortunately, are not lying around in the garbage bin, and they stand very well (this means that some people think that for these purposes, you can take everything that comes handy), these are wood pieces rosewood (sonokeling), ralichnye types of eben (fiery eben, eben saton, red eben and lunar eben). Well, I like these trees.
In addition to wood, I use epoxy resin. Yes, yes, yes, and again this epoxy hateful to many. Well, what to do if you can make from it, both good things and not so ...
Yes, I started with the little rings (but not about them now), I didn't get it, though I didn't get it, but I did it to flash drives. Often I add a phosphor, a substance in the form of a powder,able to glow in the dark and in ultraviolet light, for example in clubs in neon light (phosphorus is not there), safe for life and health (even a copy of the certificate is available). I decided to sort out a bit and included the bolsters in the production technology.
Bolsters flash drives do this mammoth tusk! As you know, mammoths died out about 10,000 years ago, but their tusks suitable for carving on them continue to be found in the permafrost in Siberia and Canada.
- Nickel silver (copper-nickel with the addition of zinc alloy, in appearance and properties similar to silver, but much cheaper), for this I use my hard earned money. Yes, coins of 1 and 2 ruble denominations until 2009 were made of this alloy.
Well, in principle, it is possible to finish this, but I promised to reveal the secrets ...
It all starts with the fact that an unfamiliar uncle comes in and claims that he works as a courier ... in fact, I'm happy for him! And God forbid that he liked the work very much. And this package brings me here:
Here with this content:
In order: after the planks of fiery eben, 5 planks of lunar eben, 5 planks of rosewood sonokeling, and two bars of eben saton! Here is my wealth.
As soon as I could take my eyes off this beauty, it was understood that all this will have to be cut sooner or later ... In the meantime, once again examining all this and getting incredible aesthetic pleasure.
An hour later, shedding tears, he took a measuring tool, marked out a pair of slats and began to saw.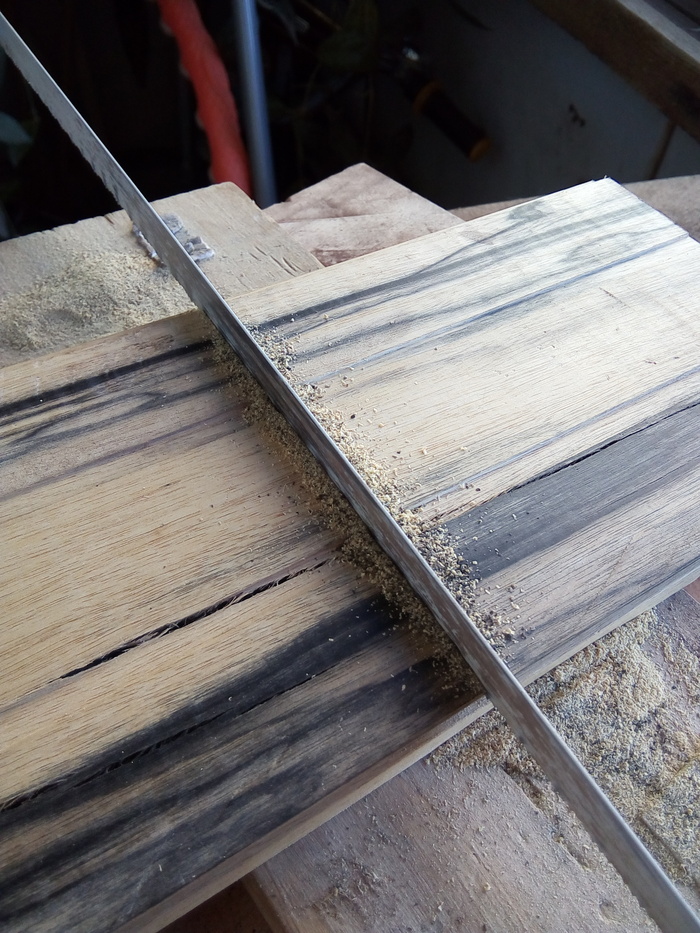 hard wood is very difficult to cut, they very quickly blunt any tool. But it's done, sawn slats: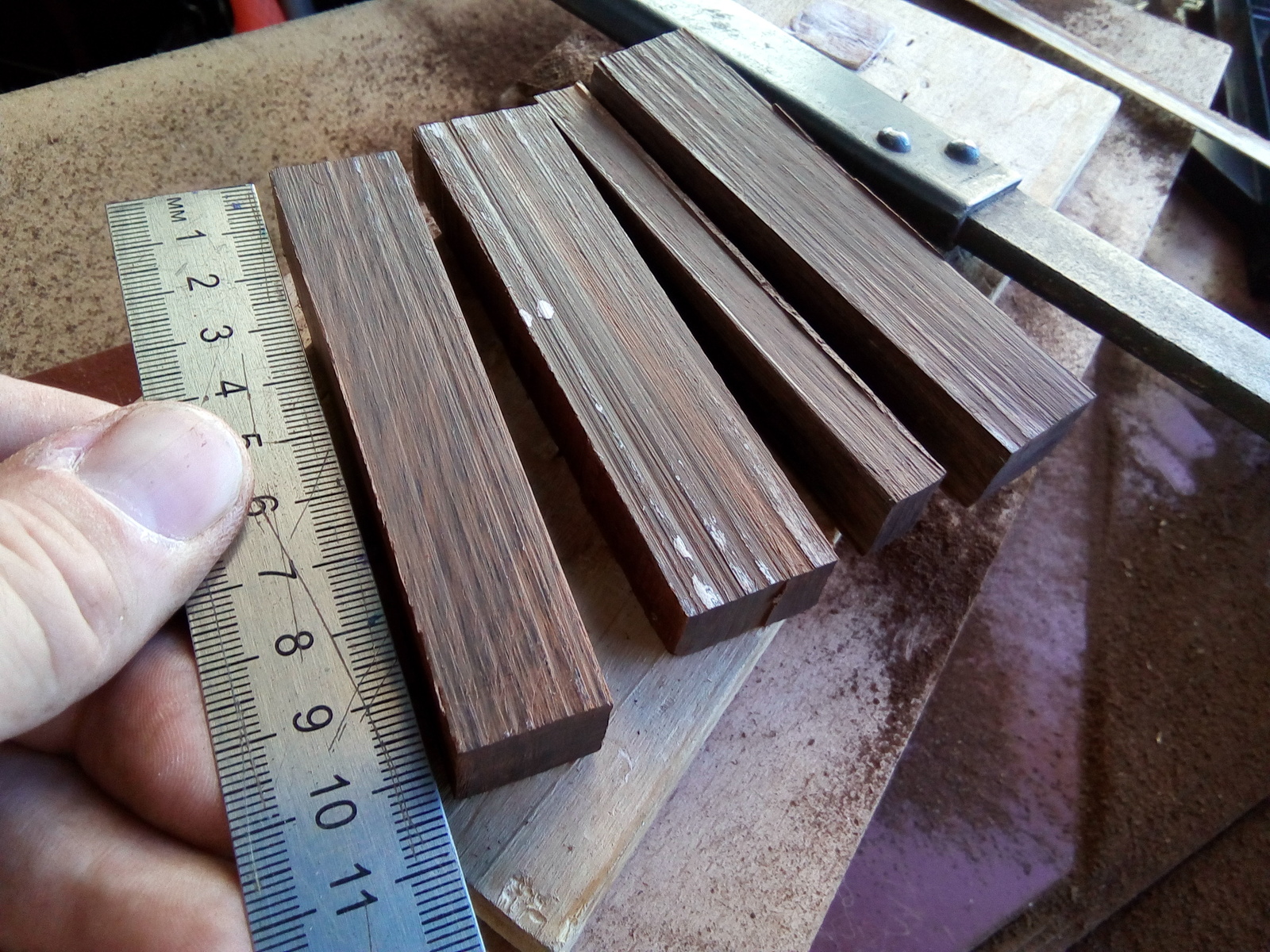 now it's all a break! Yes, exactly break. To do this, take a sledgehammer and go to the street, waving a sledgehammer, but to scare people.
We are swinging a sledgehammer, swearing at everything and everyone, showing sharpness, again swinging a sledgehammer, convincing the vigilant citizens that we are engaged in a harmless business and the police do not need to be called. When everything is broken and there is nothing more to break, it's just necessary to evaluate right there on the spot what and how it broke ... It broke down very beautifully. No wonder we have shown ingenuity. But not all the pieces were broken equally beautifully, there were also those that did not split properly and are no longer suitable for our purposes (I didn't even photograph them, they are not so beautiful) ... But, as they say, they don't leave those killed,we, too, carefully fold this illiquid in a bag and take it with us. There is not a lot of illiquid, but it is ... 15 percent. It may come in handy yet.
At home, we assess the situation in more detail and take a photo for memory:
And after this riot that was on the street, broken pieces of wood need their own personal individual "apartments" - "sarcophagi".
For this, it was decided to use a transparent polymer, so that this beauty could be seen. To do this, go to the wholesale store, where they sell everything for advertising and packaging. PET plastic is our choice! (epoxy does not stick to it)
For each piece of broken wood, we make transparent "houses" for individual sizes and paste over all of this with adhesive tape of the "adhesive tape" type, also transparent: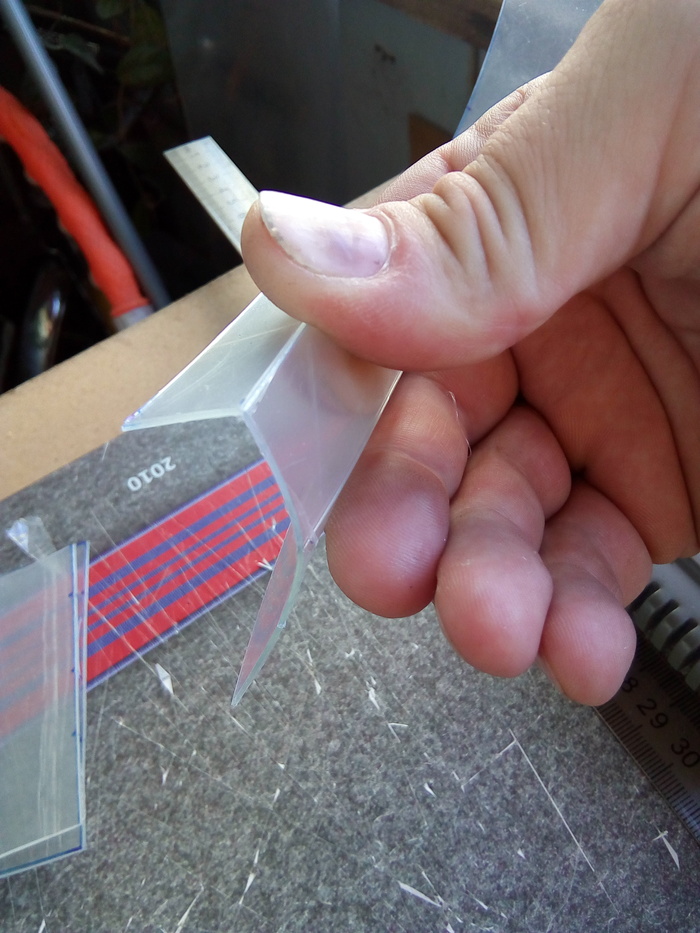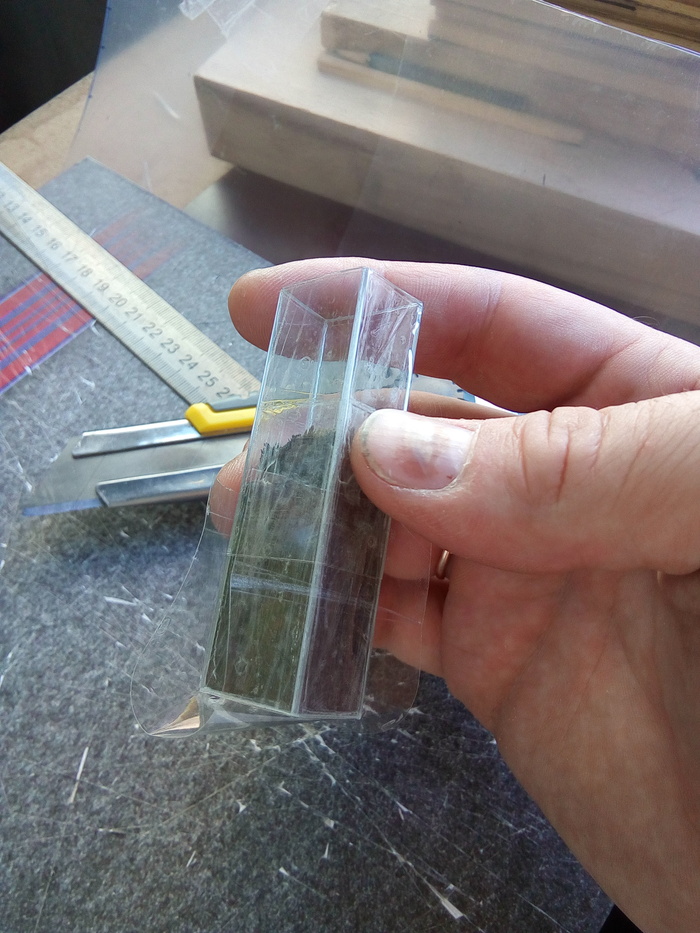 The first stage of preparation of blanks completed. Everything is broken and packed. You can admire this beauty for a long time, but something has to be done about it ... The next stage is pouring resin.
We order epoxy resin, but not the one that is sold in hardware and construction stores, no, it's yellow there and not pretty, but cheap. But no, we are not looking for simple ways and order a transparent, expensive one. Beauty requires sacrifice! Just kidding, the resin we already had, previously ordered.
We put on personal protective equipment: a gas mask, a chemical protection suit and hedgehogs ... well, only glasses, a respirator and disposable gloves got excited (these measures are very important so that resin droplets do not get into my eyes when stirring, resin pairs, rather hardener (they say toxic), and disposable gloves after work and throwing is not a pity if I get my hands dirty. If you don't need to wash your white little hands with gloves with epoxy, you need to wash them ... with alcohol ... But you can't get them everywhere.
After these measures, we get down to business ... We knead the resin in disposable dishes (cups) according to the instructions attached to it (component A + component B, different resins or different batches of resin may differ in mixing ratio), respecting all proportions, stir for a long time, then pour in a clean glass, collecting all the droplets from the walls of the previous cup, add dyes (to taste) and again mix for a long time.
Then we remember that we forgot to fill in the phosphor on the blanks, yes, yes, yes this is exactly what you thought ... powder that glows ... in the dark and at discotheques and in different tanning beds (in neon and ultraviolet light).Pour colorless powder into our "flats" for wood, right on the tops of mountains, forests, fields and rivers, and immediately fill with mixed resin and set to freeze. After 24 hours or better later, you can remove the tape and plastic. By the way, plastic, if properly removed, it can be used again to fill.
In 24 hours, the wood will look like this: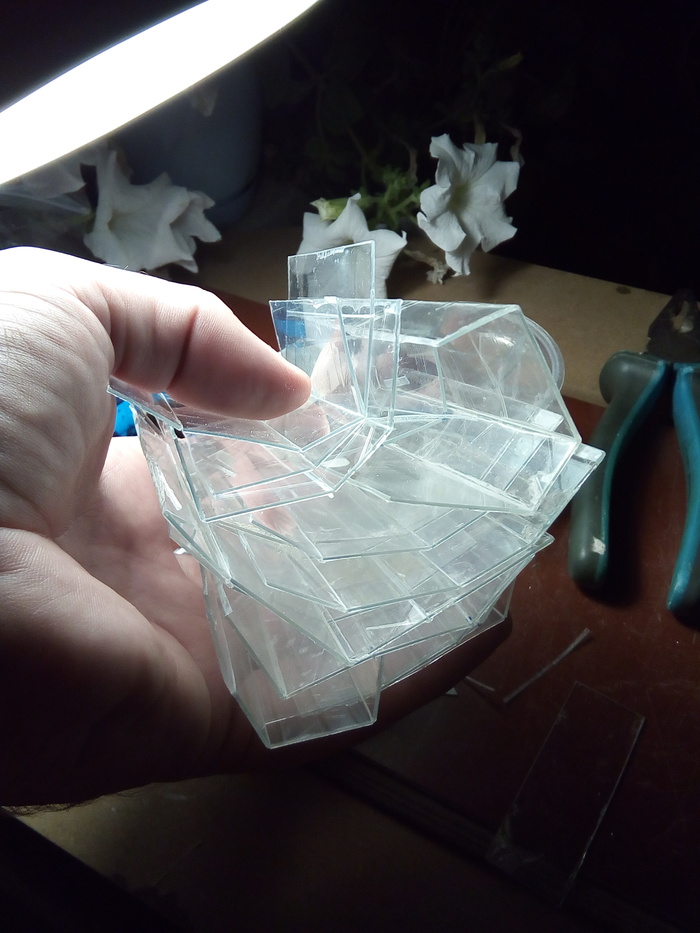 if you are not very lucky and the resin boils, you can get such a blank (marriage)
The fill phase is now complete. Now the most interesting and difficult - sawing, grinding, drilling, polishing and .... Bolsters .... !!!! Bolsters, probably from the word "pain"))) just kidding
I learned that the coins of the Russian Federation in denominations of 1 p, and 2 p. Until 2009, they were made of nickel silver (those that do not magnetise) and which we still have many in our wallets for. Very nice metal, very similar to silver, but eventually tarnishes a little. If you again go polishing paste - sparkles with a pure silver mirror
So, we drill a hole in the middle of the coin with a drill for a metal with a diameter of 3.2 mm. I put this drill right into the collet of a Chinese mini-drill (a cheap equivalent of DREMEL). You can drill 3 holes in a row,then I bring these holes with different files (round, square and flat) in such a size that the connector from the flash drive is inserted (each bolster needs to be customized to a specific flash drive, because it was this: it fitted very well under one flash drive, and decided to put this bolster is different ... so the new flash drive didn't get there (literally some tenths of a mm).
After the central part is cut out and squandered with files, you can proceed to polishing the remaining relief of the coin. I use for this sandpaper from 80 grit. Having tried to do it just with my fingers, in 40 seconds I realized that such a locomotive would not fly. I had to turn on my wits again ... as a result, it was decided to grind relief on the grinding wheel with pliers on the grinding wheel ... after another 10 seconds I realized that all this was not correct, because during these 10 seconds the coin flowed from one side to foil thickness untouched ... After that, I had to turn on my imagination ... Already with the new coin, without any holes and working with needle files, I came to the following decision: to a plastic cap from a plastic bottle (always with
the flat side (for many, the lid is slightly convex)), we glue the foamed double-sided tape. On the other sticky side, glue the coin and manually begin to grind 80 grit on sandpaper. It became quite comfortable to do it. From the ground surface, it is immediately obvious which side is grinding more, because we do it with our hands and not at the machine, we constantly control the process. After 7-10 minutes, on the one hand, the relief is ground off completely. Further, the same side can go through the sandpaper 120 grit just a little bit, that would remove very very rough risks from the previous sandpaper. We will not polish this side, for better adhesion to the body of the flash drive. Next, peel the coin off the tape with the pieces of the foam tape itself, with your fingers as if erasing the tape on the back of the coin. Next, with the stowed side we glue on the double-sided tape to the plane of the lid and do the same thing removing the relief from the coin. After the relief is removed, we continue to grind this side on sandpaper 240, 320, 500. After that, we drill through the holes and process the needles, adjusting the size of the connector.
Further, when our unfinished bolster is put on this connector, we remove it from the connector and continue to grind, a little bit again on 500 sandpaper (to remove burrs) and then 800, 1200, 1500, 2000, 2500. After this sandpaper - M3 polishing paste 50417, turns our coin into a round piece of a mirror with a rectangular hole in the middle. We postpone this coin.
We take a mammoth tusk ... yes, yes, yes, it is his darling. Ask, where is it now mammoths are found ?! Or maybe someone will think that mammoths are listed in the Red Book ... Or maybe someone will not believe, and will decide that the author was deceived and lent him a piece of plastic ...
But no, the author knows that mammoths are still hiding from humans in the permafrost in Siberia. And it was from there from Siberia that the author received about 3 kg of the mammoth tusk, naturally in pieces (called the chip of the mammoth's tusk). The author would have had enough money for an entire piece of such a mass if he would have sold a kidney. But ... it became a pity for the kidney, but I wanted a mammoth, so I had to sell myself not in parts, but to buy a mammoth in small pieces.
So, a piece of mammoth of the right size picked up and sawed off. In the same way they worked with a coin, they brought out parallel planes on a piece of mammoth.They drilled a hole in the middle and neatly made files with the same rectangular hole as in a coin.
As soon as the hole is ready, proceed to grinding one side on azhdachka gradually reaching 2500 grit sandpaper. After that, knowing that the polishing paste contains water, and the mammoth's tusk does not like water (it has been there in water for 10,000 years) and can crack, we dry the polishing paste with a thin layer to a dry powder.
Then we rub the polished side with this powder, this side acquires a mirror glossy shine and reflects everything around like a mirror.
Preparation of both bolsters takes about 4 hours, the lion's share of the time it takes the work of files. Mammoth does not like overheating! When this stage is over, you can prepare a flash drive. Naturally, our product requires a donor ... naturally, not a kidney donor, but a donor for the insides of a flash drive.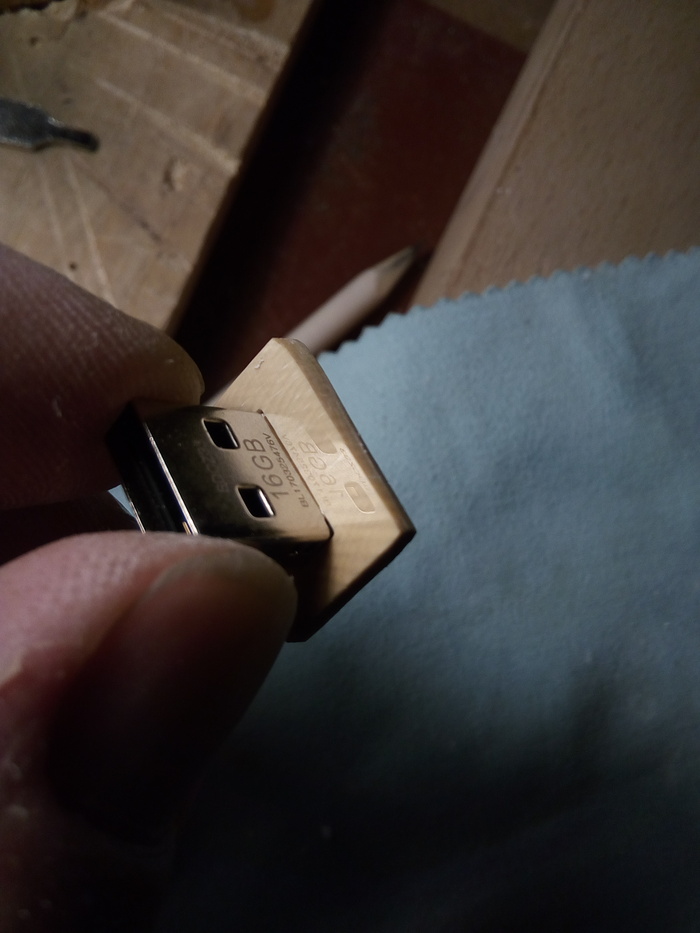 For this, we, knowing what we would do, went to the store for tea, coffee, potatoes and a flash drive and purchased just such a flash drive, a small one, and a gigantic 16 gigabytes.
To prepare it, you need to disassemble it. Since it is well too big.To do this, we squeeze the latch on the side surfaces with something sharp and gently separate the metal part from the plastic part. The main thing is not to break anything, we will need all the details in the future.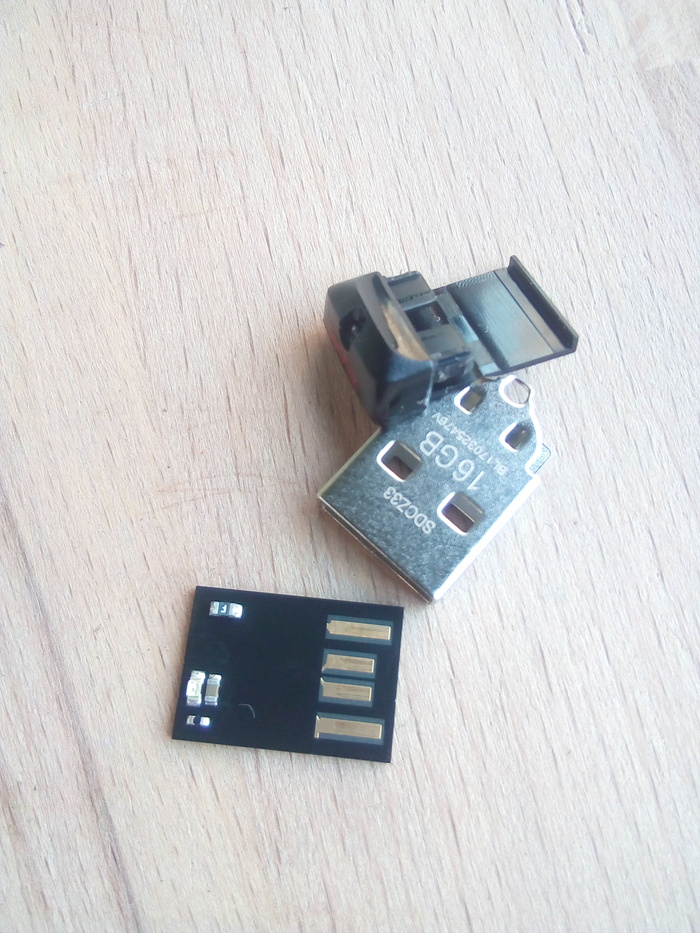 We make of it such a remnant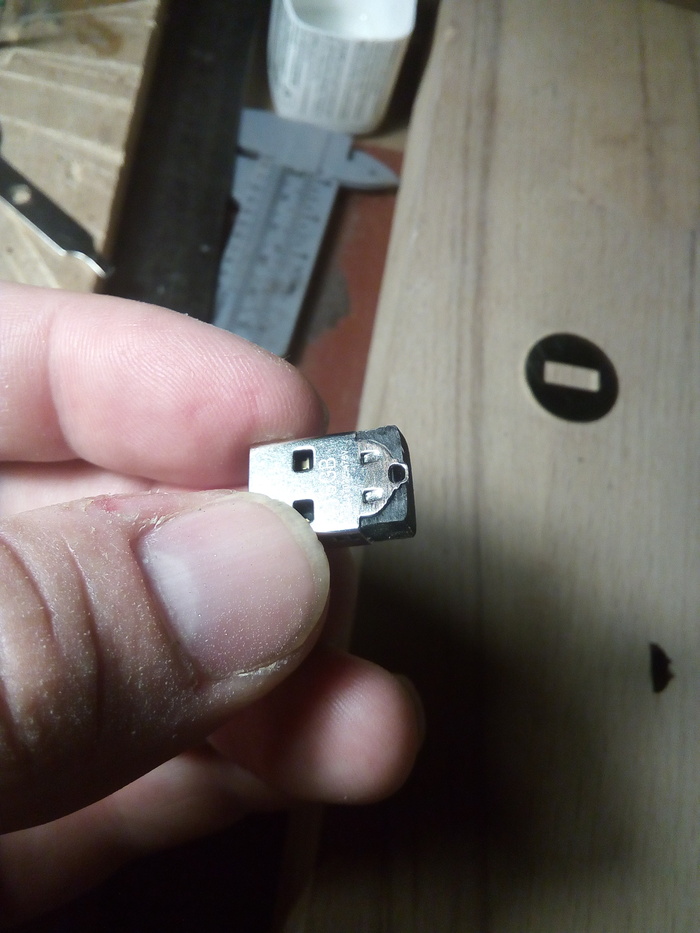 To do this, we grind all the excess! We remove the top relief flow of plastic. I do this with a drill with an emery nozzle. We remove the "sides" that protrude beyond the even sides, and we also remove the plastic from the bottom.
Yes, according to the tradition transferred from bobik1005, until the USB flash drive is ready and tested in work, we don't cut the nails !!! Why, yes, because with a fingernail you can pry something, or remove the mote. And someone may have another tradition - for example, not to cut a beard or mustache, or not to untie braids on the eyebrows ...
By the way, I almost forgot, the metal parts that will be inside the flash drive must be mated (scratch the sandpaper or I do it with a diamond cutter, for better fixation on the epoxy.
And this stage is complete!
The next step is to make the wooden blank for the flash drive. During this time, while we made the bolsters, tormented the mammoth, dismantled and assembled the electronic parts, the epoxy resin completely polymerized. We take one billet, try, whether the resin is frozen? If yes, then go to work with this blank.
The first thing we saw off too much and begin to grind. Yes, sandpaper))))
Terribly, terribly dusty this occupation! Wear all means of protection required and do it in clothes that you immediately throw in the wash (this is for those who work on the balcony or in the kitchen) !!! When grinding, we try not to cover the edges, and if they have already been filled up, then
we try to straighten everything. At this stage, you can use a band saw, jigsaw, grinder, in short what is sawing or polishing exactly !!! All corners here should be at 90 degrees (if there is no other idea). If you use a grinder or grinding wheel, be very careful not to waste too much !!! And then instead of a flash drive you have to make a pendant)))) or earrings))
At this stage, it is not necessary to bring our workpiece to a glassy sheen. In general, this product suits us so far.
Now we need to cut our billet across to get the upper part for the future flash drive and the cap. BUT!!!! It is necessary to cut immediately at exactly 90 degrees !!! Otherwise, then you torture to align.
sawed, trimmed, like exactly. But as it usually happens, I equated this case for another 30 minutes
Now that everything is smooth,we look for the middle on each part and drill a small hole in the body and the future cap, and then carefully cut out all unnecessary from the middle, so that the YUSB connector would enter. Everything in the heap, but not in the collection looks like this: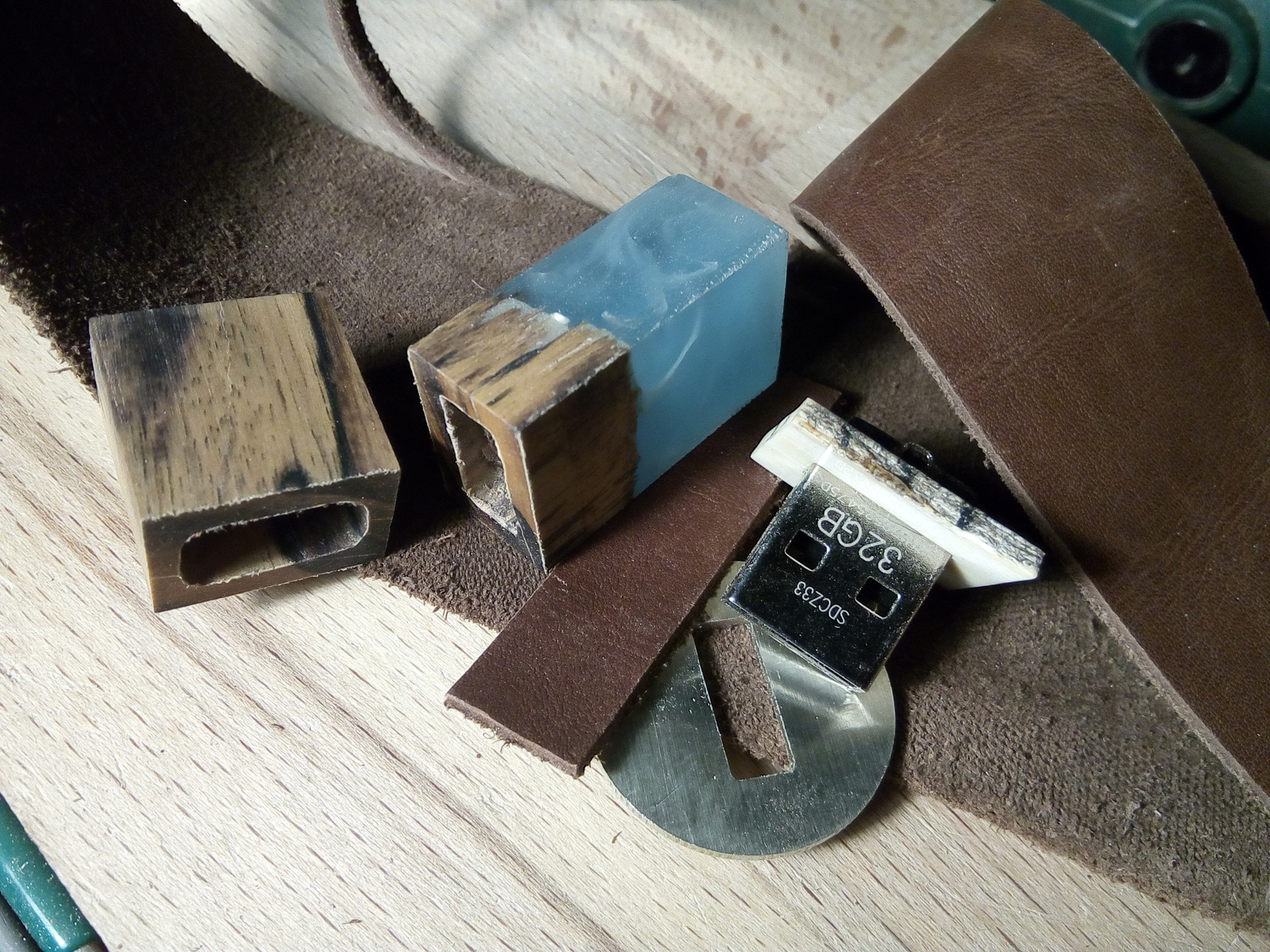 At this stage, you can all invest in each other and see if we all exactly? Are there any gaps between the parts? If everything is exactly you can start gluing.
We glue the skin to the cap, as well as the guts of the flash drive to the case, on the epoxy.
This can be said the most crucial moment !!! If the insert does not go smoothly and the epoxy is polymerized - everything ... what we have done can be thrown into the trash !!!!!! Because, either the lid will not close, or when we level it, we will use the walls.
Here is our flash drive at the time of gluing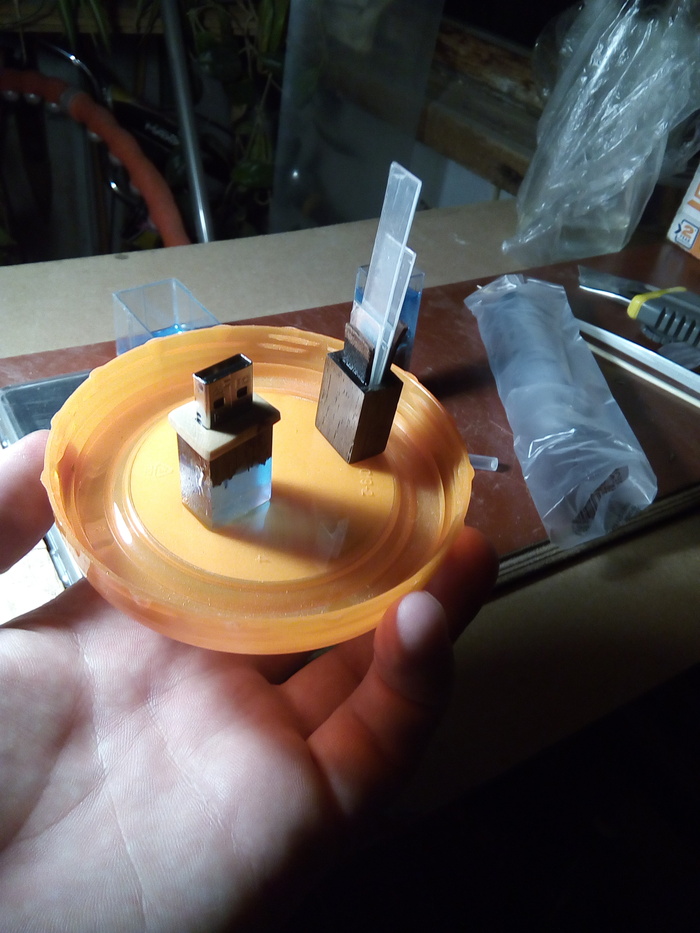 The skin in the cap is needed for the cap to hold tight.
After everything has been adjusted and glued a bolster, we have something like this:
We look, we admire. On this, in principle, you can finish it - it keeps, it works, you can say it's done!
But! Something gives me no peace ... there is no dream ... And my wife does not want to take this beauty in her hands either. He says that this garbage is complete.
Well, I think, can it wipe from dust? And we begin to wipe ... out of habit, first with sandpaper 60-80, as soon as sandpaper ceases to cling to the piece of iron,We begin to wipe the sandpaper 120, 240, 320, 500, 800, 1200, 1500, 2000, 2500 and then proceed to a soft cloth with polishing paste.
Wipe to shine! We also wipe the cap. I do it all separately, as when polishing metal parts, the cloth gets dirty becomes black (then it is washed off even with soap).
Then it is desirable and extremely helpful to cover it all with wax oil. I protect products Belinka oil (not advertising) just I had it.
A source
If you have a production or service about which you want to tell our readers, write Aslan () and we will make the best report that not only readers of the community, but also the site will see
How is it done
Once again I remind you that posts can now be read on
channel in Yandex.Dzene
and as usual in
instagram
. Click on the links, subscribe and comment, if the questions on the case, I always answer.
Related news
How to make a flash drive from epoxy resin, exotic wood and mammoth tusk
How to make a flash drive from epoxy resin, exotic wood and mammoth tusk
How to make a flash drive from epoxy resin, exotic wood and mammoth tusk
How to make a flash drive from epoxy resin, exotic wood and mammoth tusk
How to make a flash drive from epoxy resin, exotic wood and mammoth tusk
How to make a flash drive from epoxy resin, exotic wood and mammoth tusk
How to make a flash drive from epoxy resin, exotic wood and mammoth tusk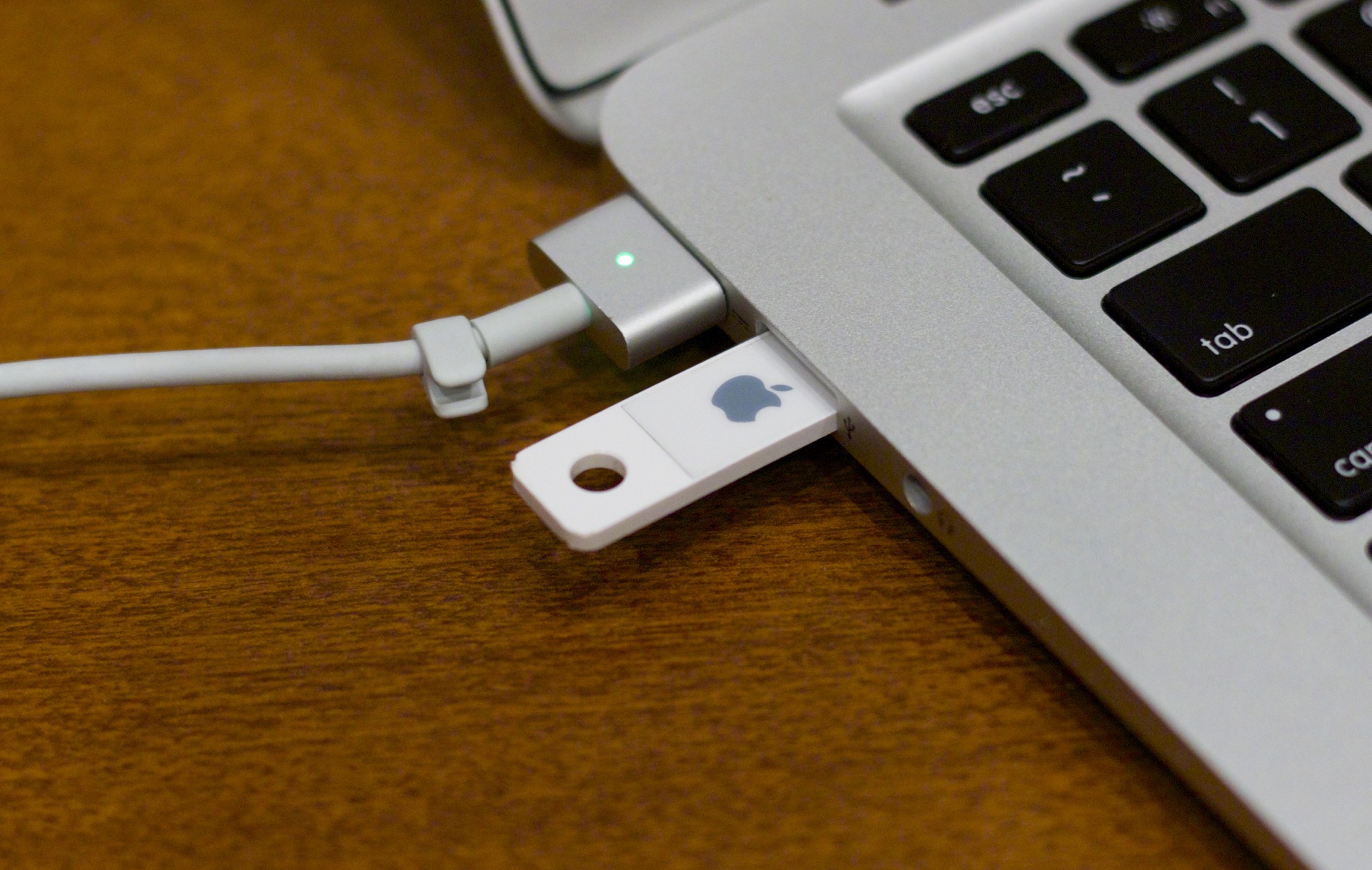 How to make a flash drive from epoxy resin, exotic wood and mammoth tusk
How to make a flash drive from epoxy resin, exotic wood and mammoth tusk
How to make a flash drive from epoxy resin, exotic wood and mammoth tusk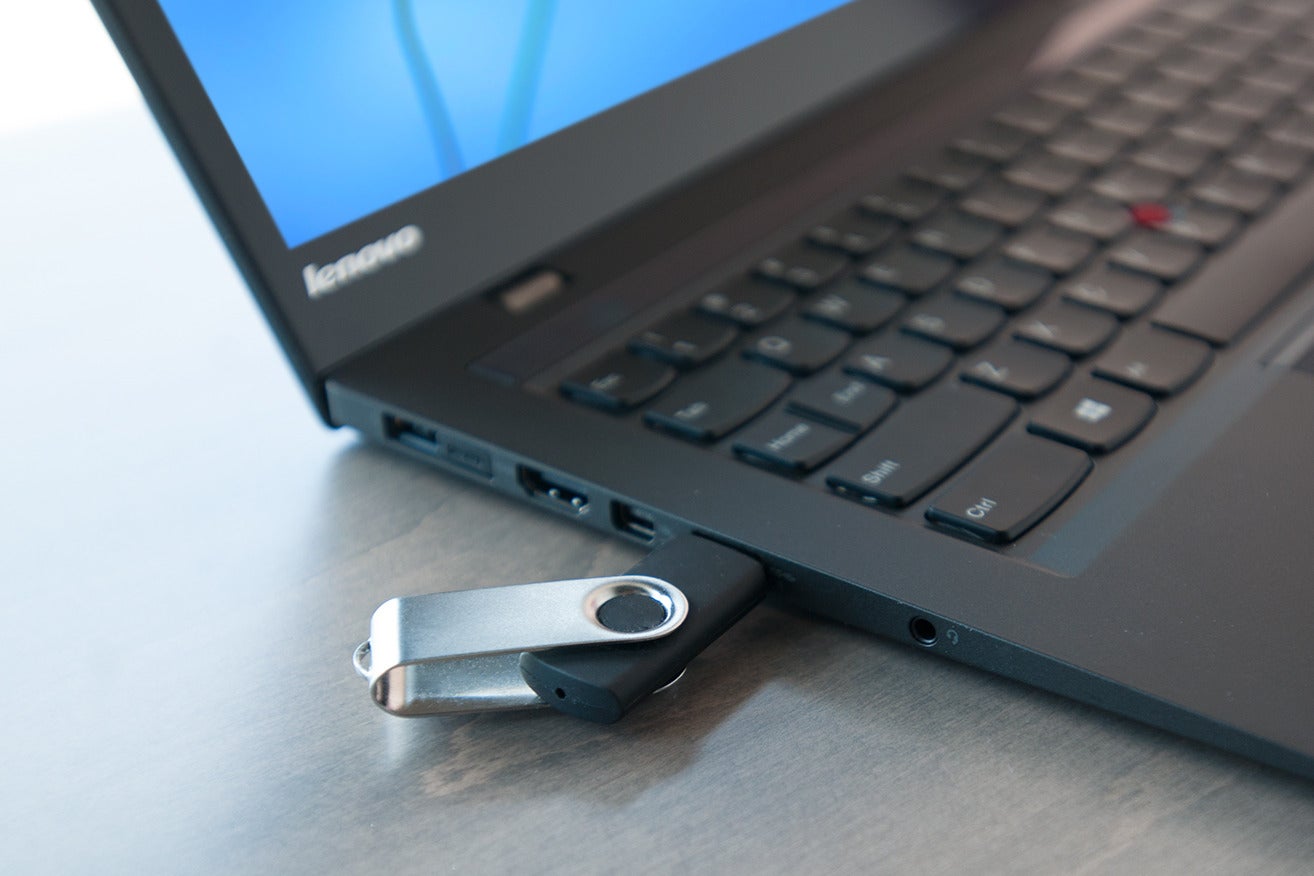 How to make a flash drive from epoxy resin, exotic wood and mammoth tusk
How to make a flash drive from epoxy resin, exotic wood and mammoth tusk
How to make a flash drive from epoxy resin, exotic wood and mammoth tusk
How to make a flash drive from epoxy resin, exotic wood and mammoth tusk
How to make a flash drive from epoxy resin, exotic wood and mammoth tusk
How to make a flash drive from epoxy resin, exotic wood and mammoth tusk
How to make a flash drive from epoxy resin, exotic wood and mammoth tusk
How to make a flash drive from epoxy resin, exotic wood and mammoth tusk
How to make a flash drive from epoxy resin, exotic wood and mammoth tusk
How to make a flash drive from epoxy resin, exotic wood and mammoth tusk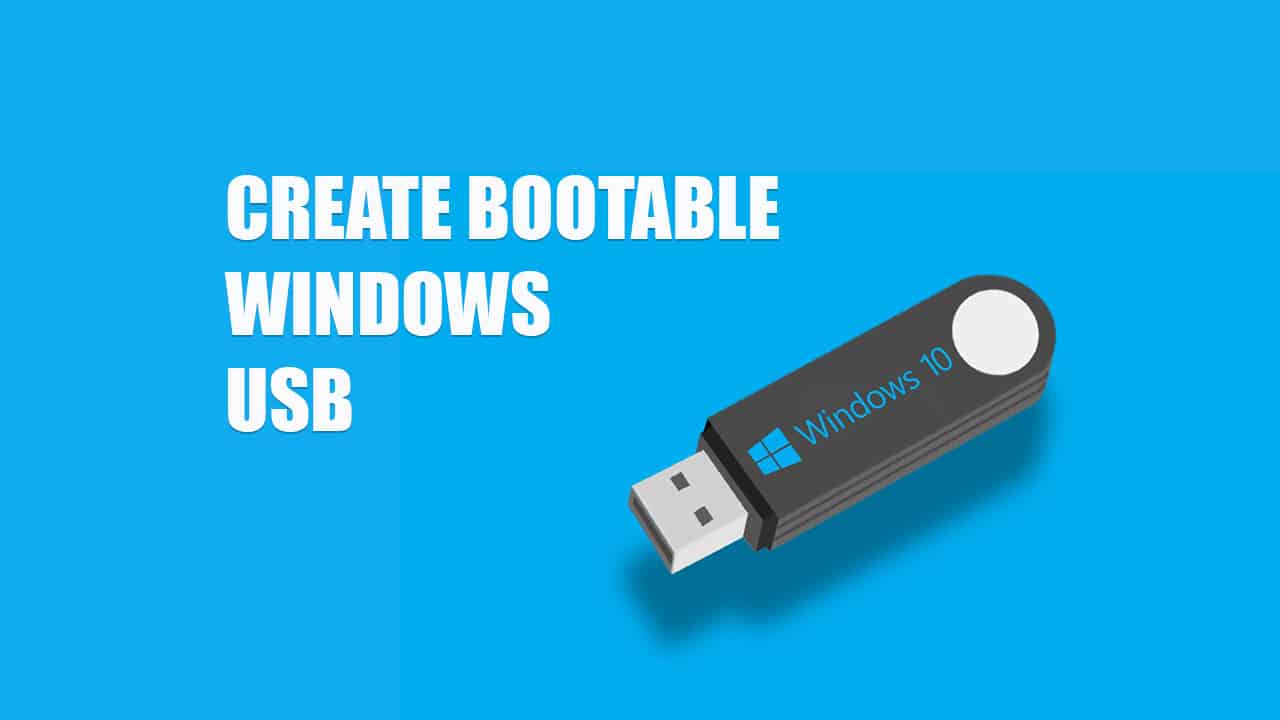 How to make a flash drive from epoxy resin, exotic wood and mammoth tusk
How to make a flash drive from epoxy resin, exotic wood and mammoth tusk
How to make a flash drive from epoxy resin, exotic wood and mammoth tusk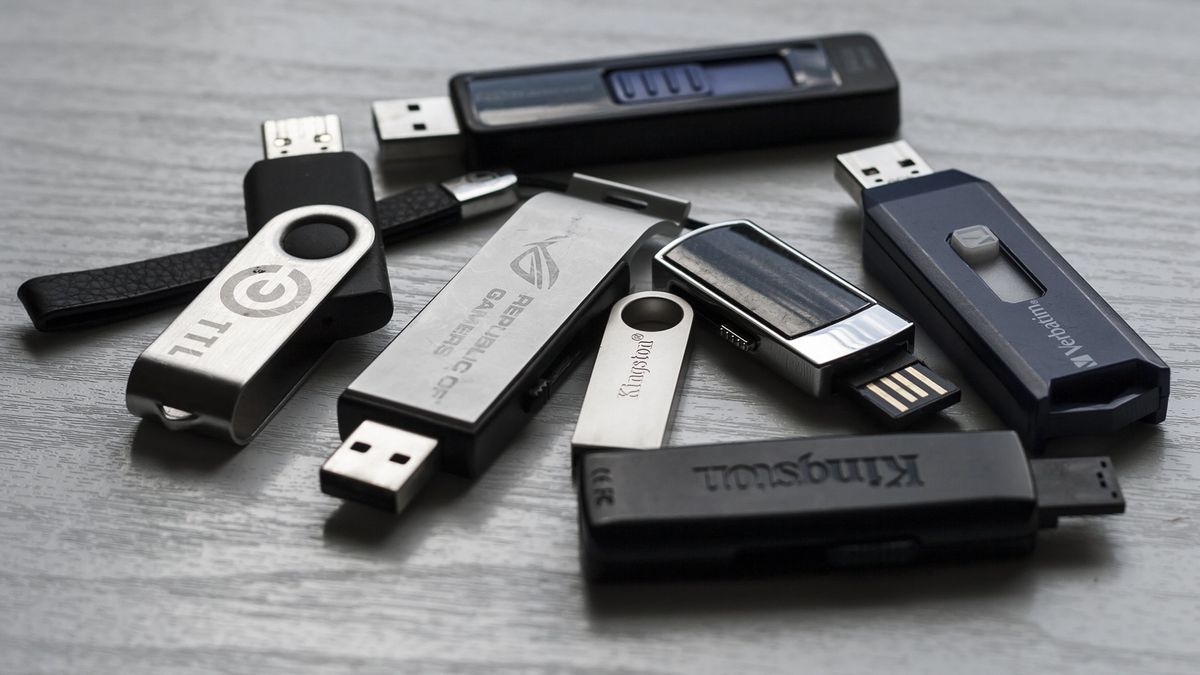 How to make a flash drive from epoxy resin, exotic wood and mammoth tusk
How to make a flash drive from epoxy resin, exotic wood and mammoth tusk