Leonid Kupriyanovich: as a Soviet engineer invented a mobile phone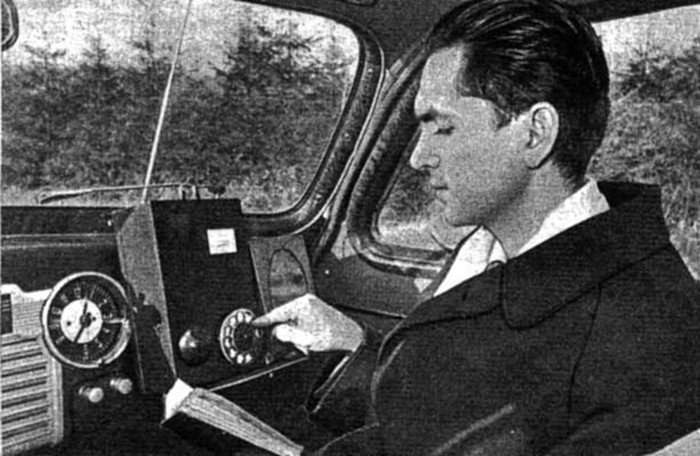 On the question of who invented the mobile phone and when, many will answer: "Martin Cooper in the early 70s".
In fact, the first mobile phone was not constructed by American Cooper at all, but by Soviet engineer Leonid Kupriyanovich. And it happened in the 50s.
Hobby or work?
Immediately after the end of the Moscow Higher Technical School im. N. E. Baumana Leonid Kupriyanovich began work in a secret institution. It, like other institutions of this type, was called at that time simply "the mailbox". It was strictly forbidden to tell anyone about what mailbox employees were doing, so it is still not clear whether Kupriyanovich's invention was his job or if he did it during his free time. Most likely, the second, since Leonid Ivanovich readily wrote about his miracle machine on the pages of various magazines and newspapers. However, this did not last long.Despite the fact that the scientist was constantly improving his invention, in the early 60s the publications suddenly stopped.
LK-1
The creation of a mobile phone Kupriyanovich puzzled in the early 50s. And the hard work soon gave its fruits. In 1957, the LC-1 was born. This device weighed about three kilograms, and its radius of action was 20-30 kilometers. It should be noted that the telephone of Martin Cooper, demonstrated by him after 20 years, was not much lighter than the Soviet one and operated only within two kilometers. The Kupriyanovich apparatus, of course, did not have buttons, like Cooper's phone, but was equipped with a dial and toggle switches, and the handset was connected to it separately, but for that time it was quite logical. In addition, the telephone of a Soviet engineer absolutely did not need a telecom operator. It was possible to call all city numbers and receive incoming calls from any device, both from a landline phone and from a telephone booth.
Gradually, Kupriyanovich's phone decreased in size and weight and eventually reached the parameters of modern devices. The phone weighed 70 grams and easily fit in the palm of your hand.
In 1960, Leonid Kupriyanovich demonstrates his phone at ENEA. However, the device remains unnoticed among many other technical innovations. It was after the exhibition that publications about Kupriyanovich's mobile phone disappear from the pages of printed publications.
Volga and Altai
After publications in the press about Kupriyanovich's apparatus stopped, the engineer suddenly had a Volga car. Perhaps the car was a kind of gratitude from those in power, and perhaps a request to stop research. It is possible that the government didn't like the idea of ​​an engineer precisely because it needed hardware for telecom operators. This circumstance made it very difficult to control the population and threatened to disclose secrets of state importance.
Moreover, at the same time other scientists were actively working on the Altai communication system, and Leonid Ivanovich's brainchild, well ahead of Altay's cumbersome devices, only interfered with them. However, this is only an assumption. There are versions that, on the contrary, Kupriyanovich was attracted to work on Altai. Even today, to get to the truth is impossible.Many documents are still marked "top secret".
Related news
Leonid Kupriyanovich: as a Soviet engineer invented a mobile phone image, picture