Quick and easy trout pickling at home
How to pickle trout
Any salty red fish - trout, salmon, pink salmon, sockeye - can be a tasty and useful table decoration. But with a combination of delicate taste and valuable nutritional qualities, perhaps trout can be put in first place among the salmon.
Useful properties of trout
Trout is one of the most valuable commercial fish, rich in, above all, fatty polyunsaturated acids. Because of this, it helps to reduce the level of "bad" cholesterol in the blood and is recommended for the prevention of diseases of the cardiovascular system, in addition, it stimulates the brain and strengthens the nervous system. Trout is also rich in various vitamins and microelements. It is difficult to overestimate the benefits of trout for the human body, but it is equally important that it is a very tasty fish. From it, completely different dishes are equally good - steaks, kebabs, ears, pies, etc. The traditional favorite snack of Russians is light-salted trout.It should be noted that it is quite an expensive snack, but if you learn how to pickle trout at home, you can save at least twice. In addition to "cost optimization", salting trout at home guarantees the quality of all the ingredients used and allows you not to worry about harmful preservatives and flavor enhancers that are necessarily present in the purchased fish. And the taste of a home product will definitely be no worse than a purchased one.
How to choose a fish
Salting trout at home begins with a selection of fresh or frozen fish. There is no big difference, but salted fish made from fresh-frozen, in the end it turns out more tender. Choosing a fish, you need to ensure its proper quality. Fresh trout does not have too pronounced smell. The flesh of fresh fish is quite resilient - when pressed, its shape is quickly restored, the skin should shine and be smooth, and the eyes - transparent. It is better to opt for a larger fish. Trout is young (up to 5 kg in weight) has not had time to put on a lot of fat, it does not have such tender and tasty meat.
How to chop trout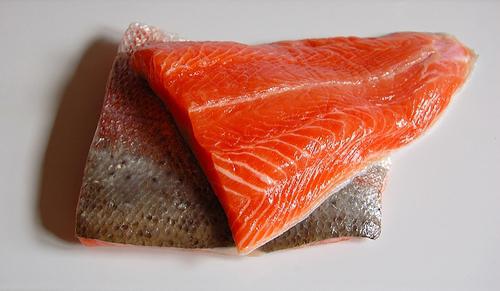 Before filing the fish carcass (cut), it is necessary to rinse with cool water and wipe with a napkin.First, cut off the head with gills, then cut the fish along the ridge into two halves, from which the bones of the spine and ribs are carefully removed. You can cut off too fat belly and cook on it, on the spine and head, a wonderful ear.
How to salt fish trout?
Red fish can be salted in different ways: dry (fill the fish with salt) and wet (soak it in brine). Salting trout at home in a dry way is much easier and requires very little effort. It is almost impossible to salt the trout - the fish in any case absorbs the right amount of salt. Therefore, it is better to salt more than less. An important point - dishes, in which the fish will be salted. It should be either enamelled metal or plastic.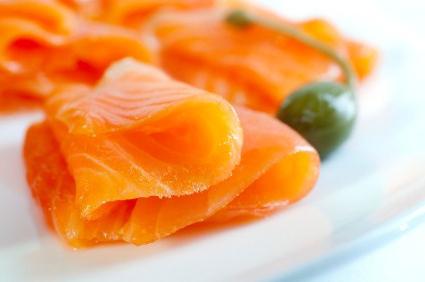 Salting trout at home (recipe)
This is the most popular and easiest way. Prepared fillet with skin should be sprinkled with salt (about 4 tablespoons per 1 kg of fish). Some advise you to completely salt the fillet pieces with salt. Then put the two halves of the fish together (skin out), wrap in a clean cotton rag, put in a convenient dish and close tightly with the lid.Soak salted fish in the refrigerator for 12-14 hours, then wipe off excess salt (do not rinse). Tasty fish ready!
Related news
Quick and easy trout pickling at home image, picture, imagery