Scratch card, branded card
A scratch card is a special card with secret information covered by an opaque stripe. Under this stripe you can put text, image or code. The protective coating is wiped off easily enough - with the help of any solid object. Such cards are widely used by banks that give out secret information to their customers, such as a pin code, as well as lottery organizers. In addition, they are popular when conducting various presentations and promotions.
Scratch cards are massively used to store access codes for services that are sold on a prepaid basis, for example, cellular communication, Internet connection, IP-telephony and others. This code is stored on the card until the protective layer is removed by the owner or accidentally damaged. The scratch cards themselves are very vulnerable, and if the quality of the material from which they can be made is of poor quality, inaccurate removal of the protective layer may damage the sensitive information itself.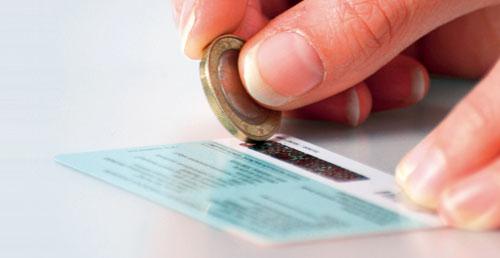 Scratch card production
In printing, a scratch card is usually produced in a standard size - 86 x 54 mm, but there are other manufacturing parameters. For the application of erasable strips in production, several methods are used: with the help of a special thermal printer, in which there is a scratch strip, with the help of screen printing, when the strip is applied with a special stencil paint, and with the help of offset printing. Laser and droplet jet personalization lines are used to apply secret information. The production of scratch cards is made from simple material, since they are disposable, as opposed to reusable contactless cards. They are cardboard, plastic and laminated. If the card is used as a handout, it is better to make it out of cardboard, if you need to use it for long storage, then plastic or special laminated paper will be suitable for its base.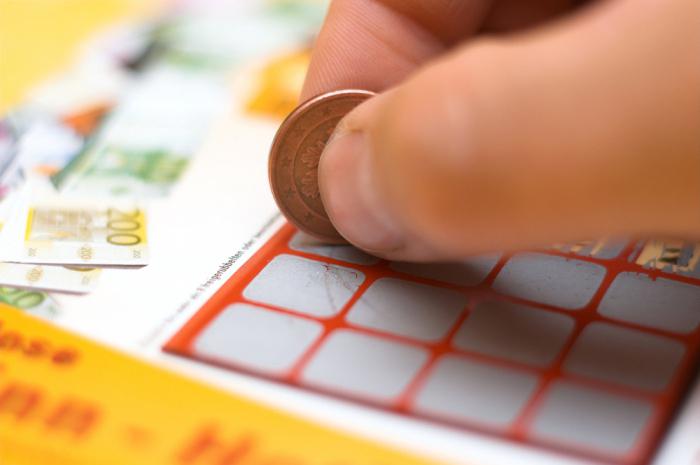 Whole world on scratch card
In addition to the usual scratch card, the scratch map of the world has recently become very popular. This is the perfect gift for avid travelers.Its singularity lies in the fact that with a solid object a special layer is erased, under which all countries are located. Initially, the entire surface is covered in brown. A person, finding places where he traveled, erases them and, seeing the country, is immersed in pleasant memories, and also plans further trips. The more countries he visits, the more colorful and brighter the scratch-map of the world will be.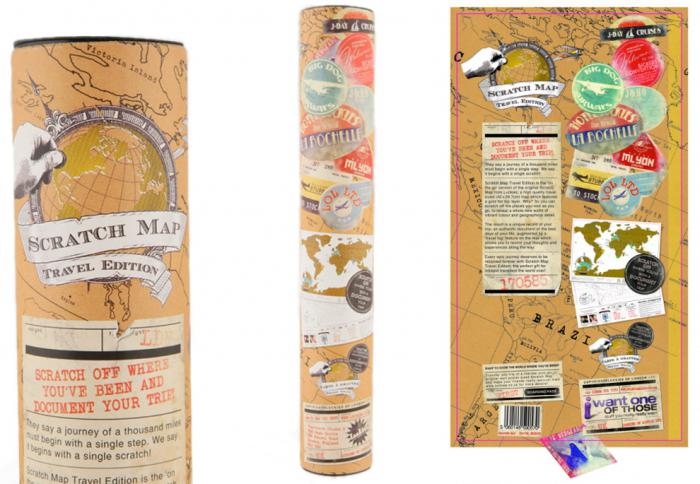 It is available in different sizes, it can be purchased online or ordered. As a rule, such a card is made from high-quality dense laminated paper and is sold complete with packaging-tube. The card can be put in this tube or hung on the wall in order to continue to dream of conquering new countries.
Branded map for organizations
In addition to the traveler's scratch cards, any company can order a branded map of the world for their organization. Such a scratch card can serve as a business card of the company, will allow you to talk about your capabilities and provide information to your partners in the form of an original interactive way. They can be ordered in large quantities and presented to representatives of other organizations with a proposal for cooperation.Such a creative presentation method will be remembered for a long time by colleagues from other firms and will lead to the desired result.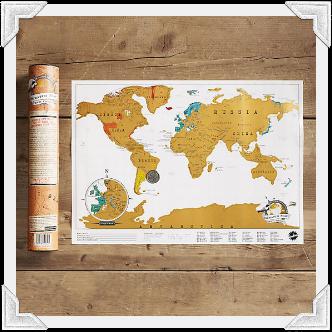 Branded erasable cards are made from high quality printing materials. They may contain the following information: facts about the company, historical background, charts and development plans, information about the company's branches around the world, contacts for communication of all representative offices of the company so that partners can use the card as an express reference book.
The card format can demonstrate in a visual form the entire branch network. Especially valuable information can be hidden under the scratch layer.
The importance of scratch cards in our lives
The scratch card at the present time is not just a printing souvenir, it is the most important business tool, whose popularity is growing all over the world. It can be a pleasant gift for loved ones or a necessary thing to pay for services. She can also present advertisements for organizations that will tell in detail about her services.
Related news
Scratch card, branded card image, picture, imagery