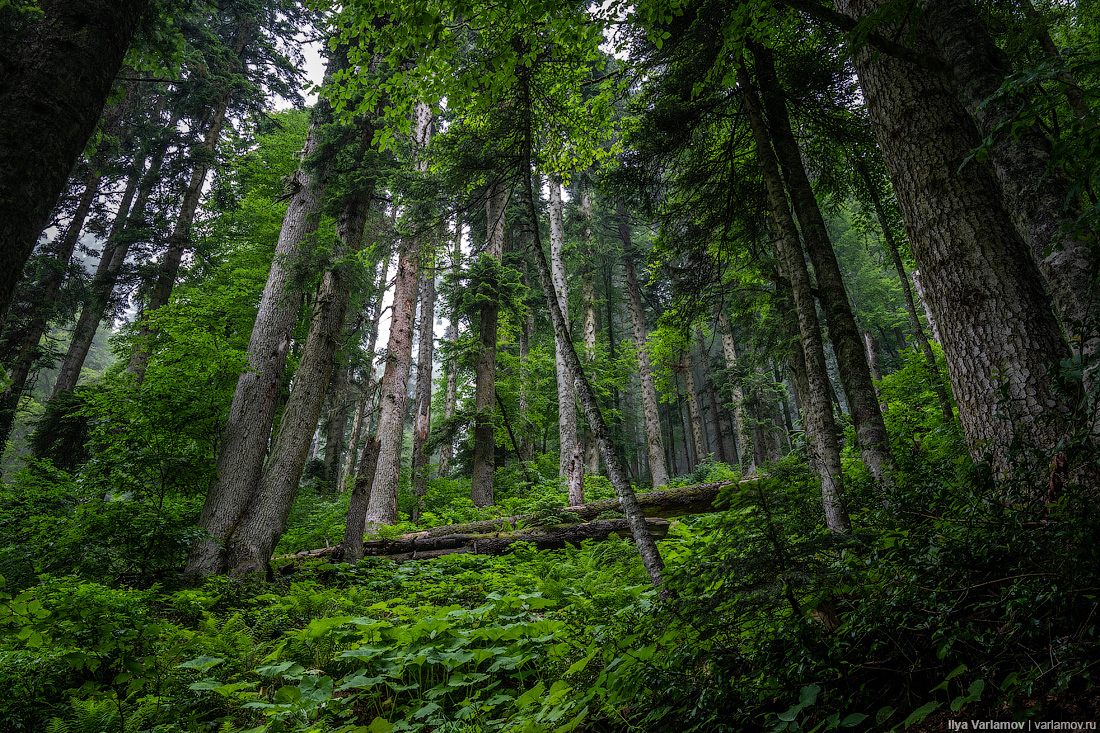 See how beautiful the world is without football!
- = This post has a sponsor = -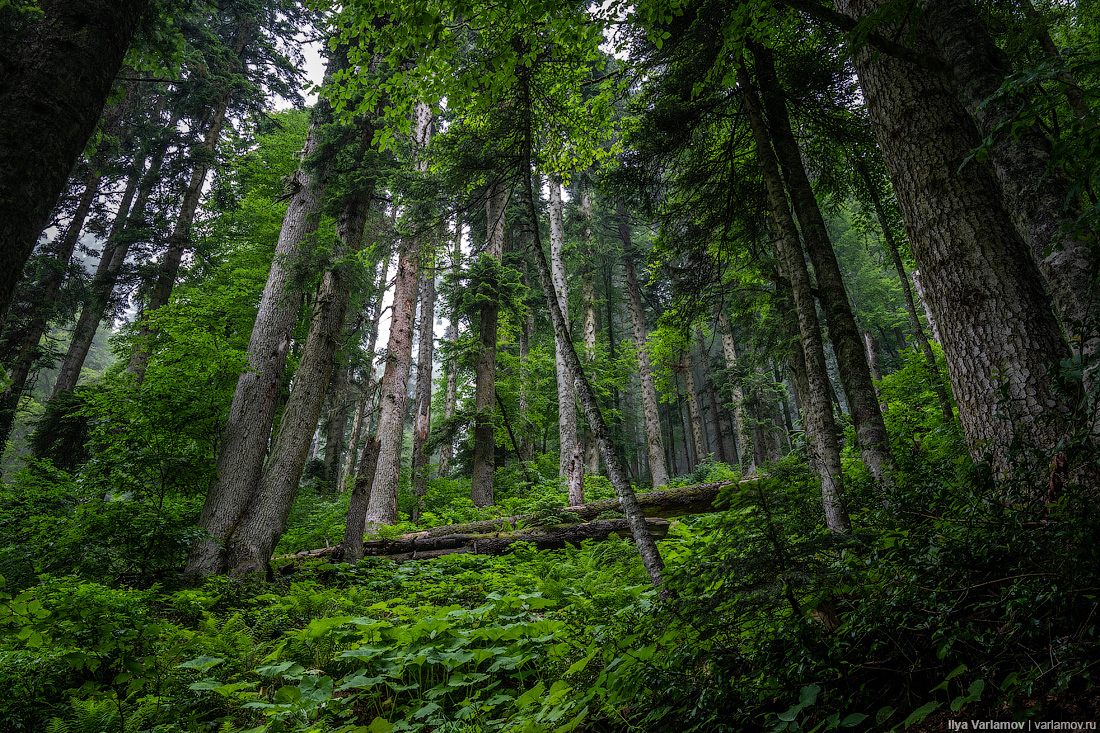 The last few weeks I have been actively driving around the cities of the championship. I already dream of these FIFA logos, these cries of fans in my ears, football from every iron. It would seem impossible to hide from him, and so in Sochi he decided to arrange a discharge for himself. Moreover, there 30 km from the stadium "Fisht", where we played with the Croats, there is the ski resort "Rosa Khutor".
I had never been there in the summer before, because Rosa Khutor and the neighboring resort Krasnaya Polyana were always associated exclusively with winter holidays. But it turned out that it was full of interesting activities. I decided to disconnect from football and test what you can do at a ski resort in the summer.
1. Rosa Khutor itself is a small town on the slopes of the Aibga range at altitudes from 575 to 2320 meters, as well as the main Russian ski resort, the Russian Courchevel. In a clean field of clean mountains, hotels, lifts, and a railroad were built here.In general, we did everything so that tourists could ski. Hotels and other facilities of the complex are located on the banks of the Mzymta River. The whole center is pedestrian, and this Rosa Khutor compares favorably with all other resorts. When you are inside, you don't see cars at all. Everything is very European, everything is given to pedestrians. You are not afraid to walk, you are not afraid for children, you do not have to turn around, think about what you can get knocked down - all roads are taken to the outskirts.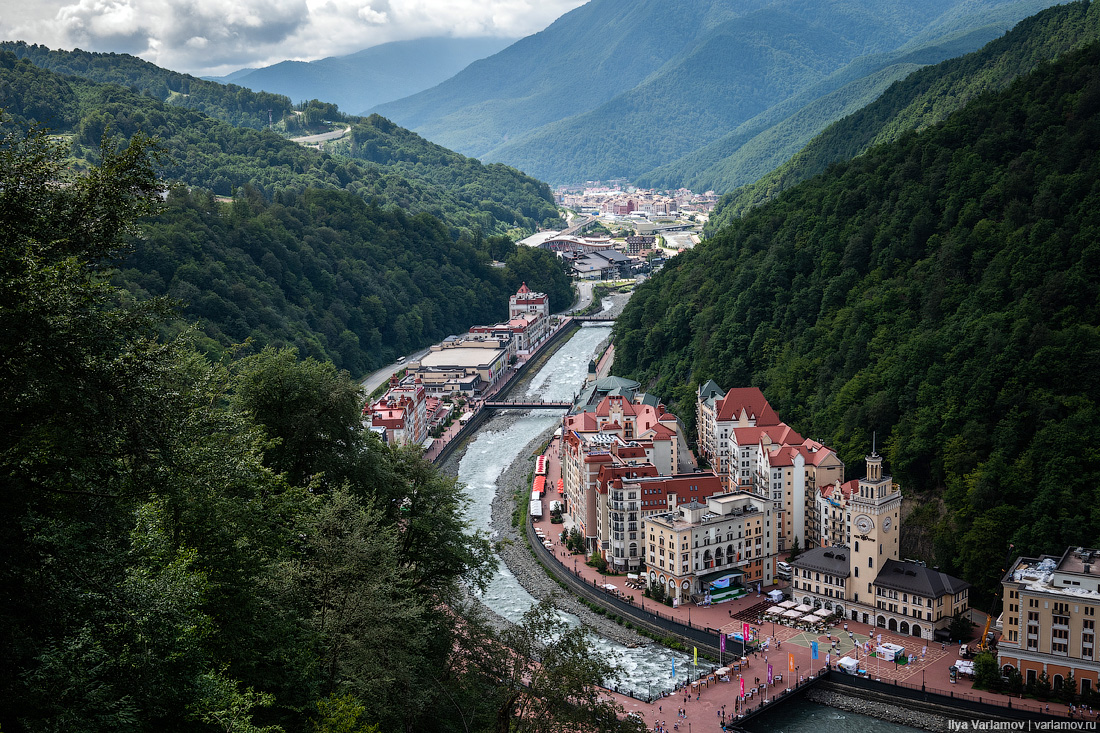 2. Pay attention to the lake and the swimming pool on the right - this is the beach. I'll tell you about it later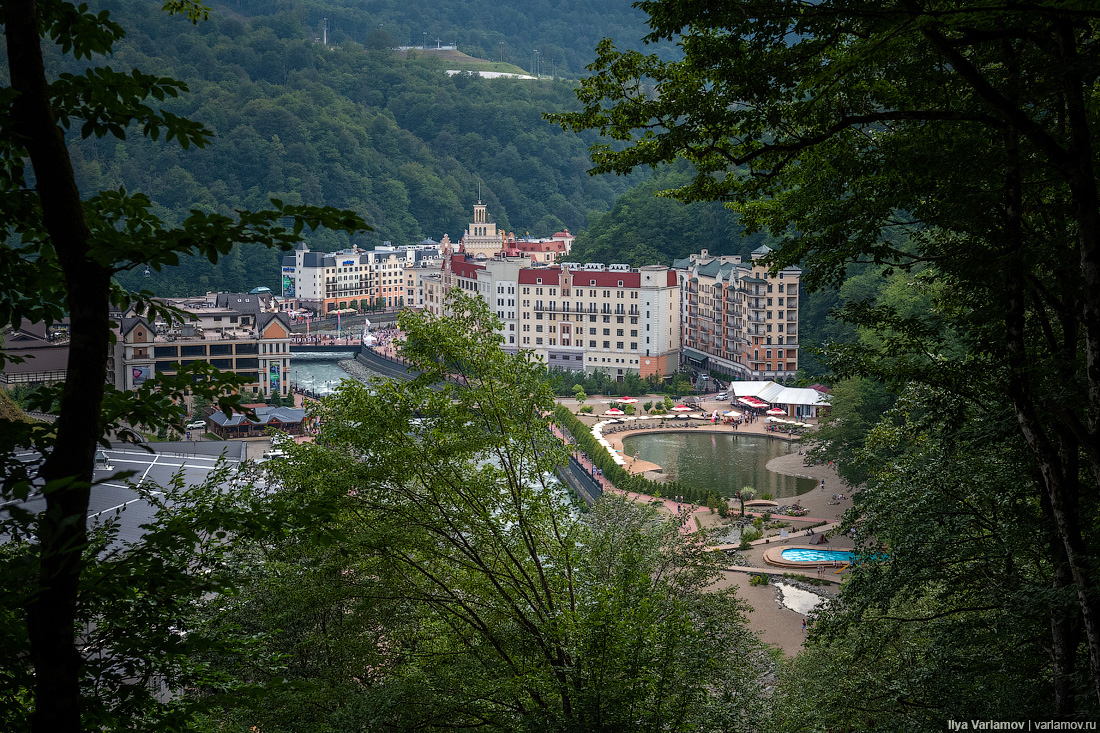 3. Main square. All events, concerts, meetings are held here.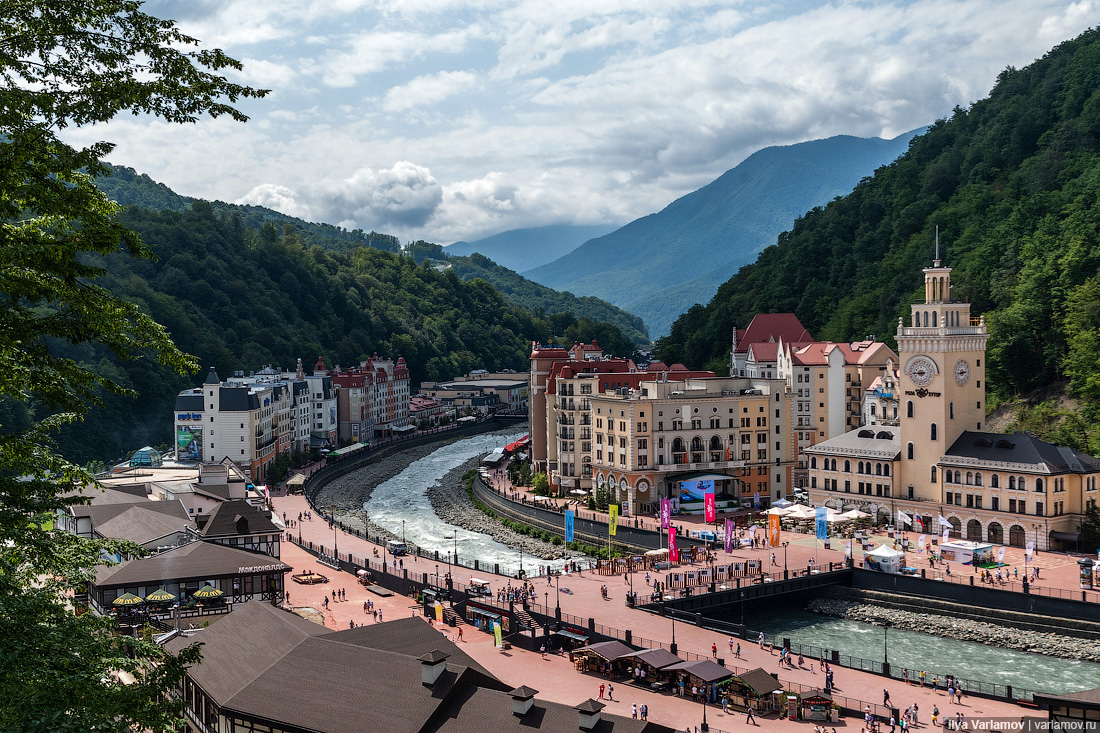 4. Almost all buildings are hotels and restaurants.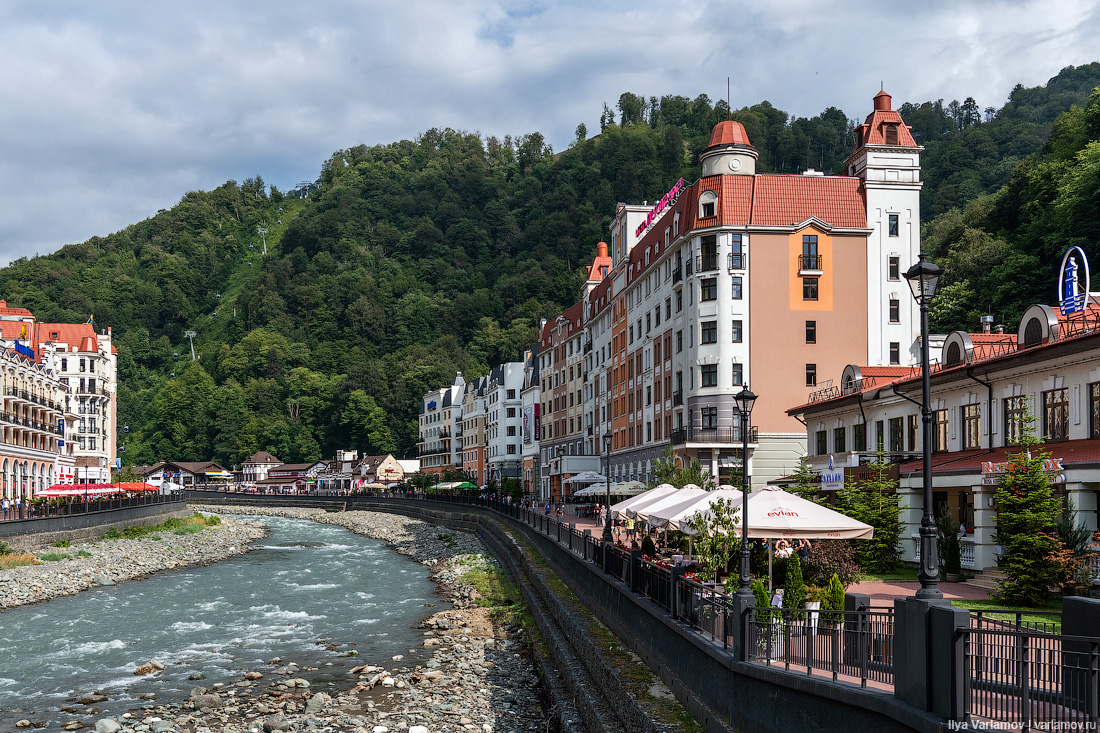 5. Now restaurants put up summer terraces, and it became absolutely good. Much nicer than in the winter - you walk past busy tables.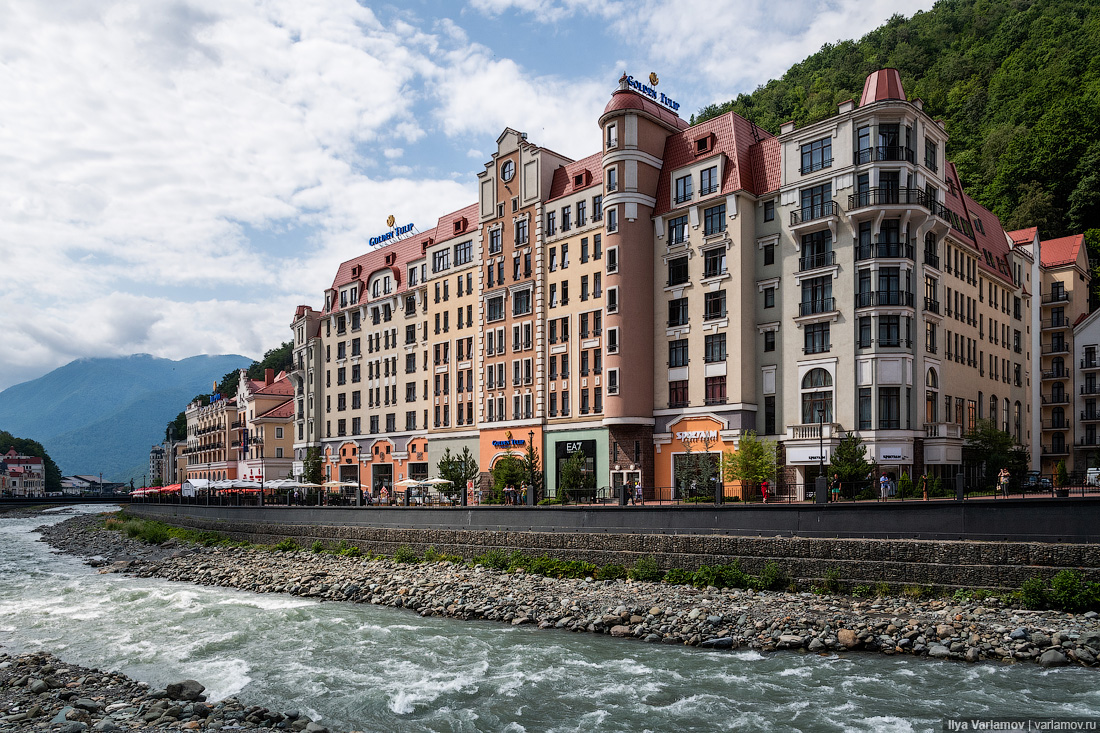 6. In "Rosa Khutor" architecture is much more pleasant. There are no crazy experiments with the classics like in the nearby resort "Gorky Gorod". If you do not look closely, it may seem that you are somewhere in the Alps, and not in Sochi.
7. Prices are high, as elsewhere in Sochi, where there are tourists. We can say that prices are Moscow or slightly lower. So get ready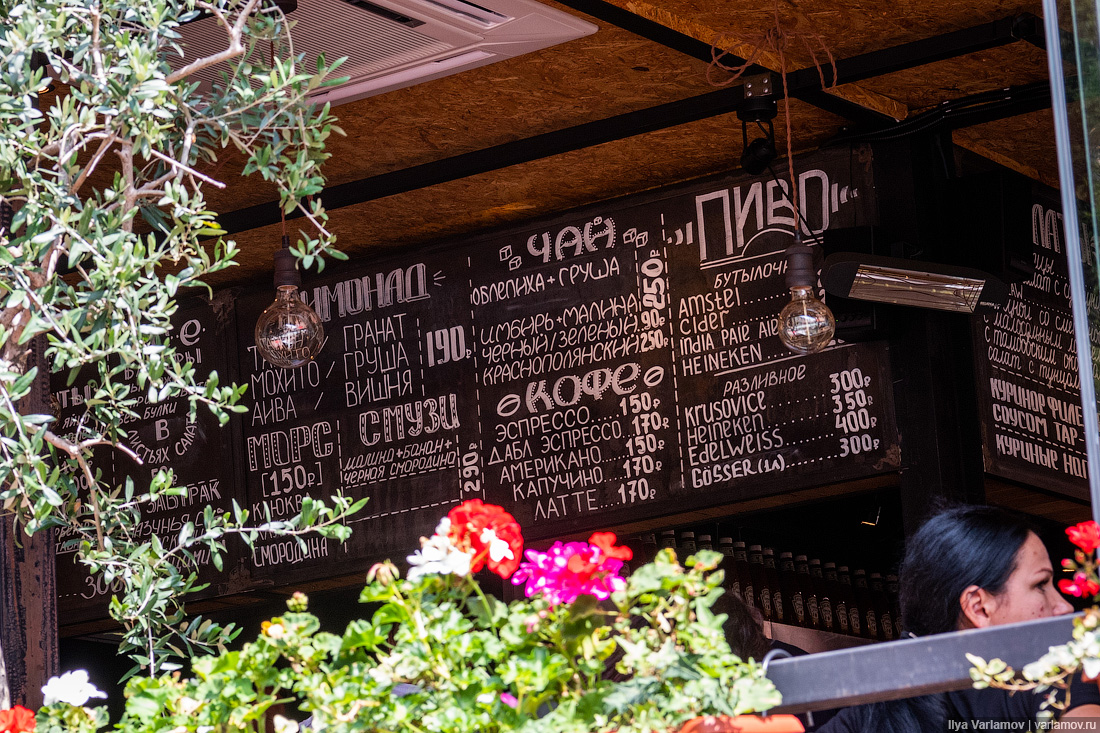 8. Pleased with the design of houses.That is, they did not make some miserable stalls, but European stylish wooden houses. But, unfortunately, they could not resist, and put terrible advertising refrigerators, which, of course: you need to remove, and then there will be quite beauty.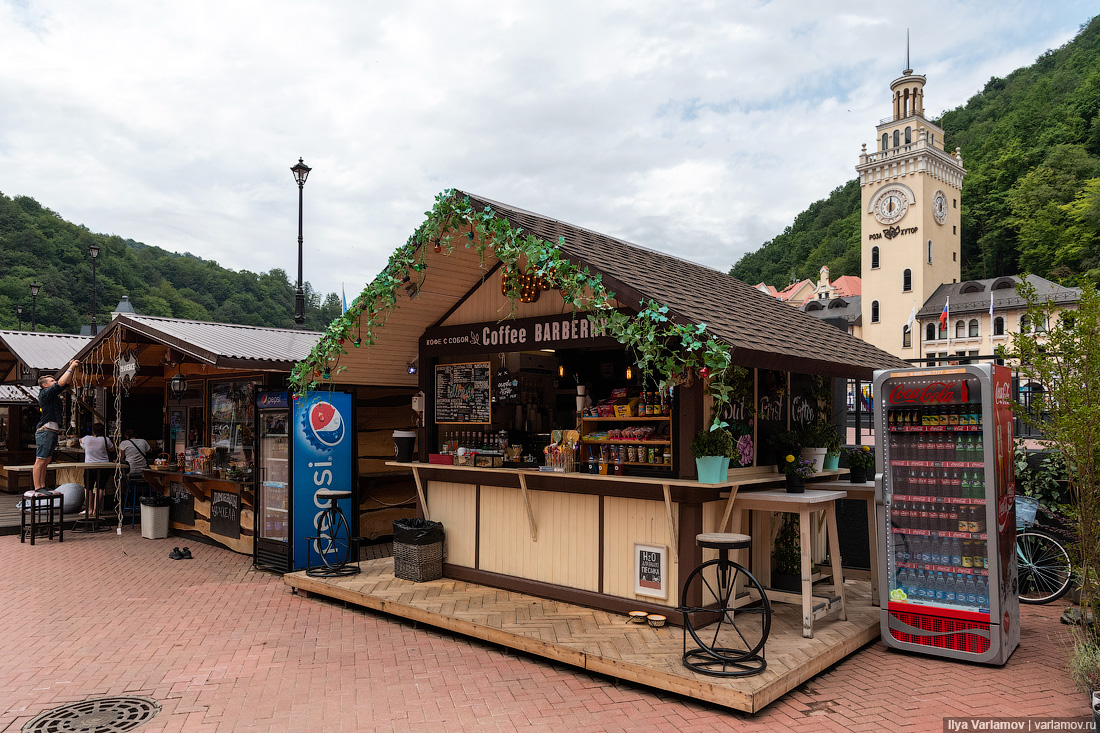 9. Think of doggies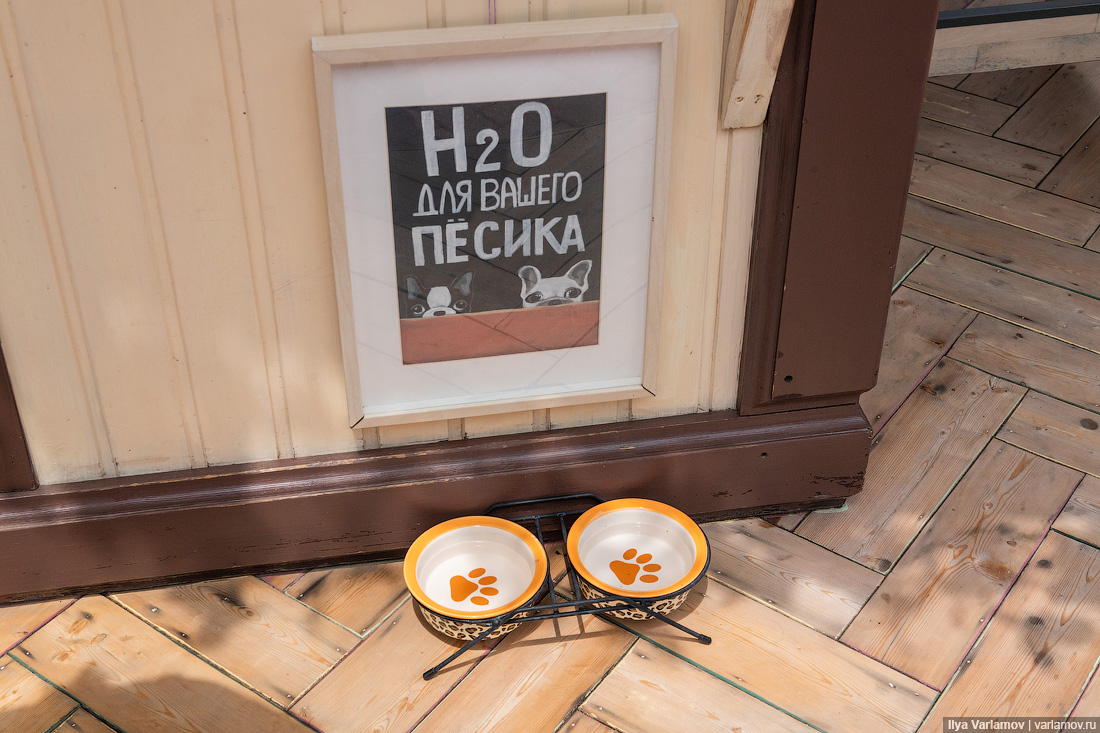 10. Example of summer cafes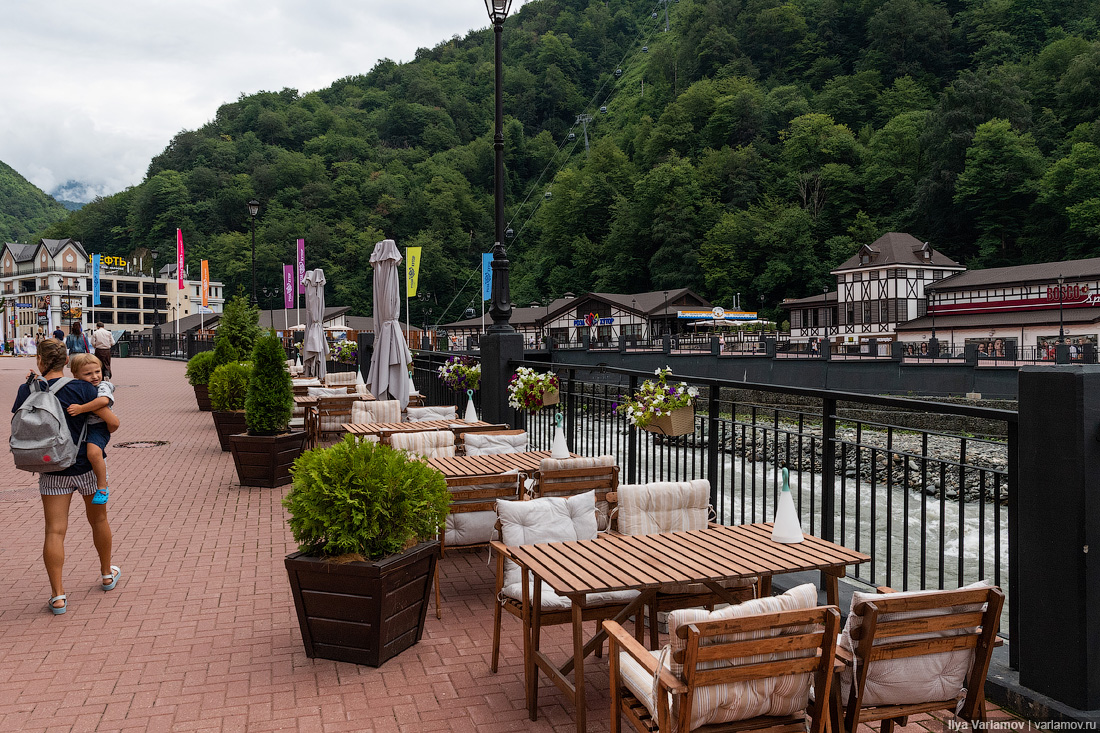 11. Mountains, mountains, mountains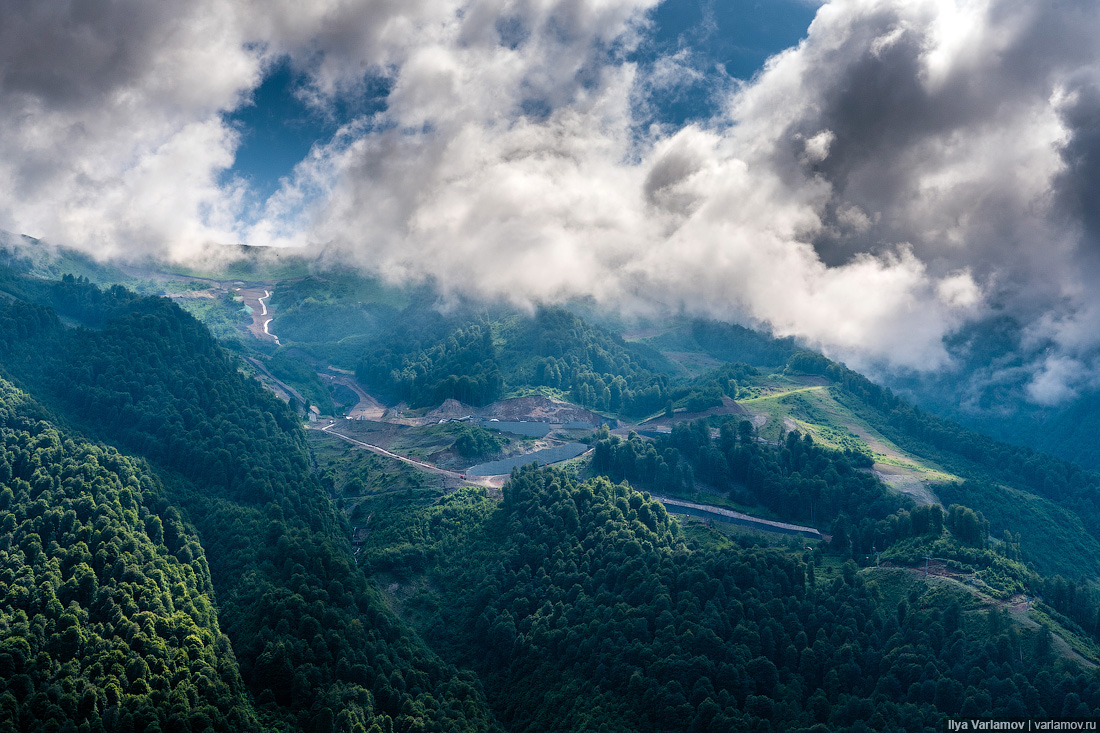 12. The beach begins. It is available to all guests staying in resort hotels.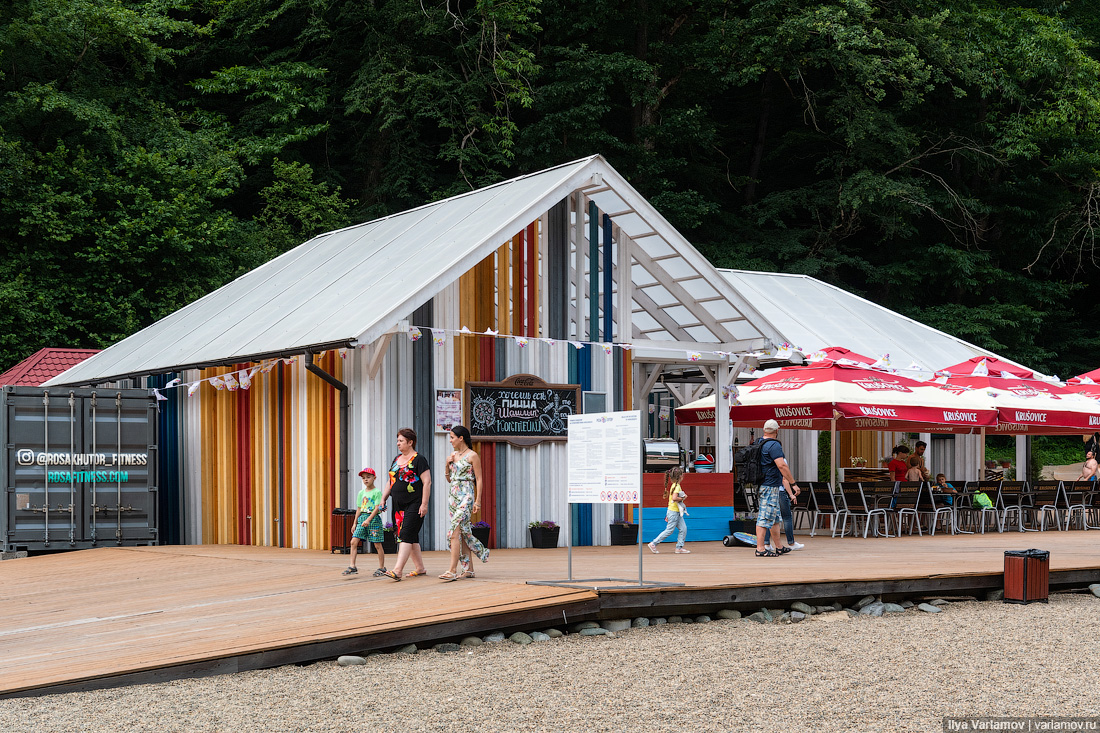 13. Here you can walk, swim, sunbathe on the litter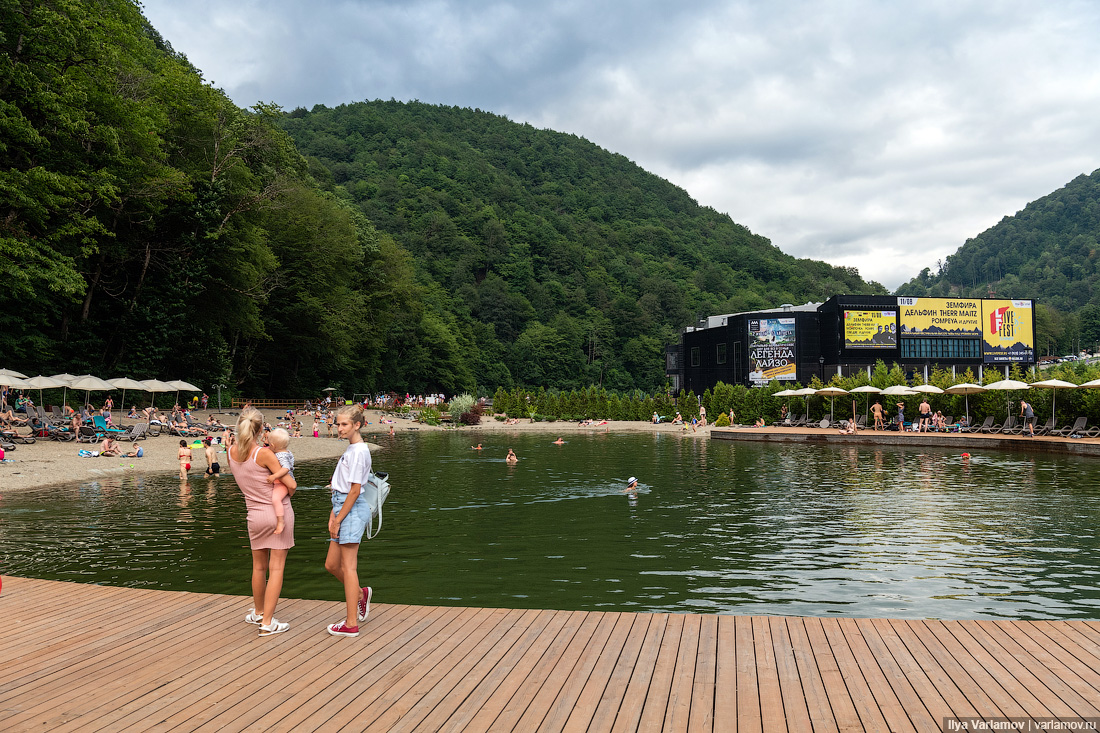 14. A lot of people! I thought there would be no one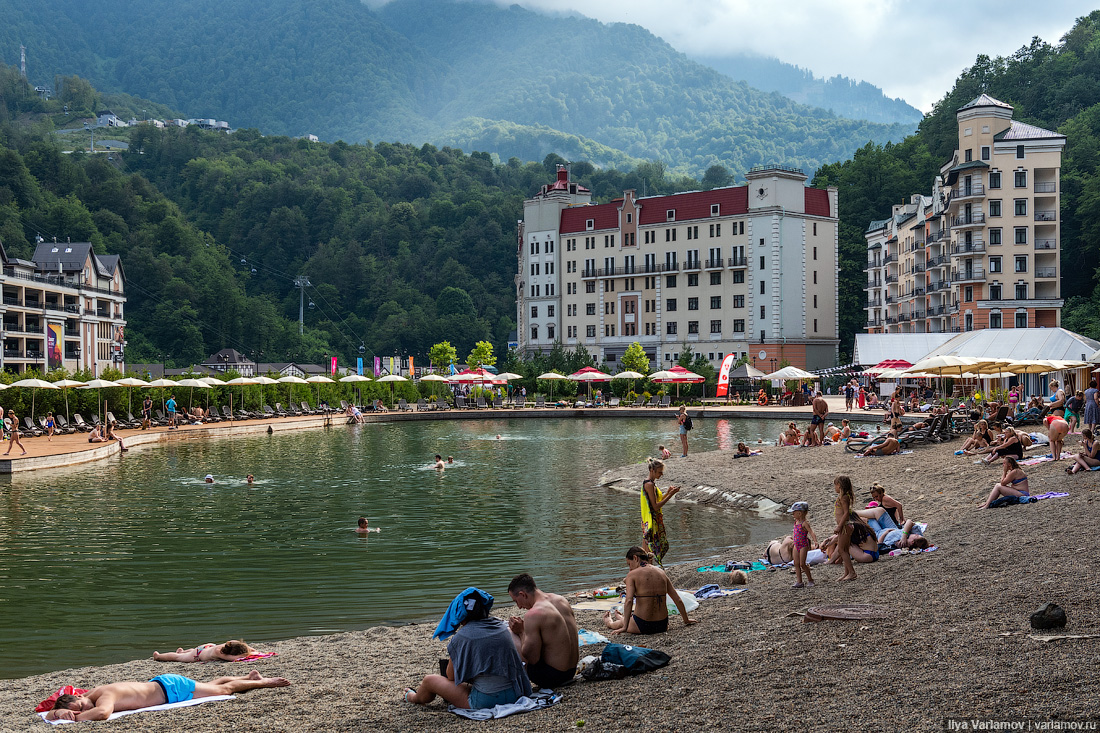 15. So book sunbeds and umbrellas in advance.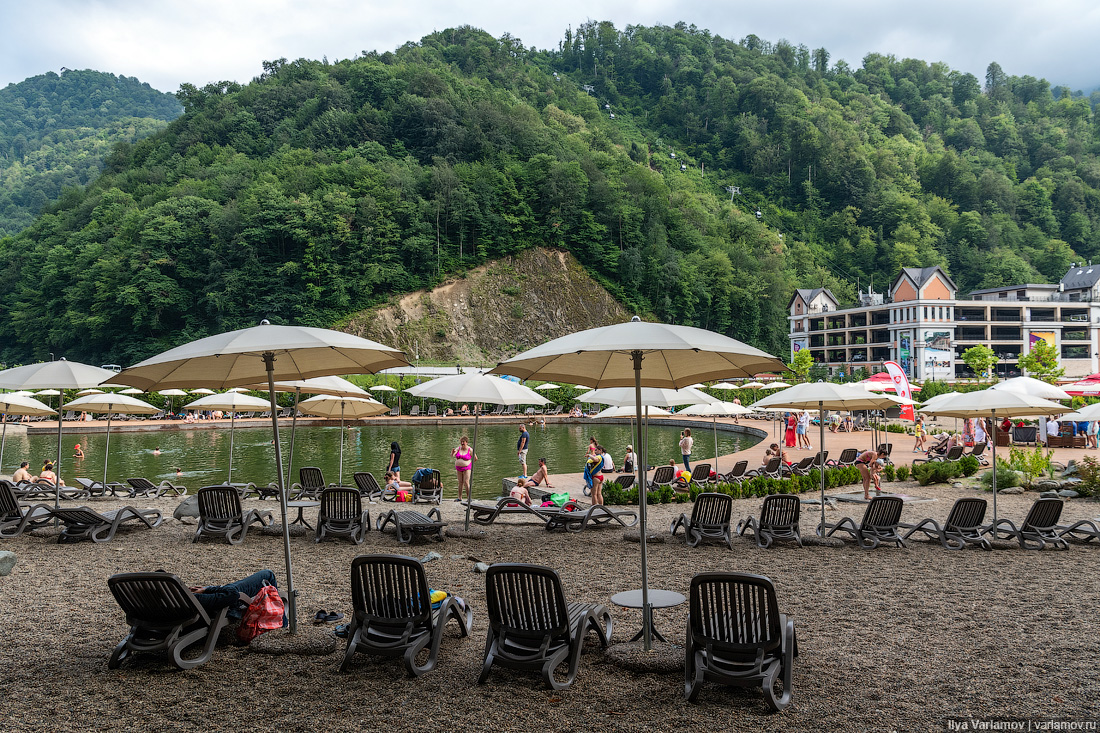 16. Very well made tracks streams. Landscape design is cool, everything is clean and tidy. In style it resembles a beach in Dubai, about which I wrote.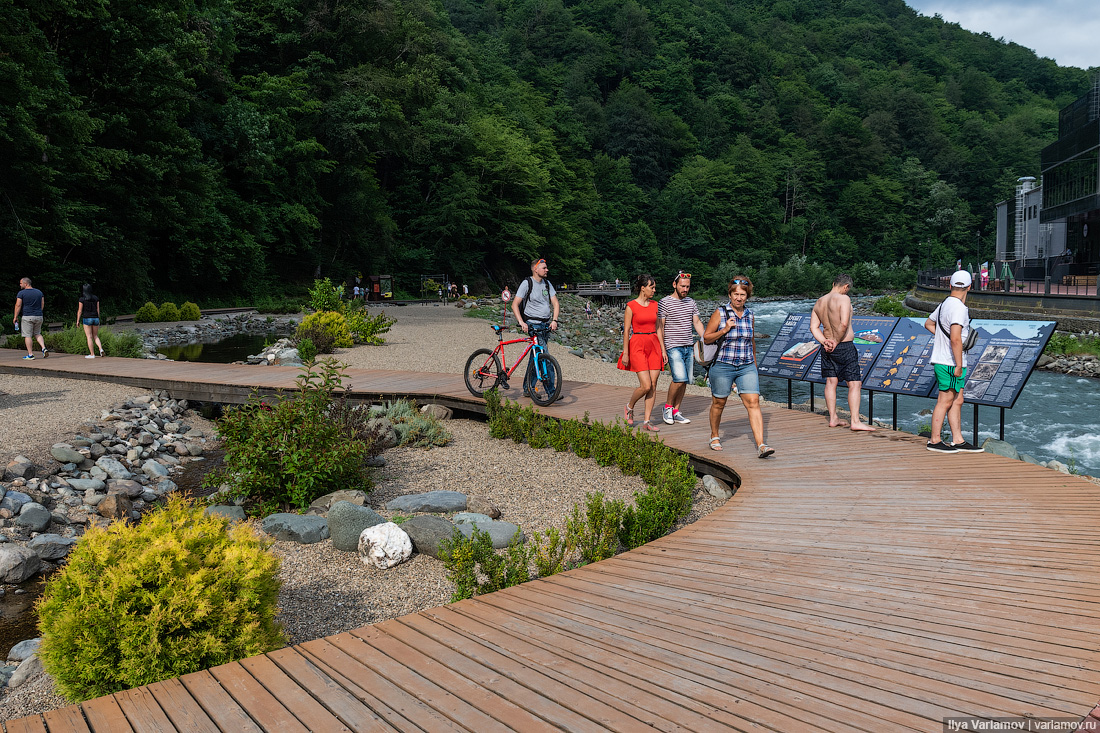 17. There is a playground, on it there is a good foreign equipment, and not the cheapest and most miserable, which is usually placed in the courtyards.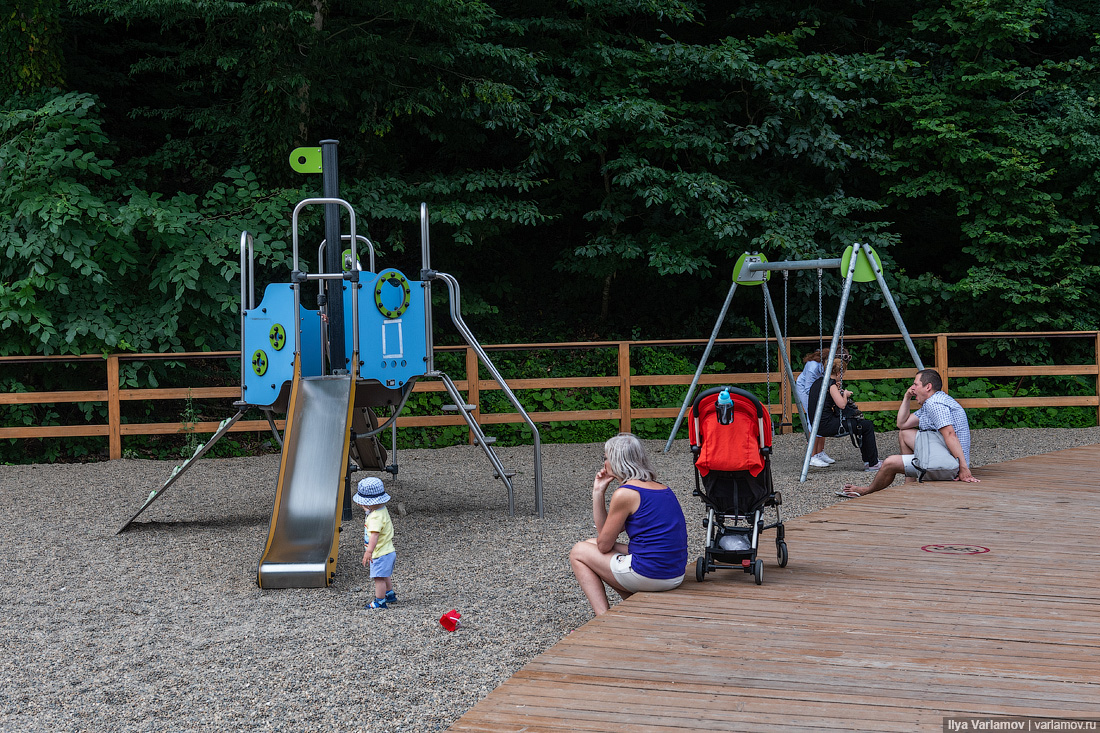 18. But the buzz is a children's pool with a lifeguard.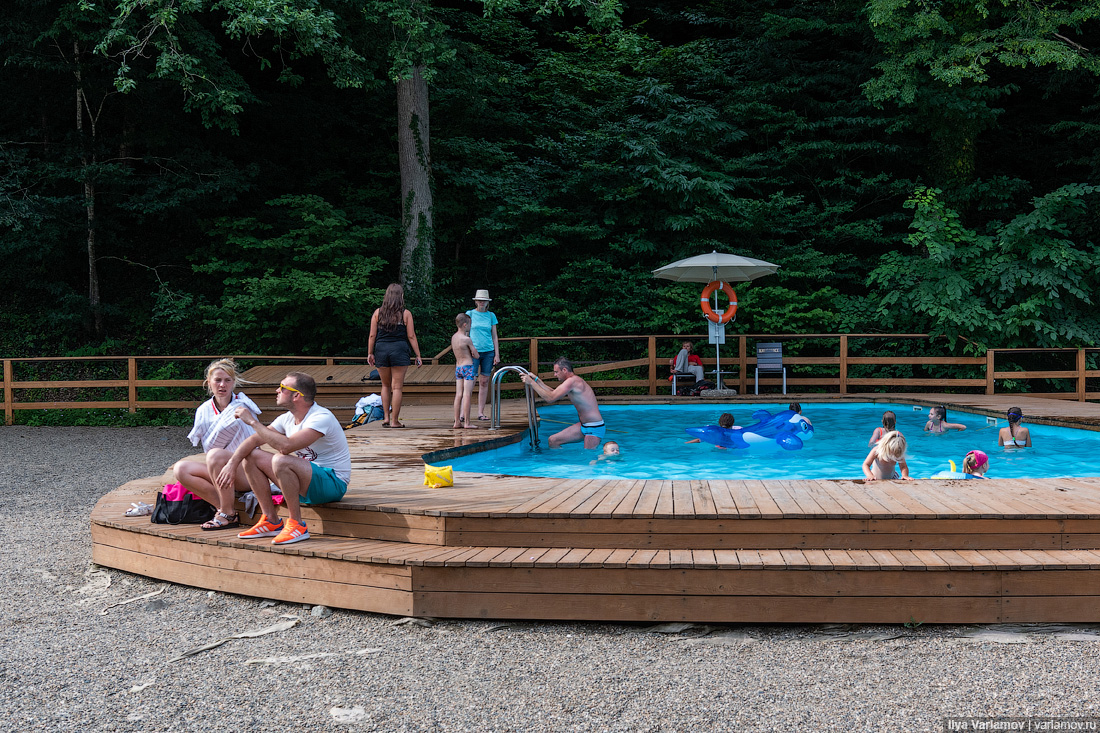 19. Children can swim safely.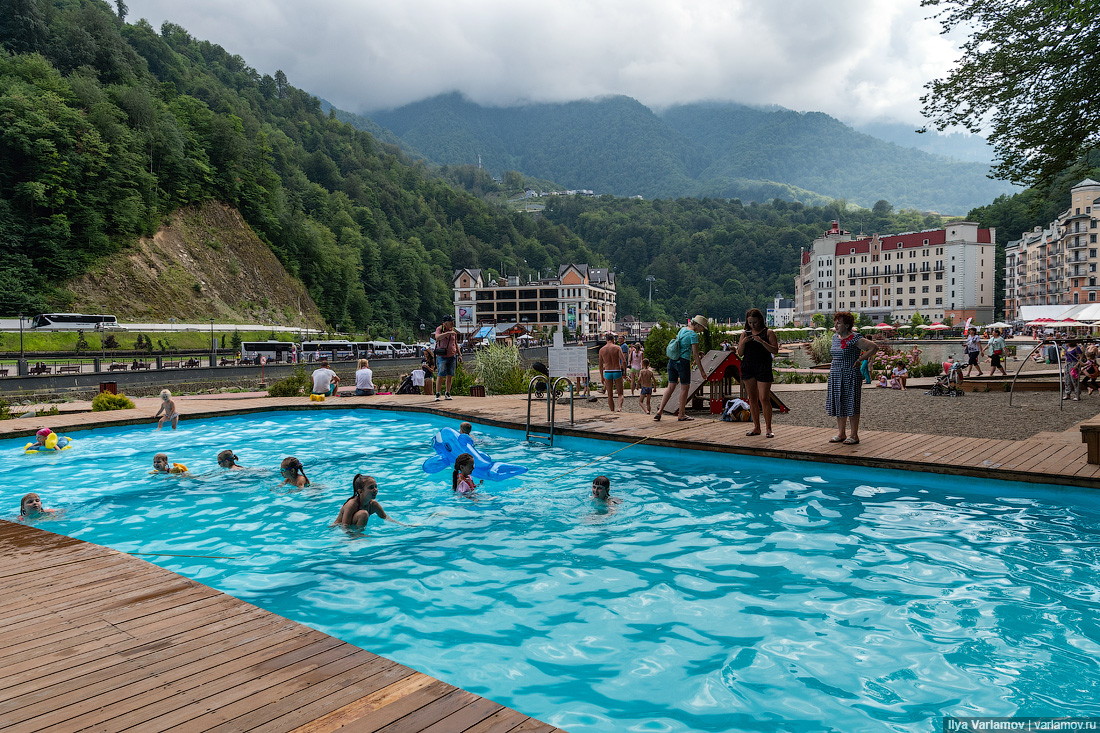 20. Again, all sorts of places for solitude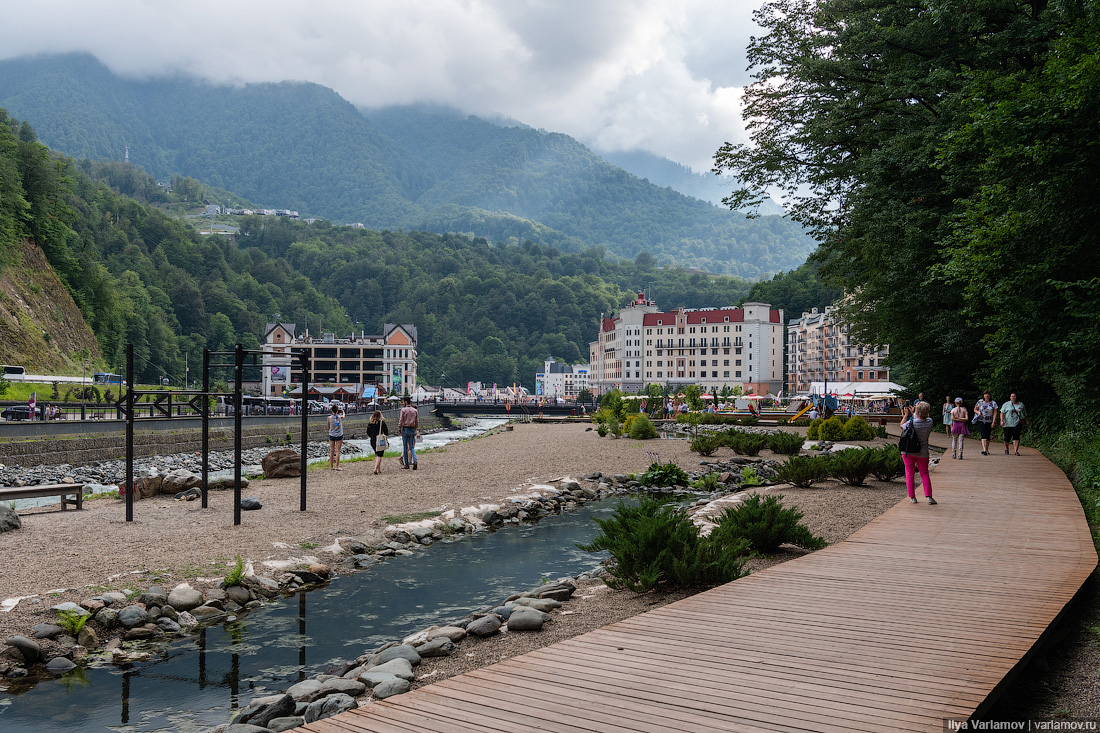 21. You can read a book, take a walk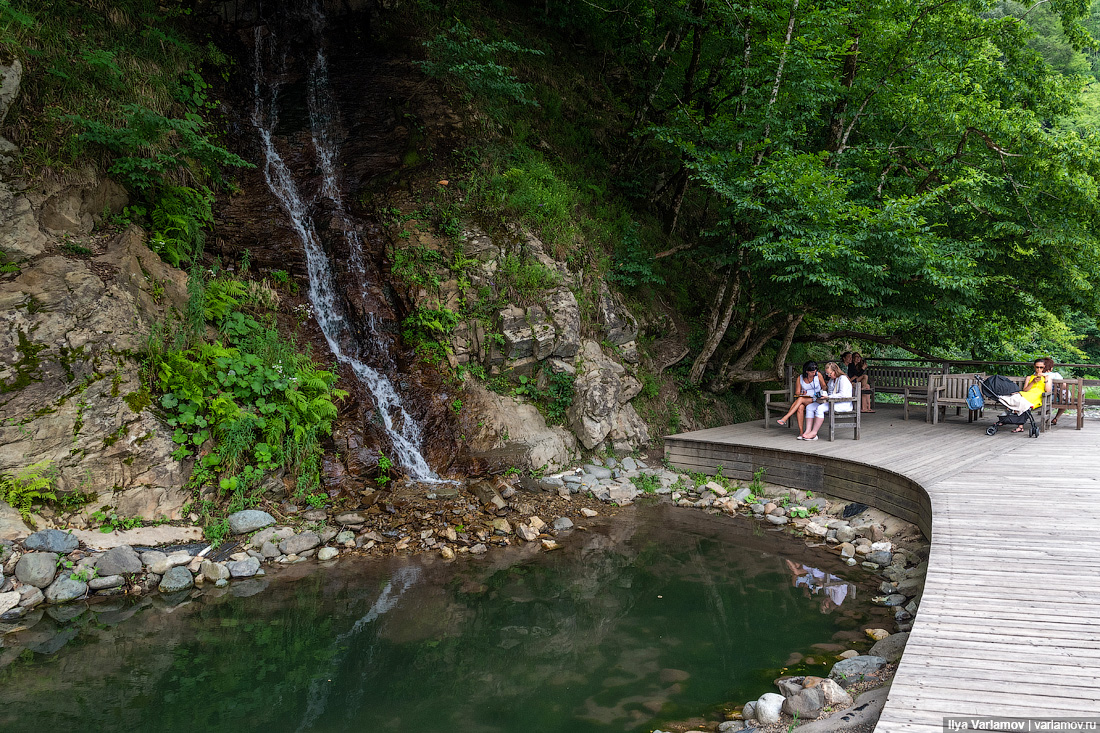 22.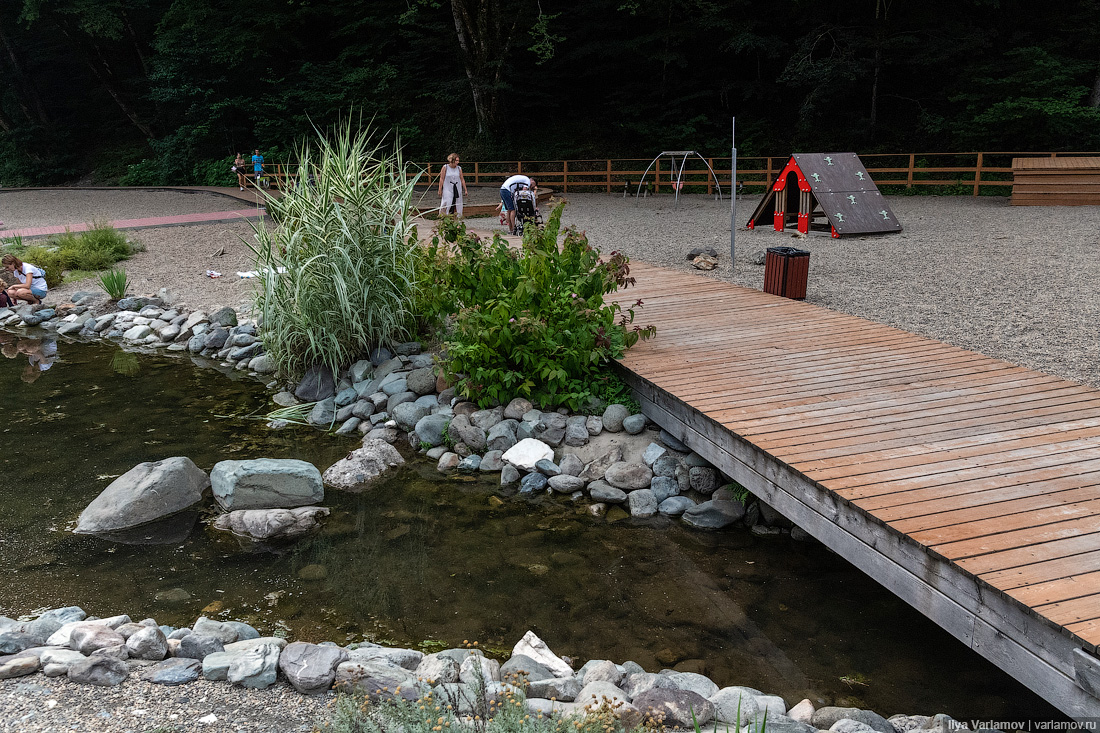 23. And this is the AZIMUT hotel The Freestyle Hotel I lived in. The photo shows that it is located within walking distance of the ski lifts.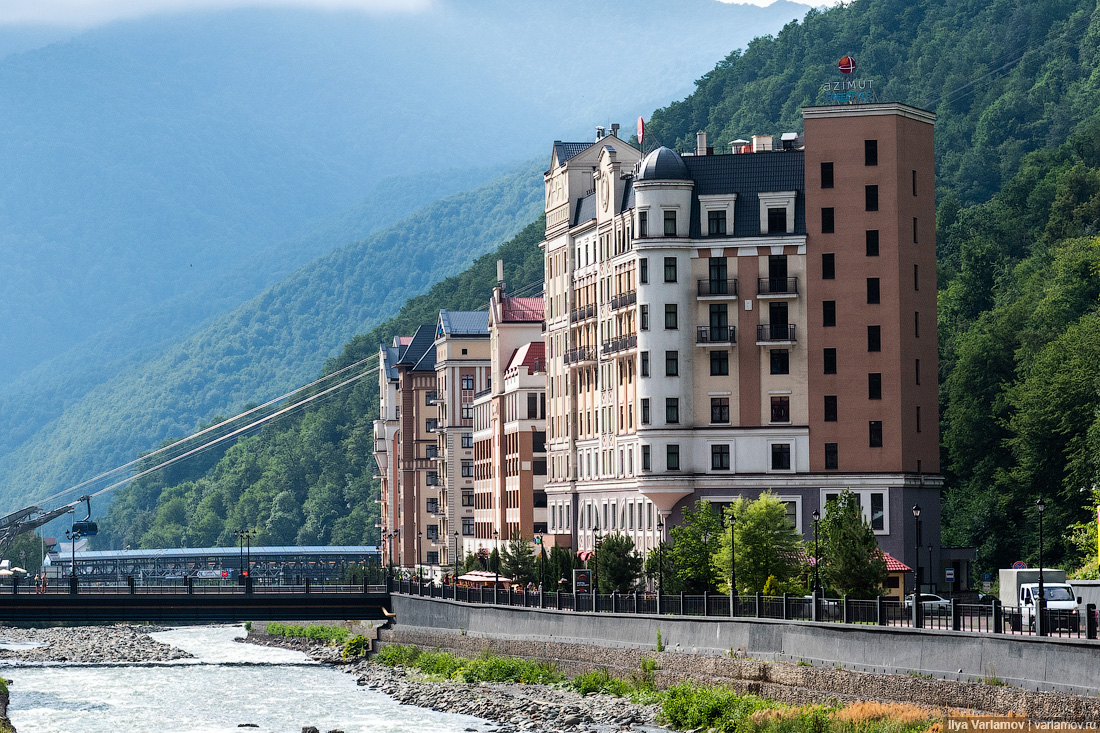 24. One of the best options in terms of price-quality. Network hotel, keep the brand, there is good service and the best staff. I try to choose network hotels, because in them, in the event of a conflict, there is someone to complain to.If you live in an ordinary hotel, then there is no one to complain about the problem. If the director of the hotel is an asshole, then you will not prove anything to him. In network hotels there is always a superior manager, then they always have good loyalty programs.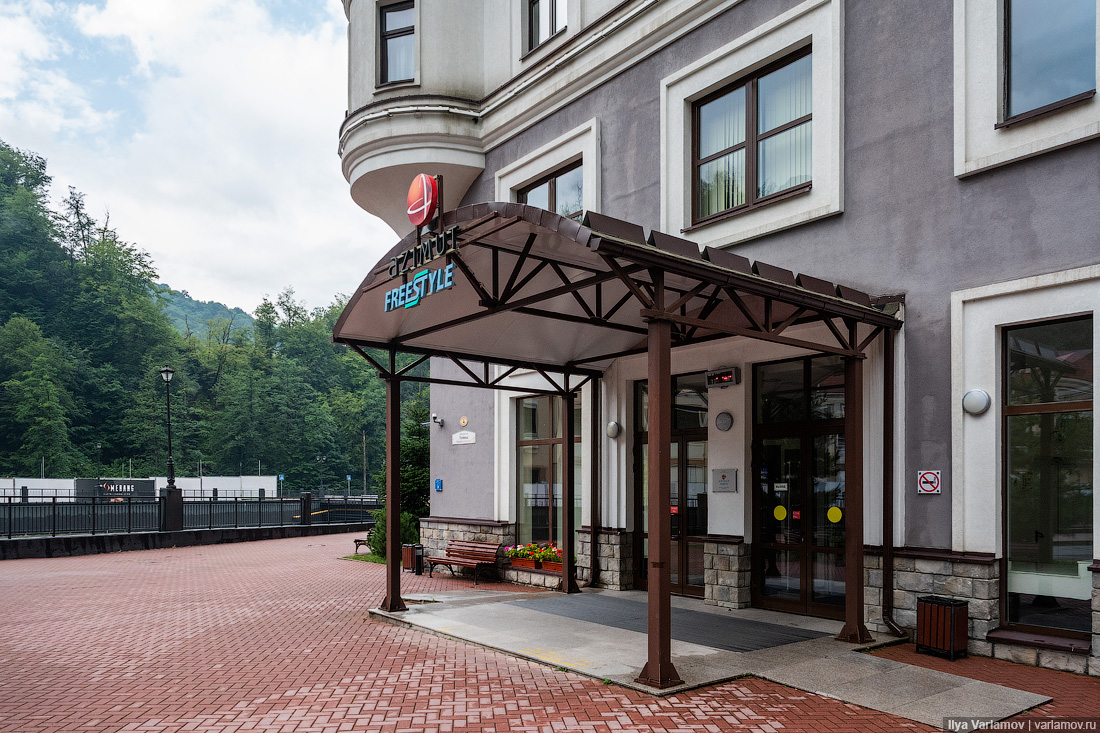 25. If you love some kind of network, then you can go to other hotels of this network, and there will always be some advantages for you. AZIMUT is in many cities of Russia: Moscow, St. Petersburg, Murmansk, Ufa, Voronezh, Penza, Nizhny Novgorod, Vladivostok, Kostroma, Yakutsk, Kemerovo, Astrakhan, Novosibirsk and Sochi. In large hotels is always the best and centralized service. No need to worry that there will be no toothbrush or bathrobe - all by standards. Hotel in Sochi did not disappoint.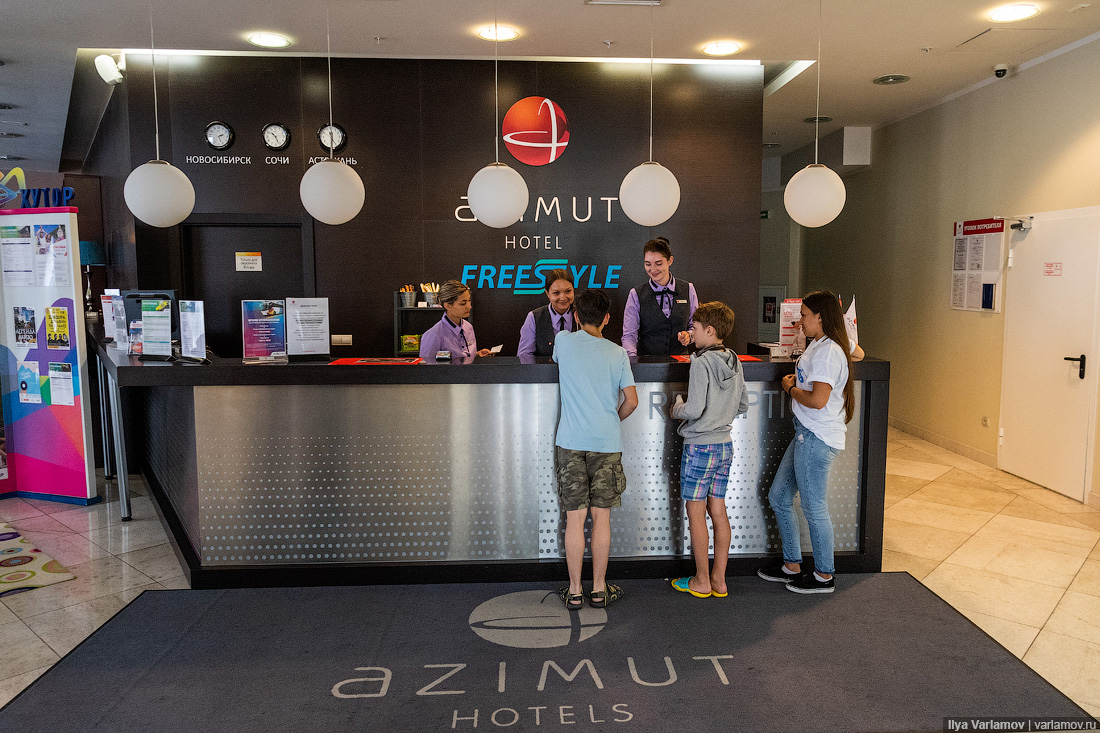 I had a special offer: for 4000 rubles per night with breakfast included and a pleasure ticket, with which you can use 3 closed and 3 chair lifts and visit the Mendelih waterfalls park. This is what I did. The proposal, by the way, is valid all summer.
26. There is also a good restaurant here. Breakfast in the morning, and the rest of the time you can just order food.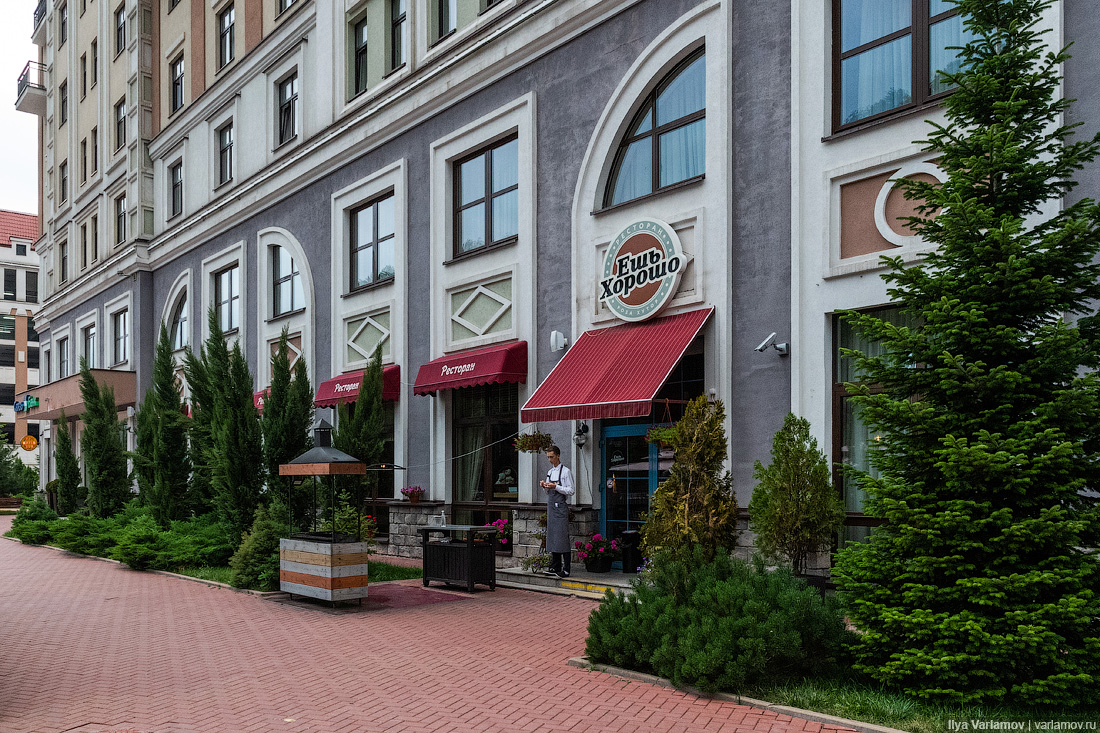 27. View from my balcony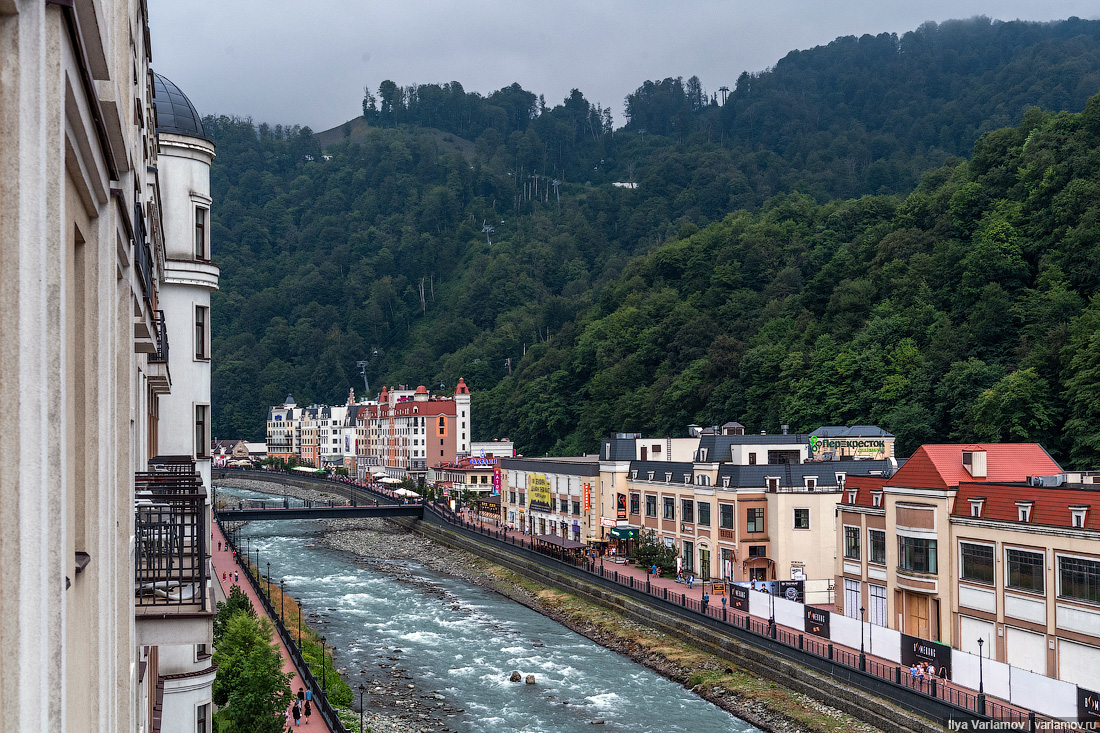 28. The architecture is not perfect, but in general I like it.It was possible to work out the details better, but hurried to the Olympics.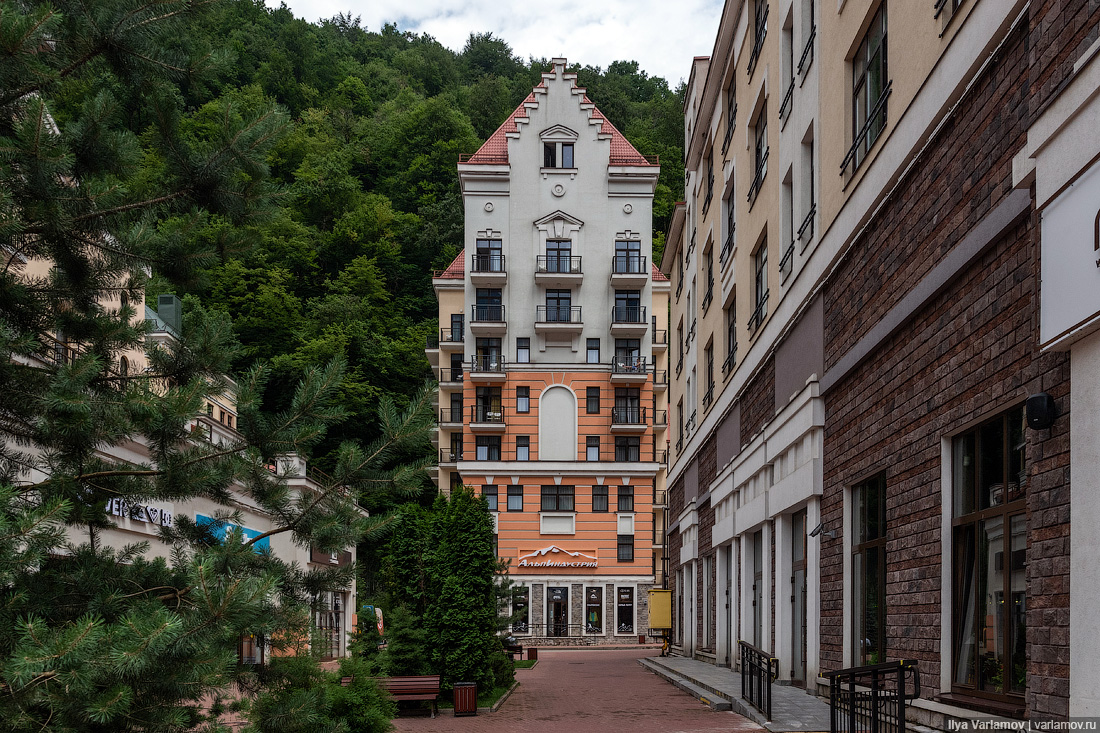 29. The embankment lacks an elegant parapet. Now they just put a high fence, which is completely incompatible with the architecture of the resort.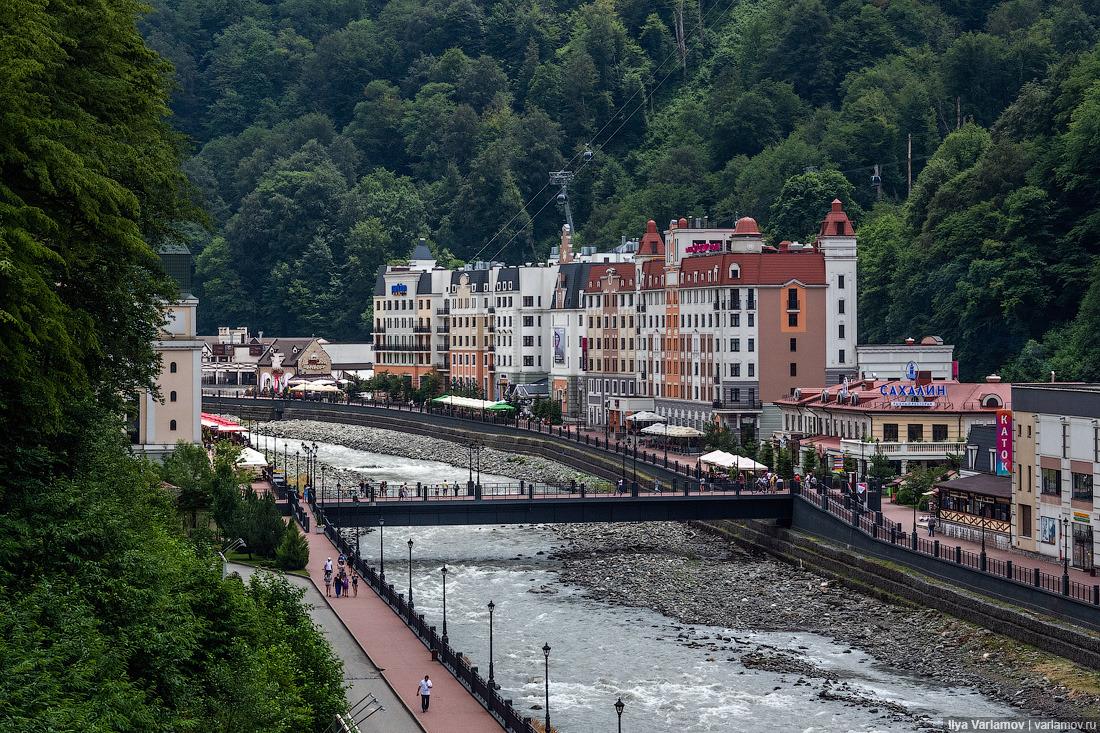 30. It's time to climb the mountains and see what's there. For this there are several lifts.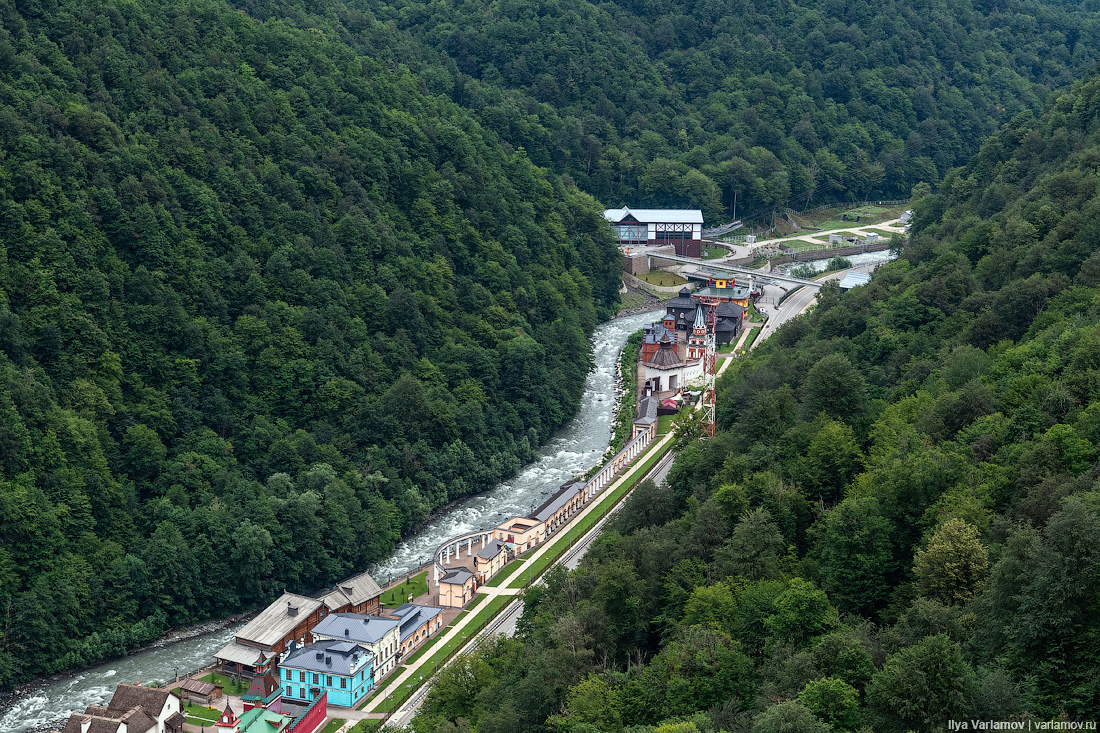 31.
32. The mountains here are gorgeous.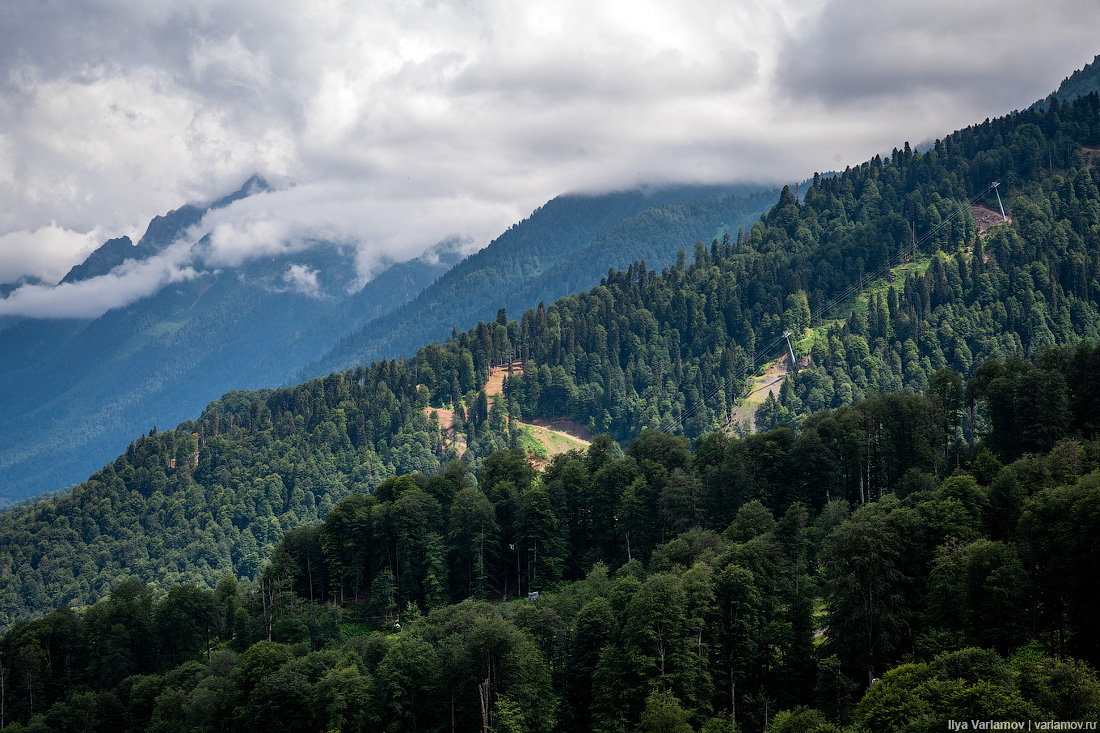 33. Beauty - forests, mountains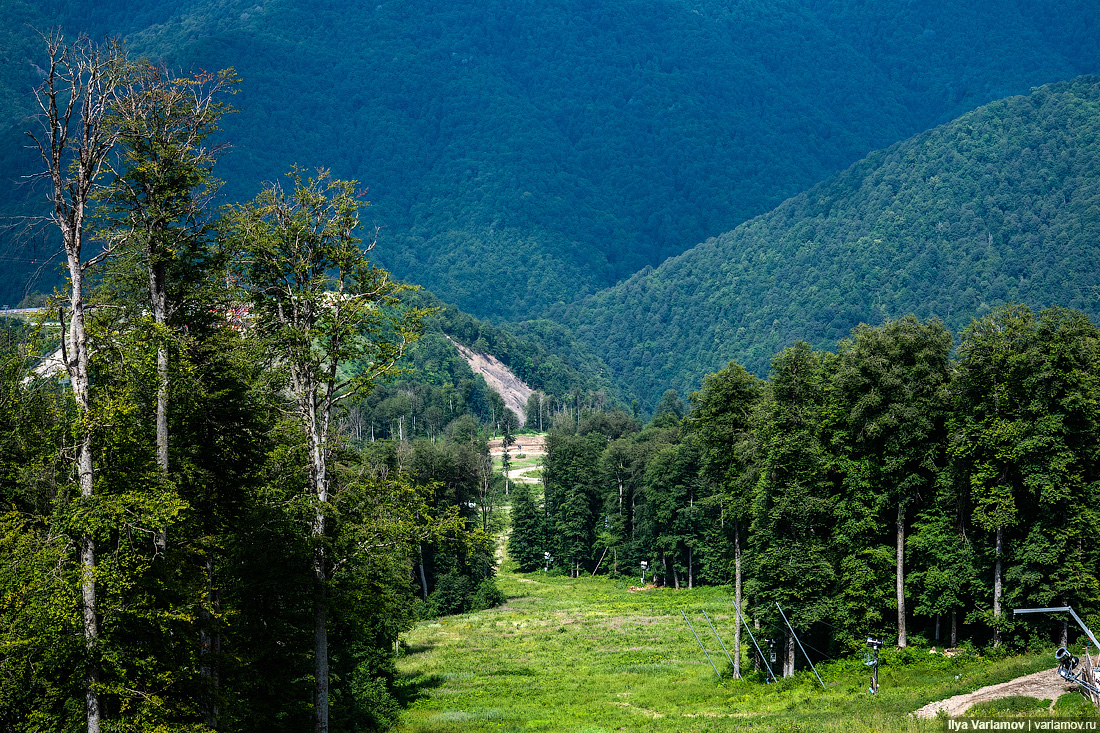 34. Ropeway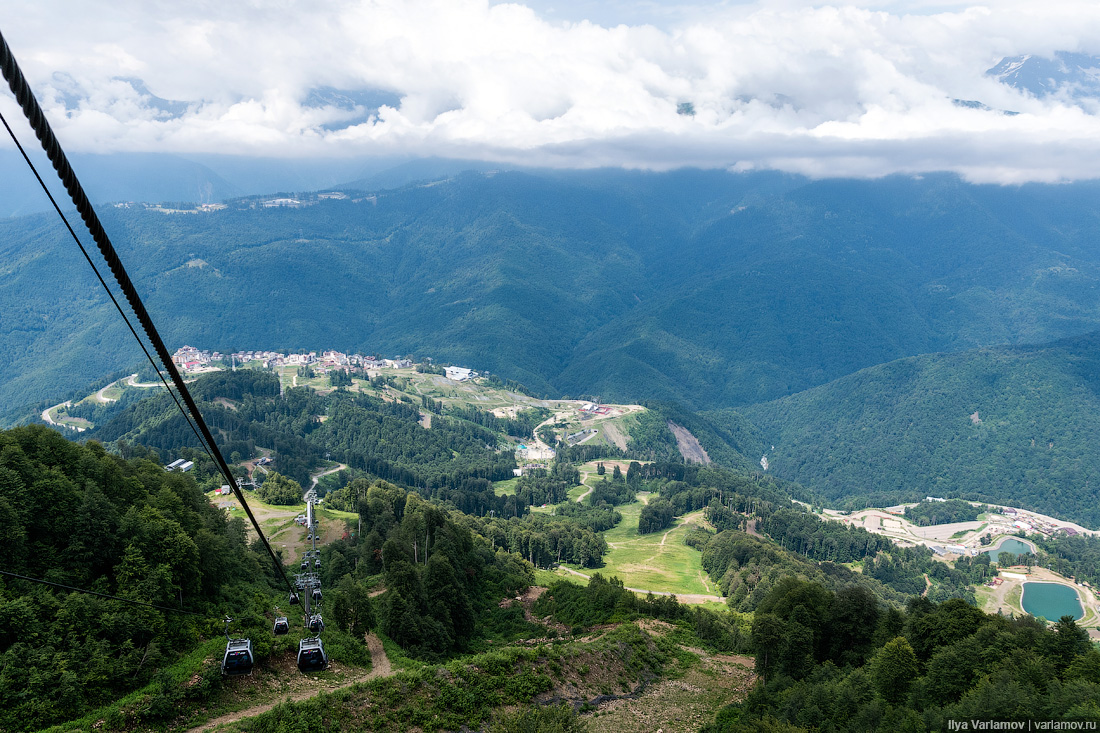 35. Lakes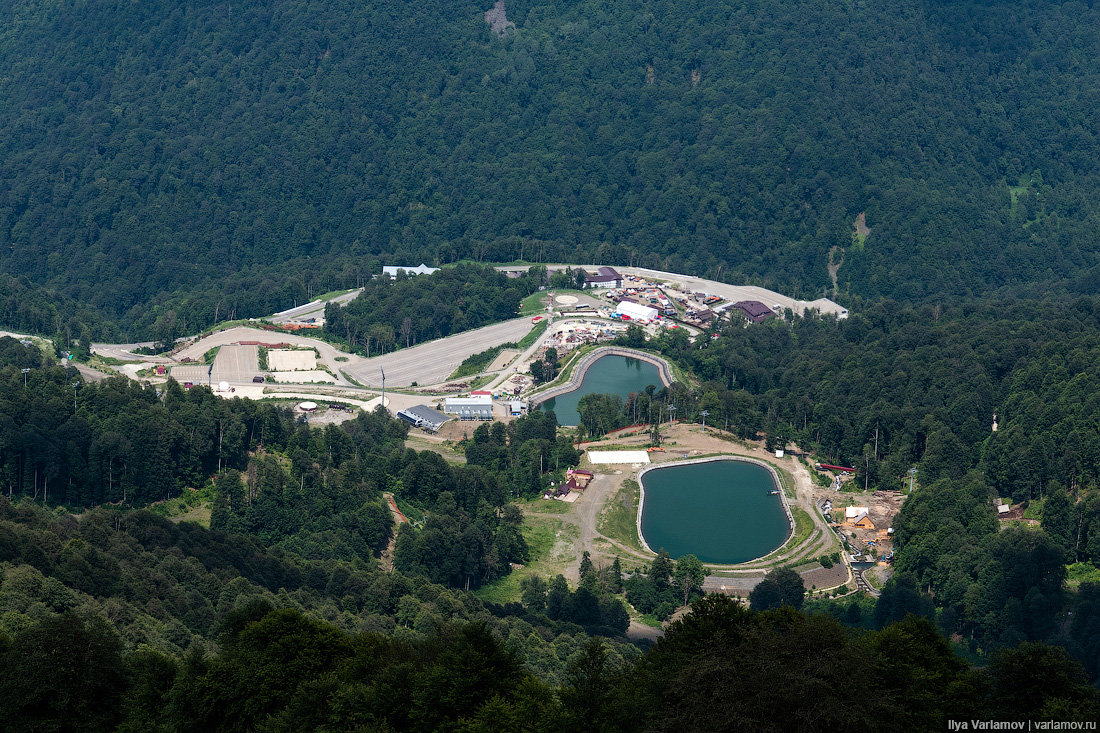 36. Rose to the top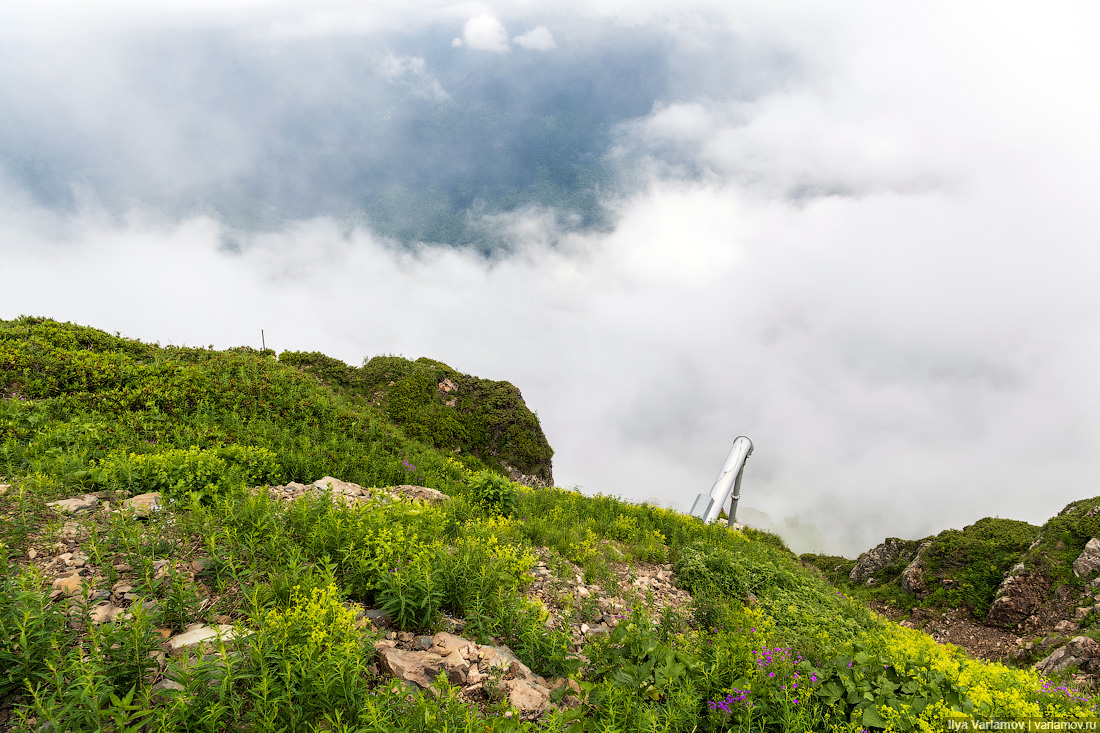 37.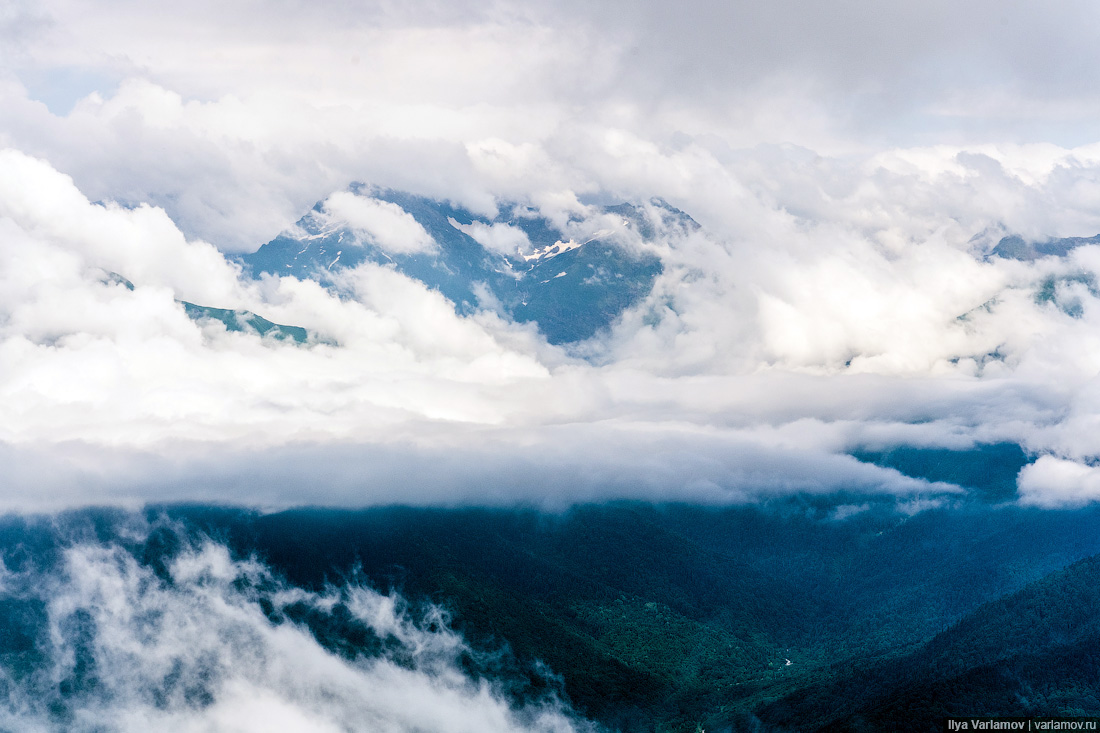 38. There is a suspension bridge here, but there were clouds. Because of the low clouds, they had the whole "Rose Peak"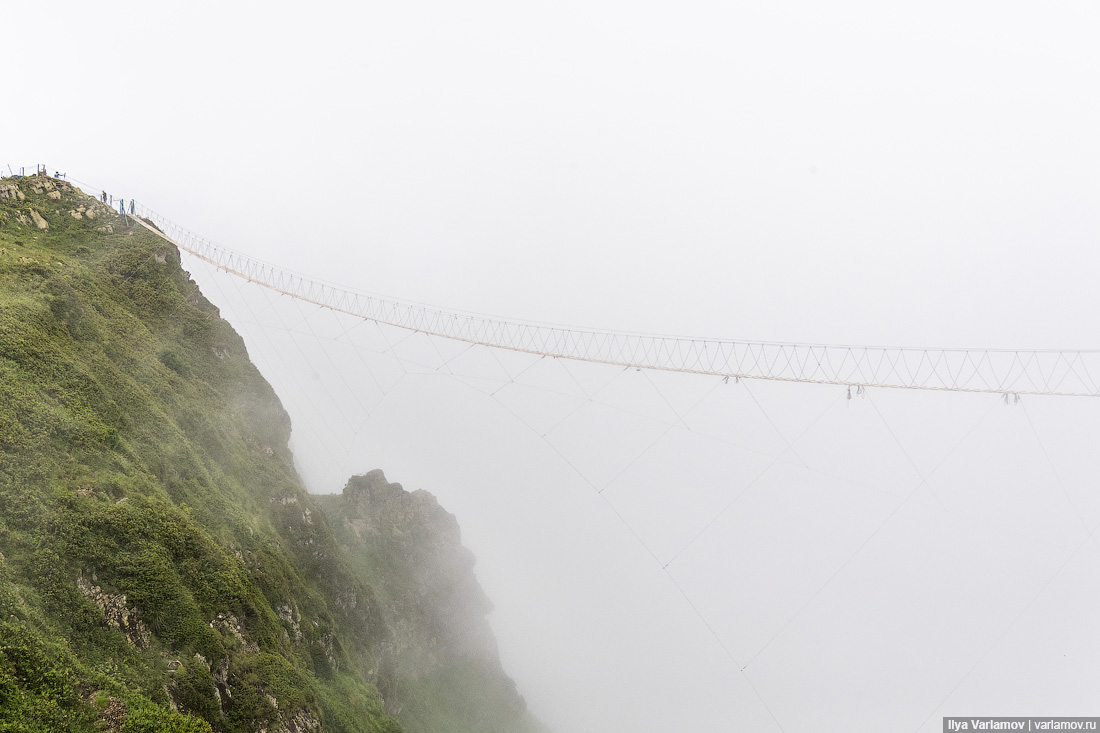 39. There is a webcam on the Rosy Khutor website, it is possible to know the weather and clouds above in advance.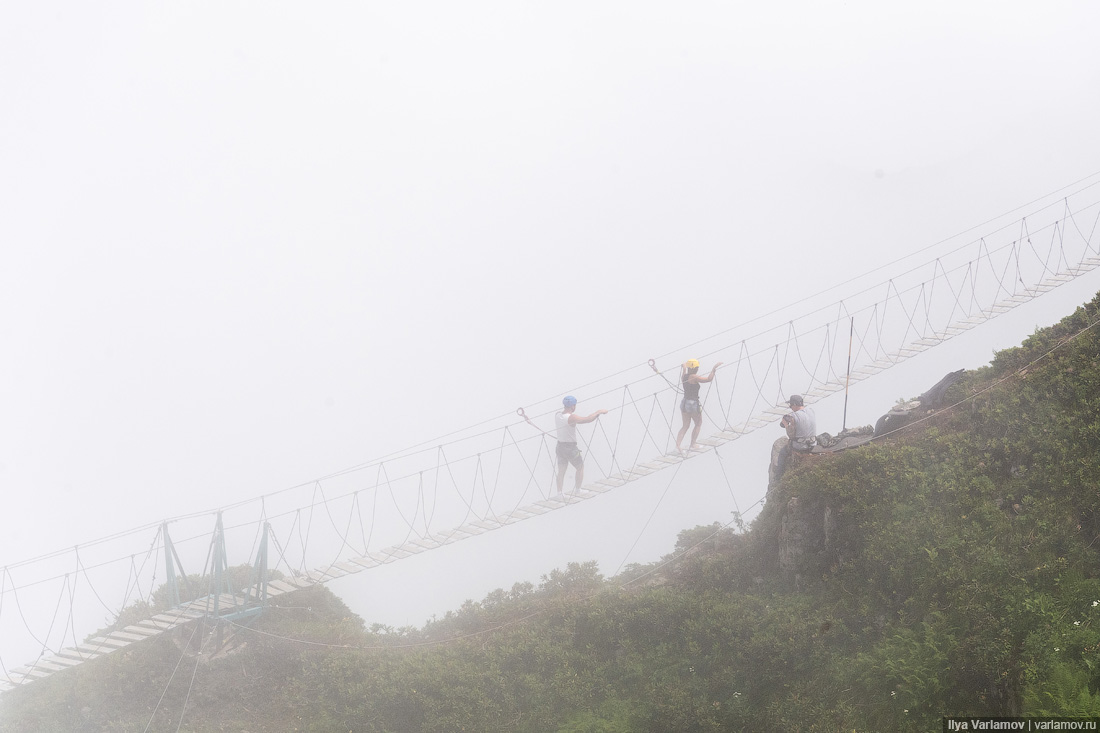 40. Goats graze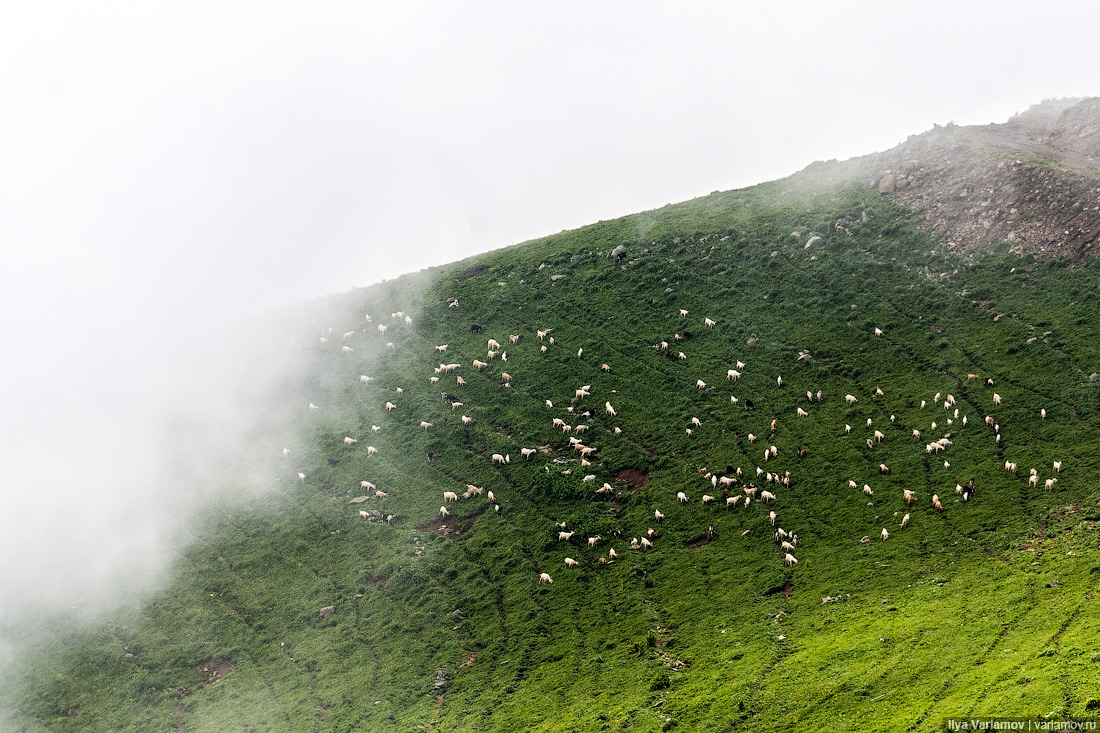 41.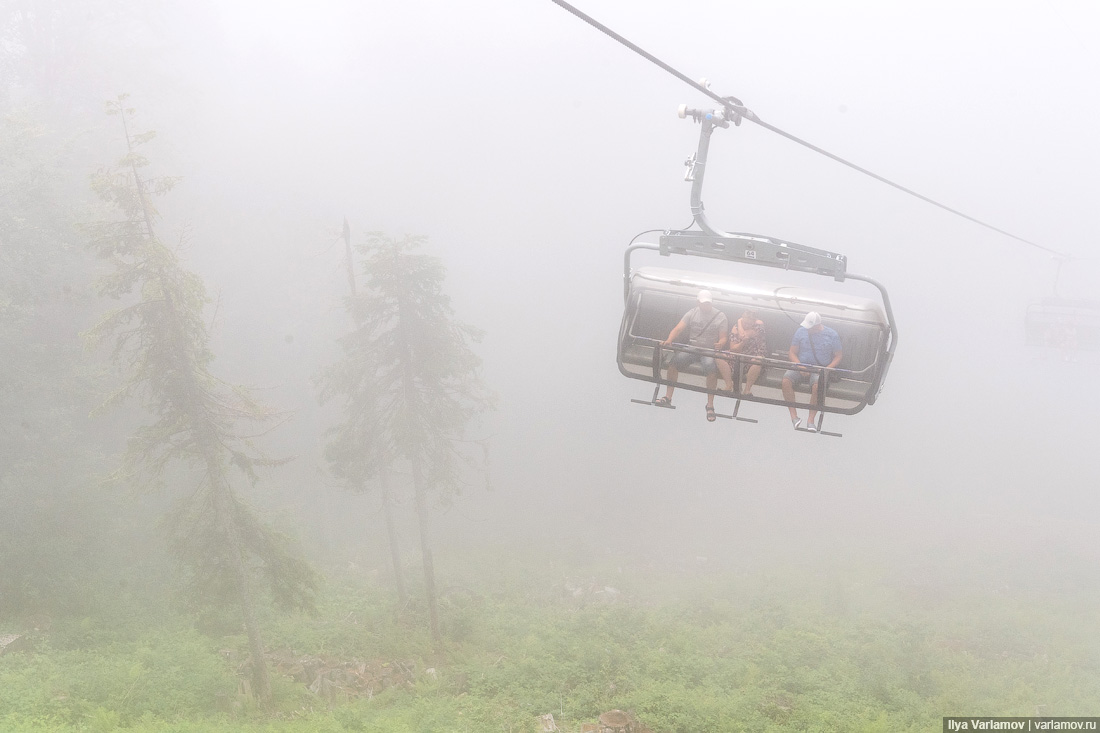 42.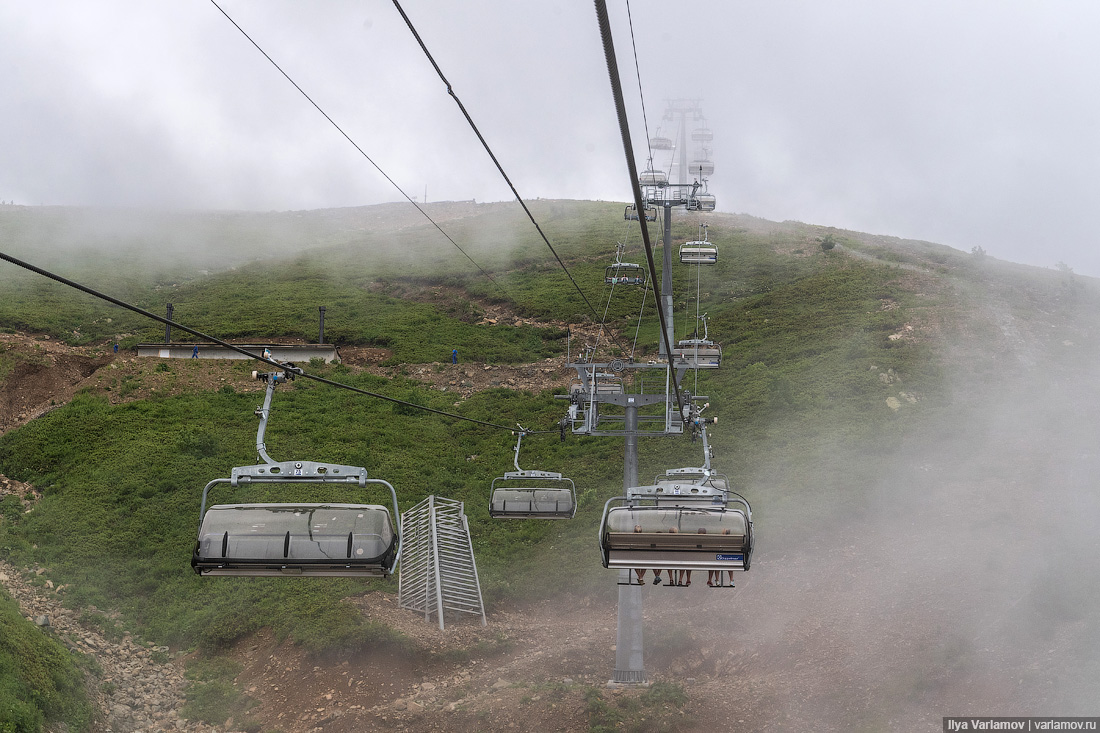 43.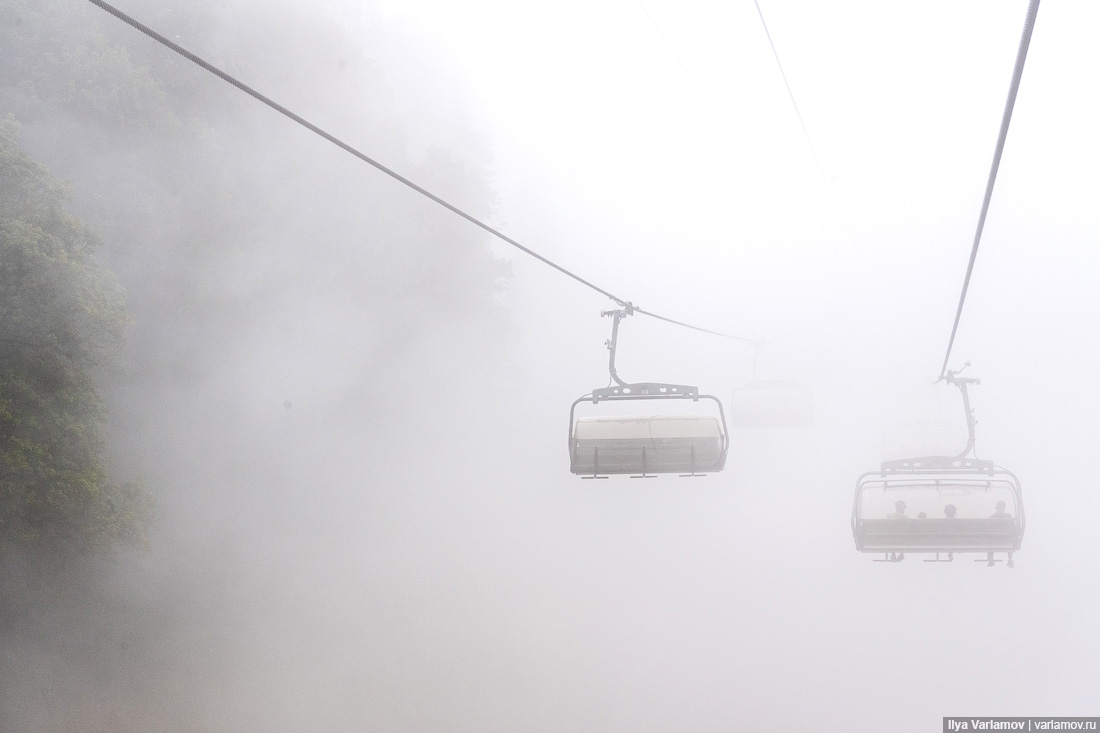 44.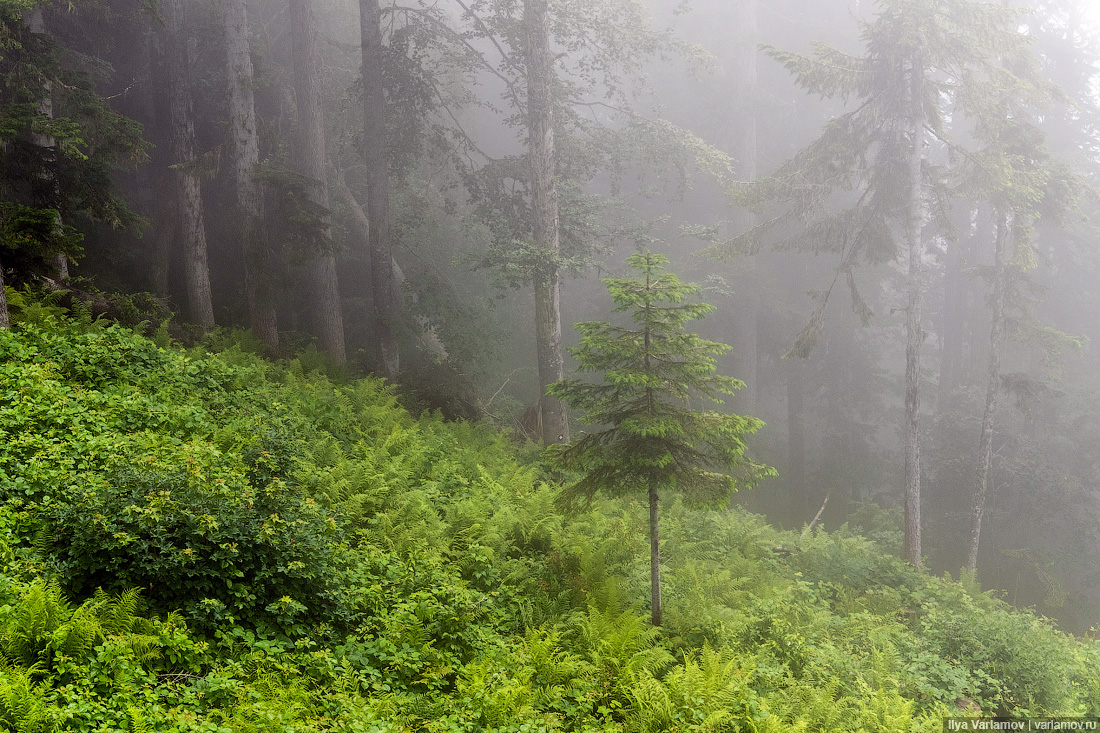 45. We descend into the park of the Mendelih waterfalls. There are 2 tracks - a large and a small ring, on which you can walk and see everything. Of the minuses: everything is in Russian, not duplicated in English. Considering that many tourists have now arrived, it is not clear how they are oriented. In this case, some inscriptions are duplicated, but basically all navigation is only in Russian.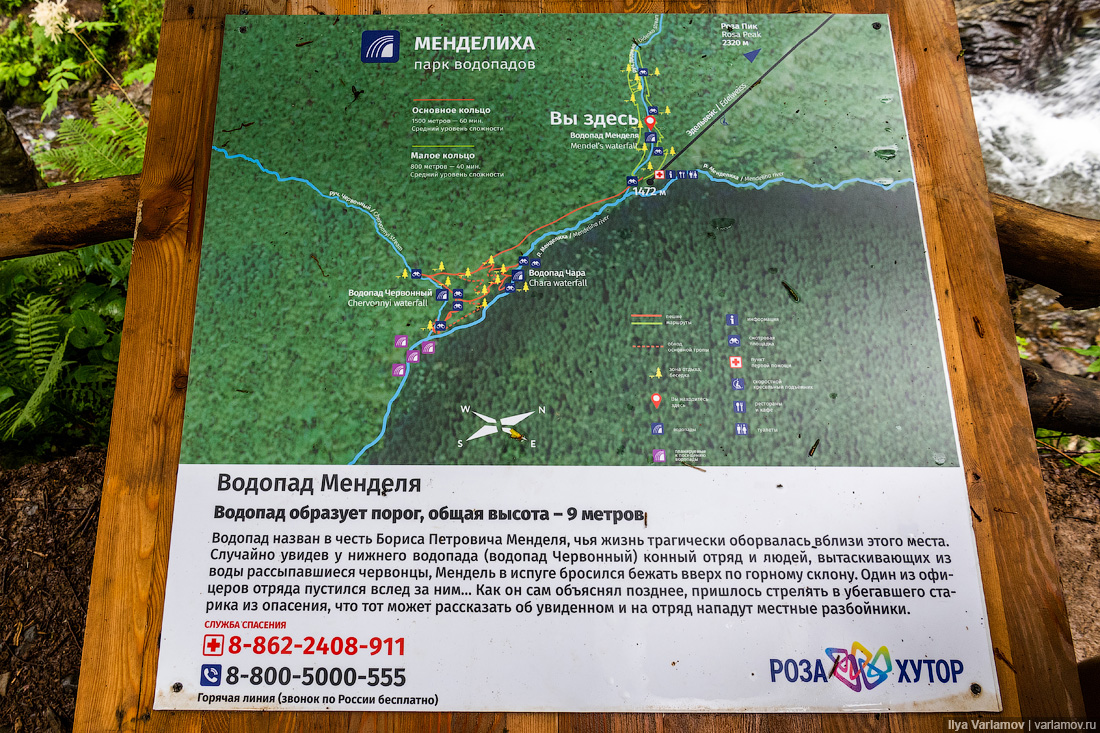 46. ​​I liked how neatly made the cafe. Everything is in style, not knocked out, nice architecture.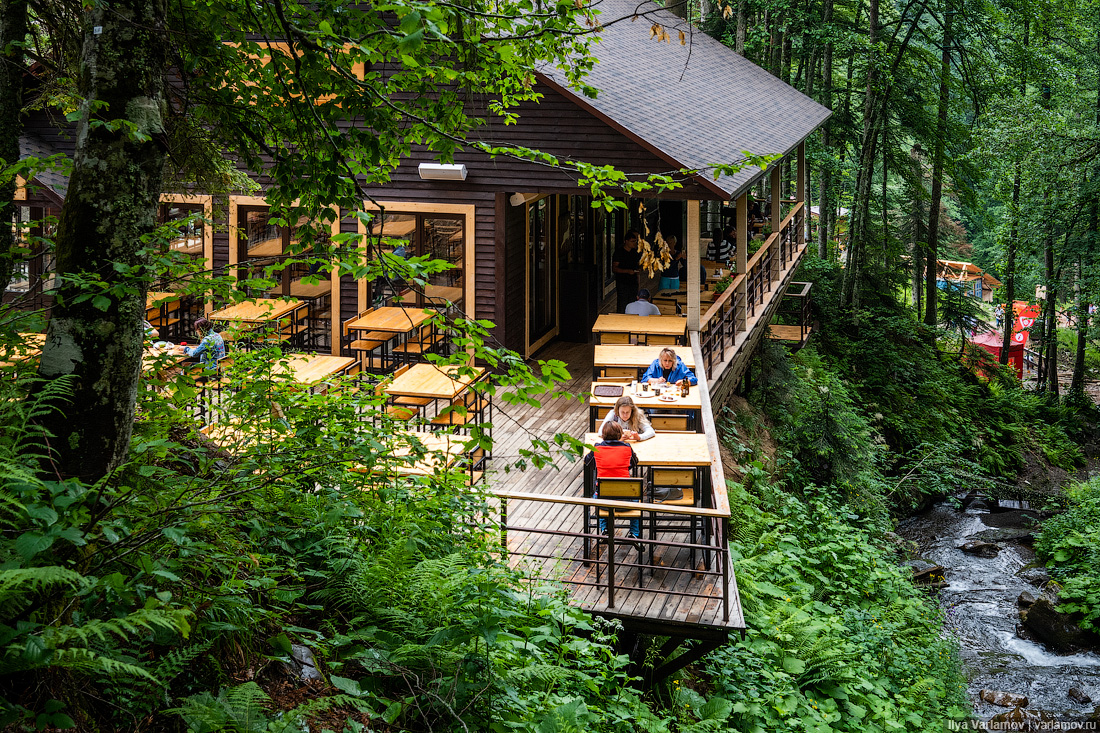 47. The tracks themselves are thought out: steps, stones - everything is like in New Zealand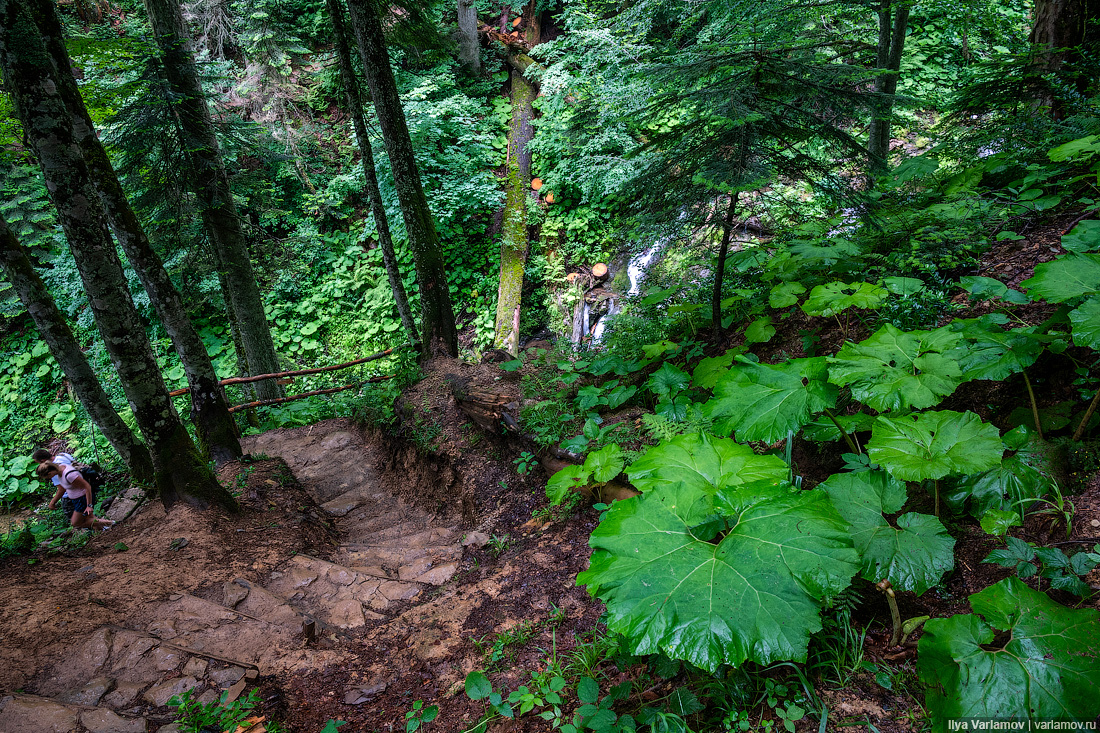 48. Everywhere beauty, virgin nature, perfect purity, that is rarely found in Russia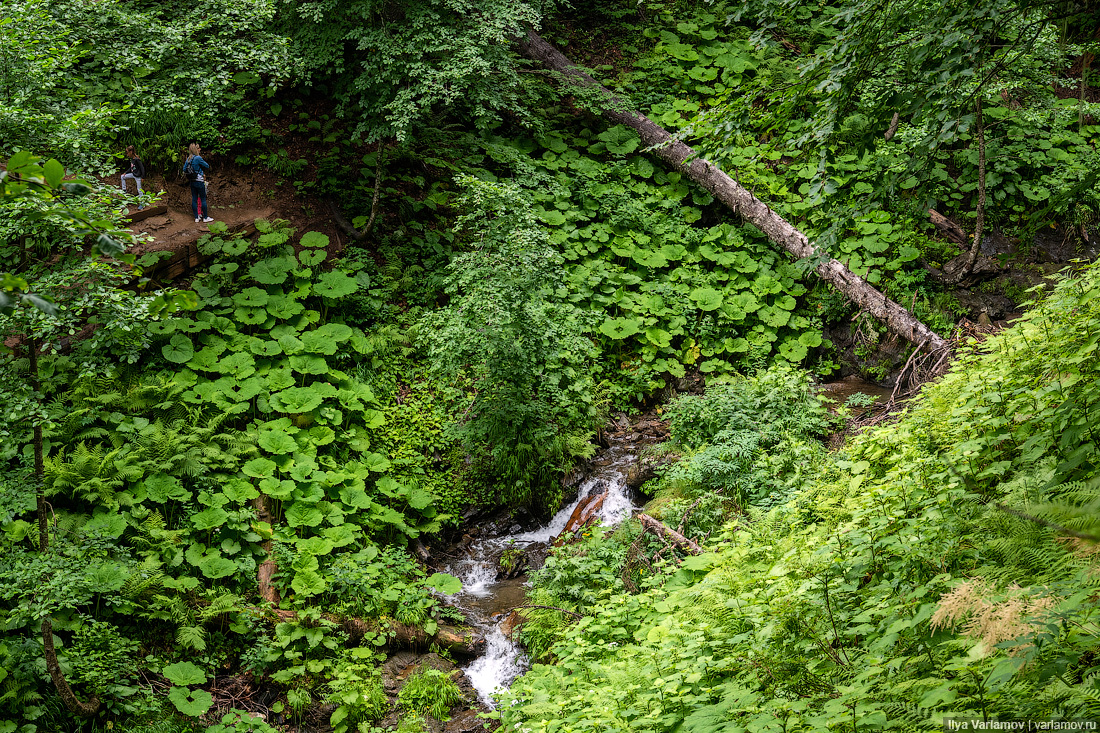 49. Either it is constantly cleaned, or the people see the beauty and do not foul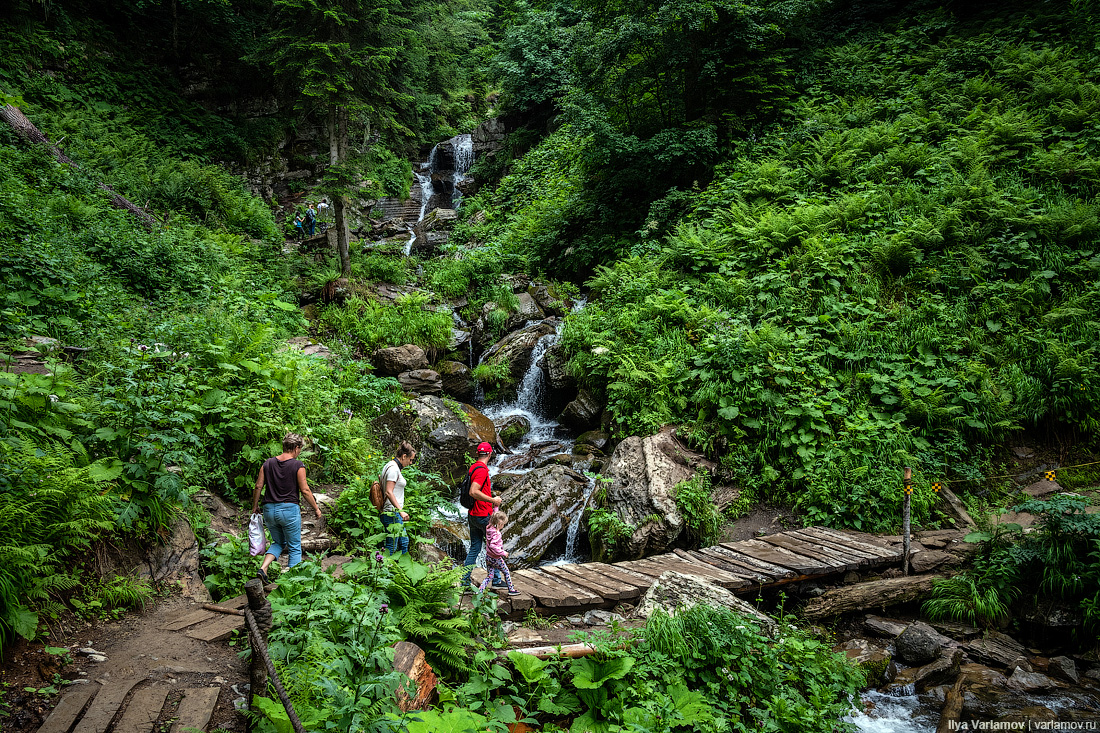 50.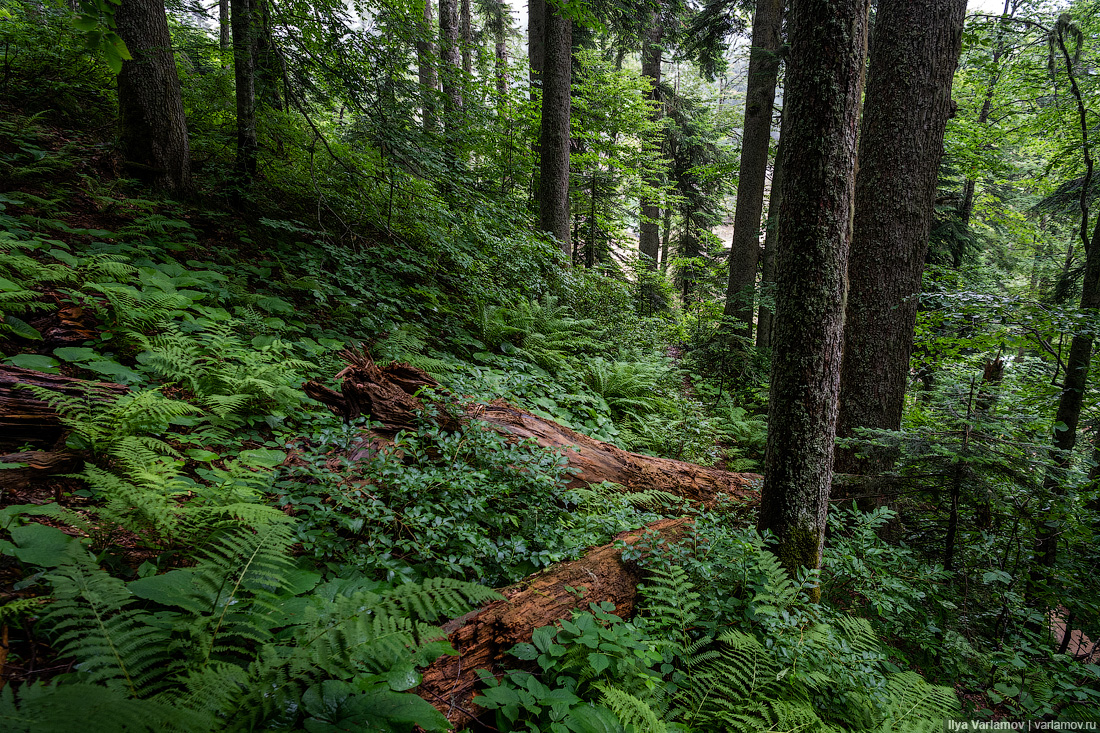 51. Everything is great!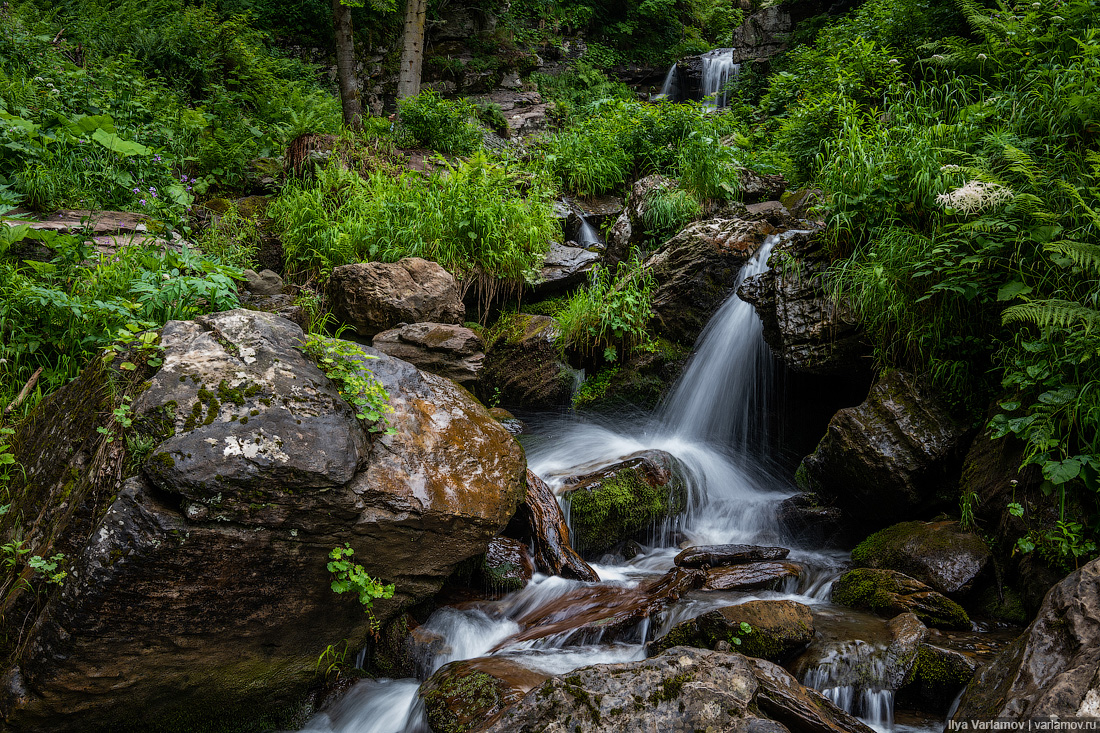 52.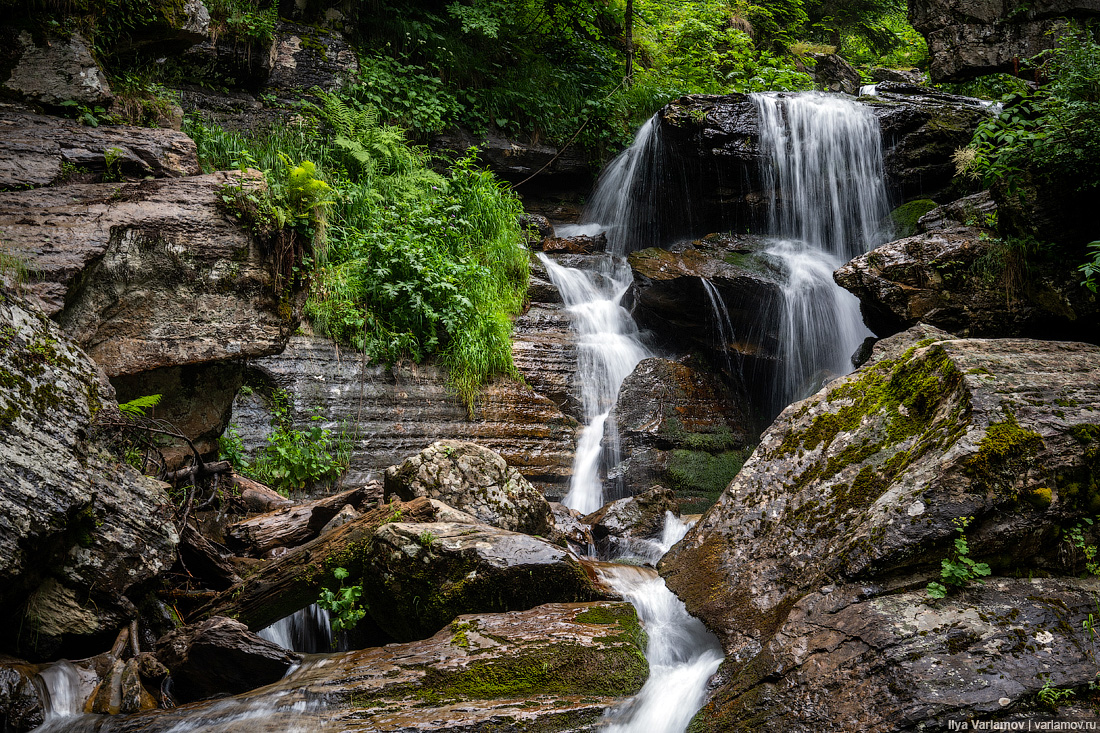 53.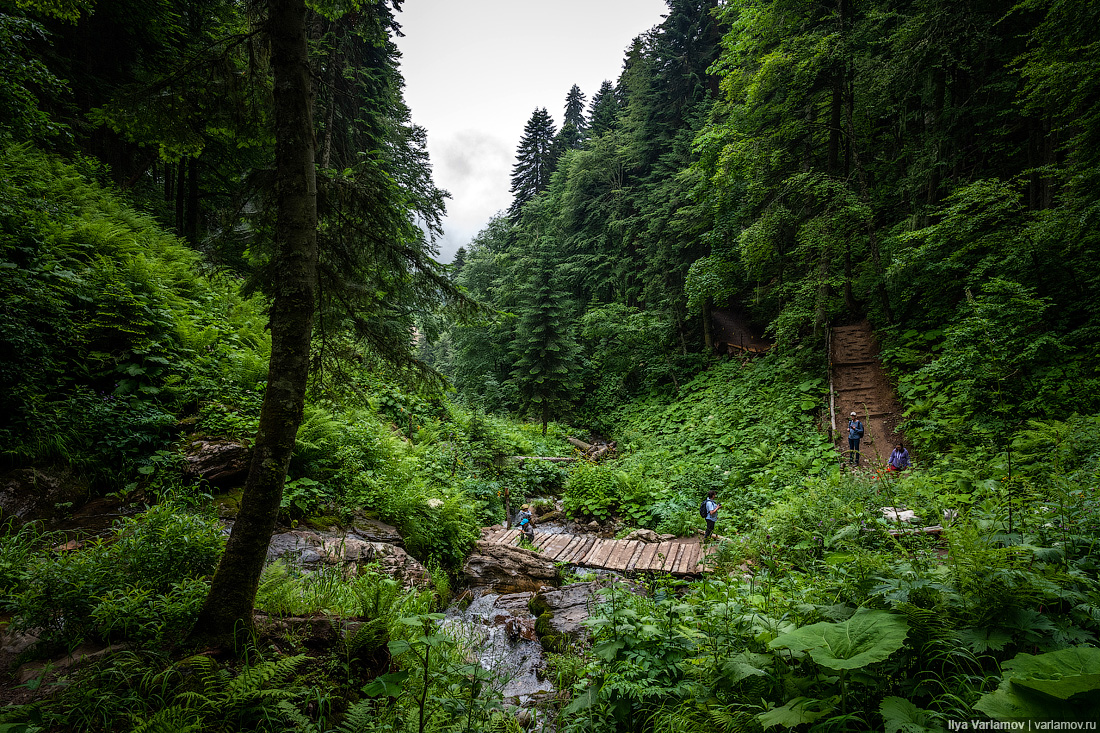 54.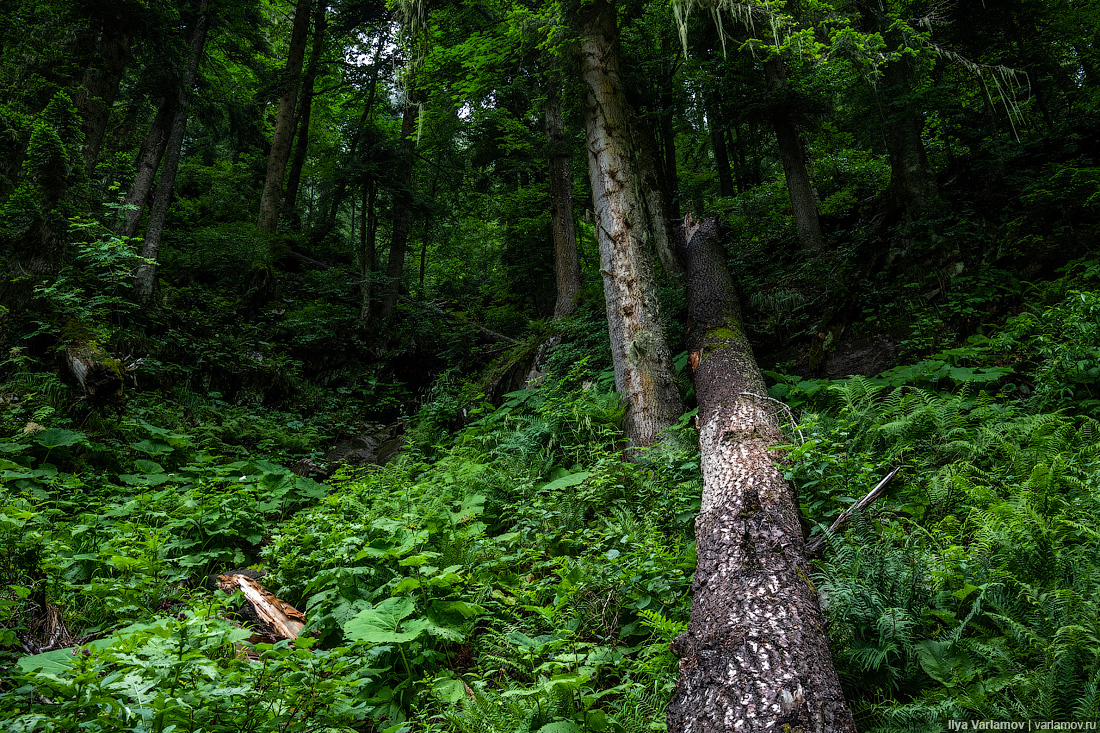 55.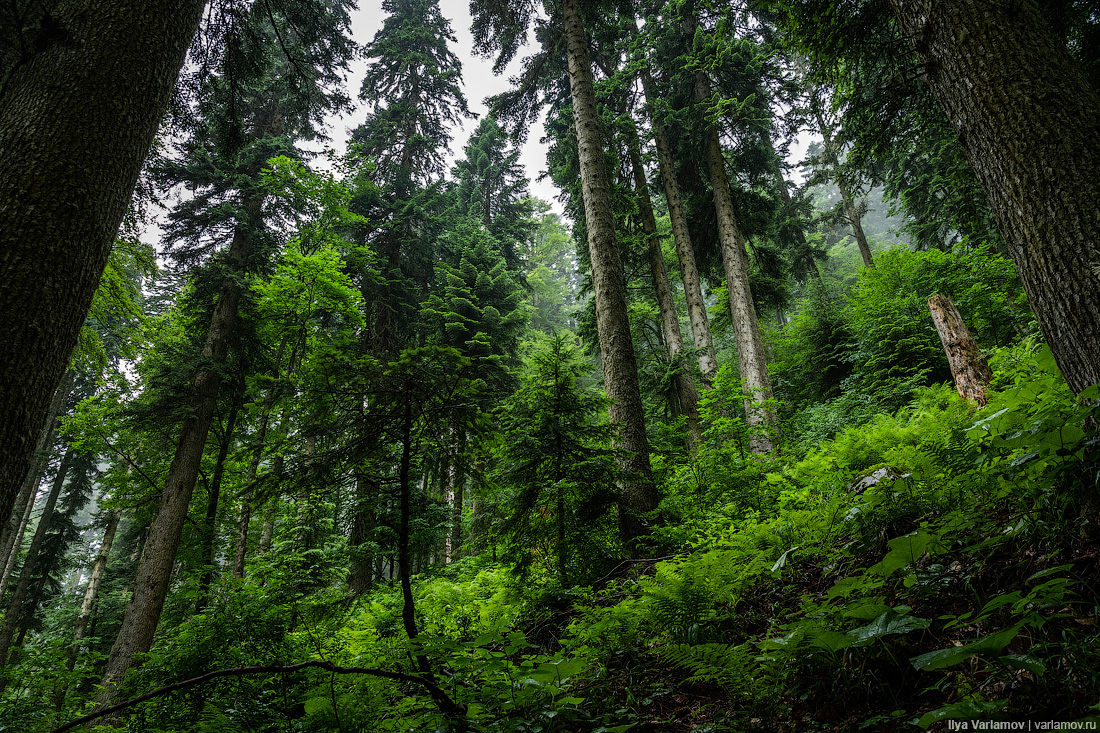 56.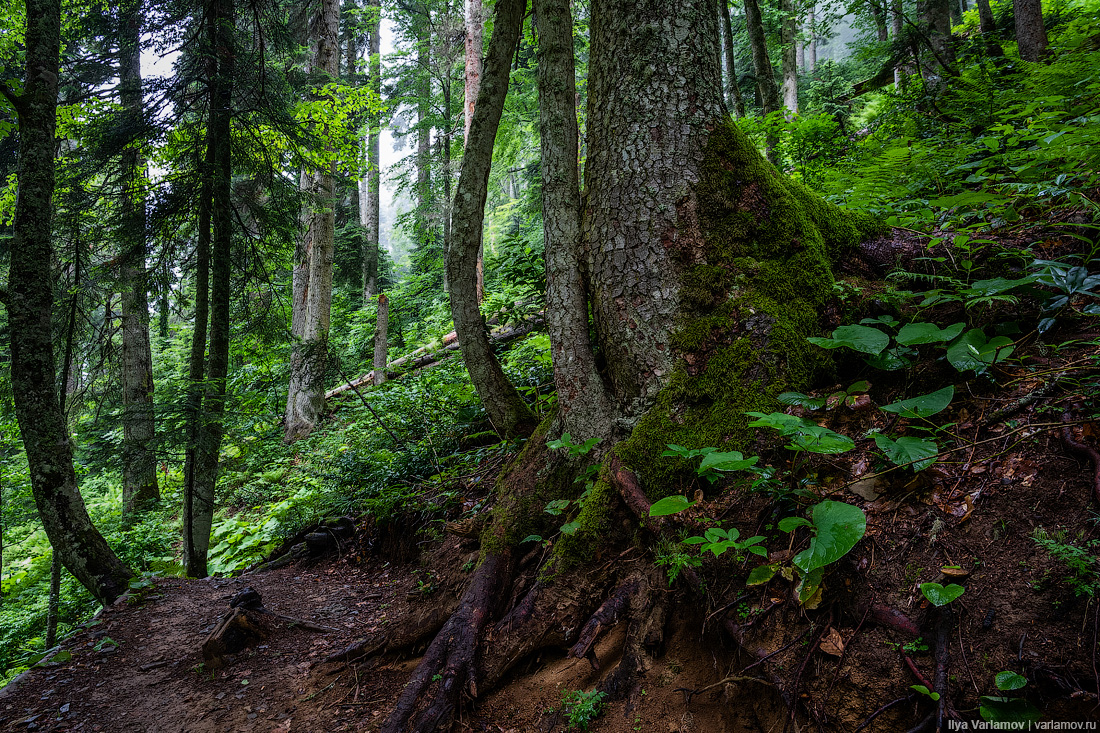 57.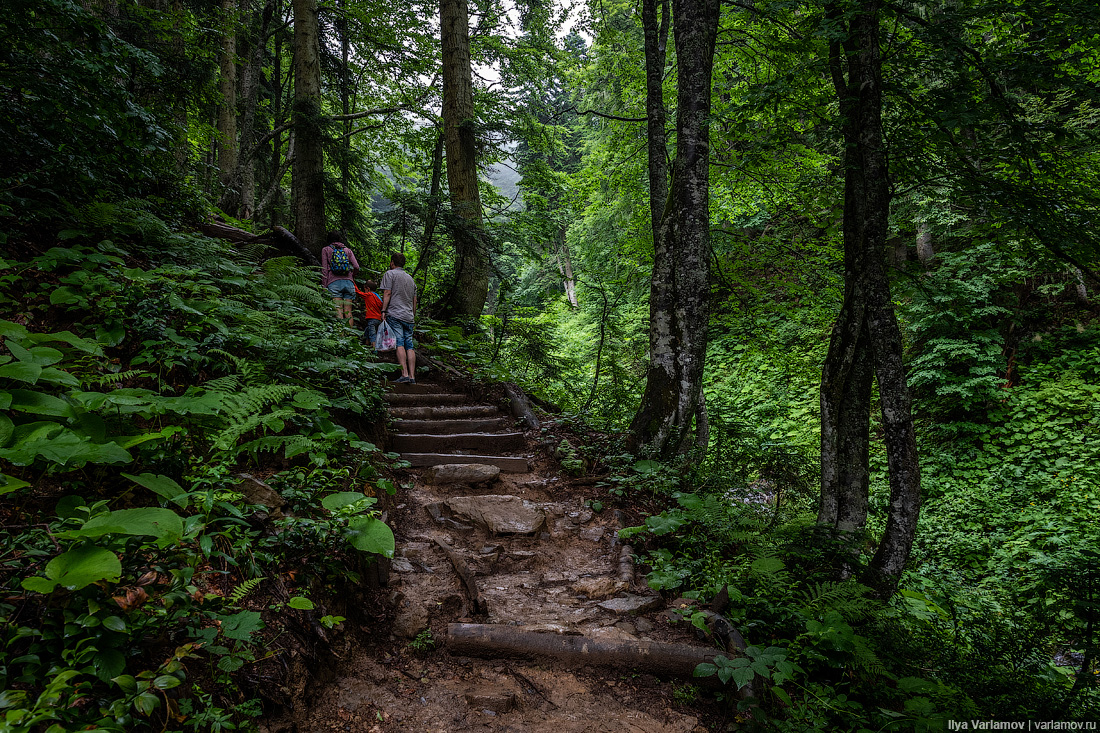 58.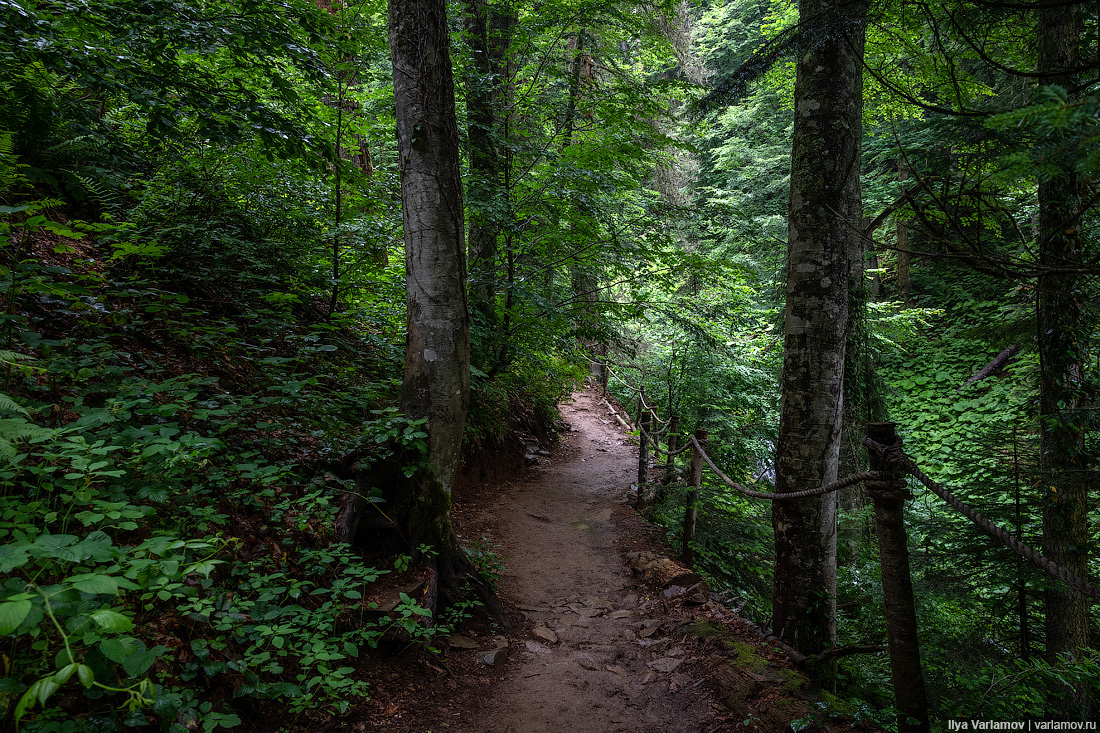 59.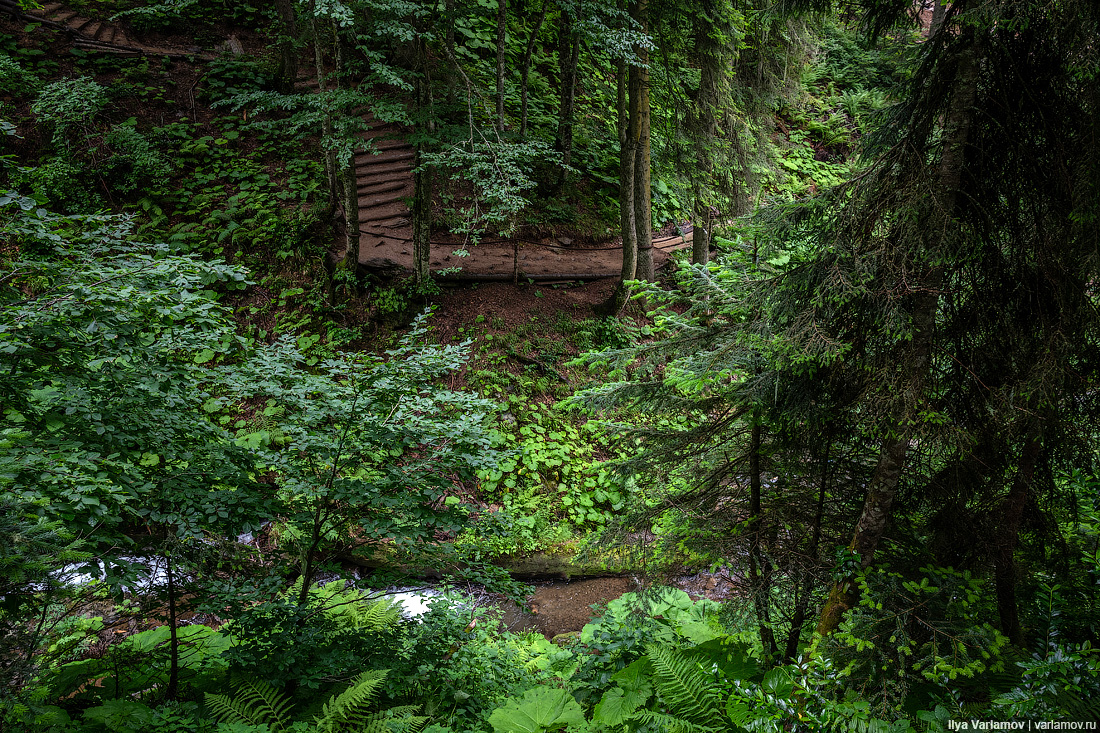 60.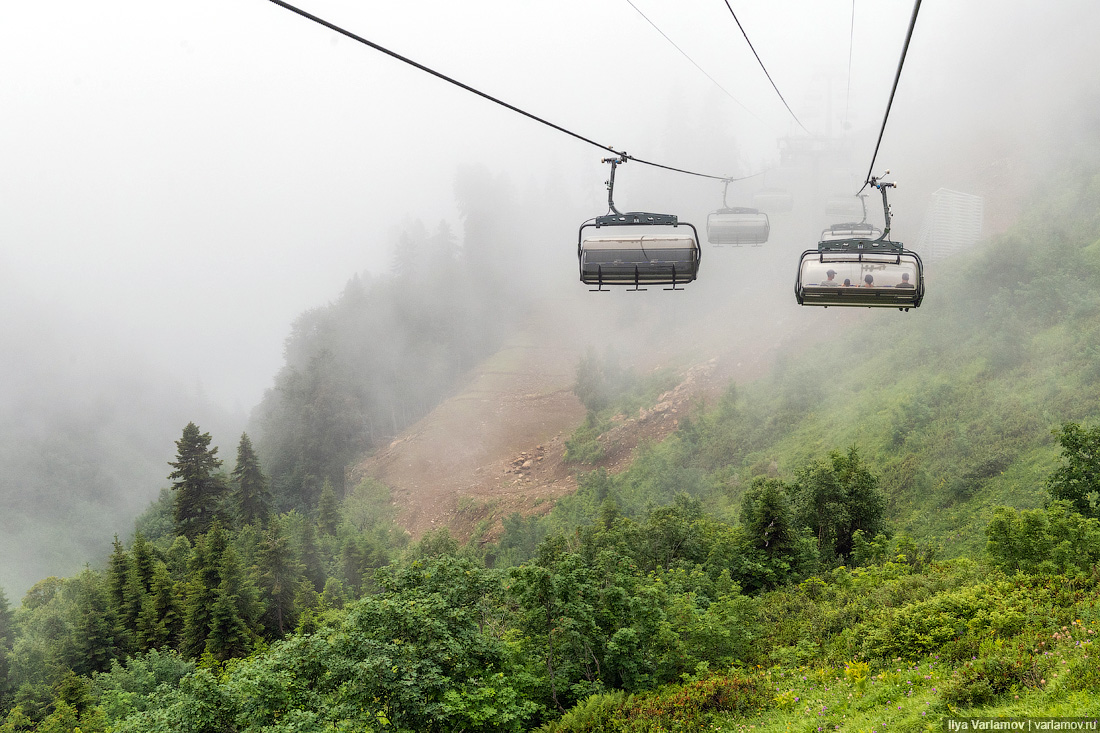 61.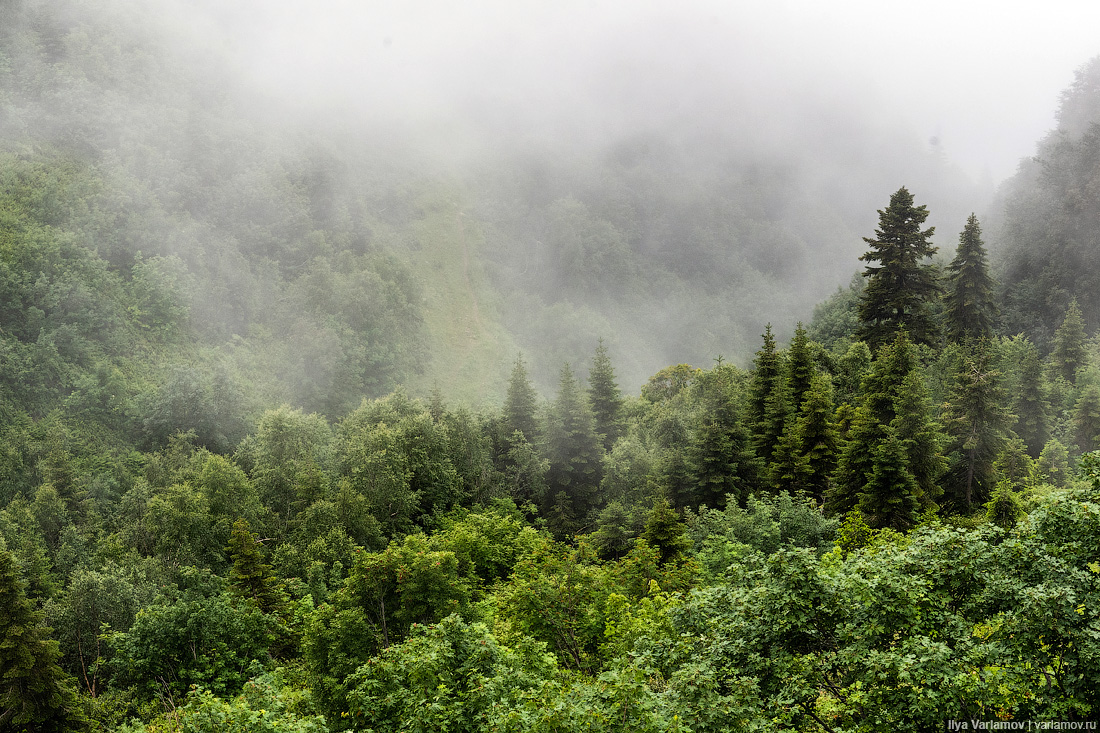 62.Prices in a cafe near the waterfalls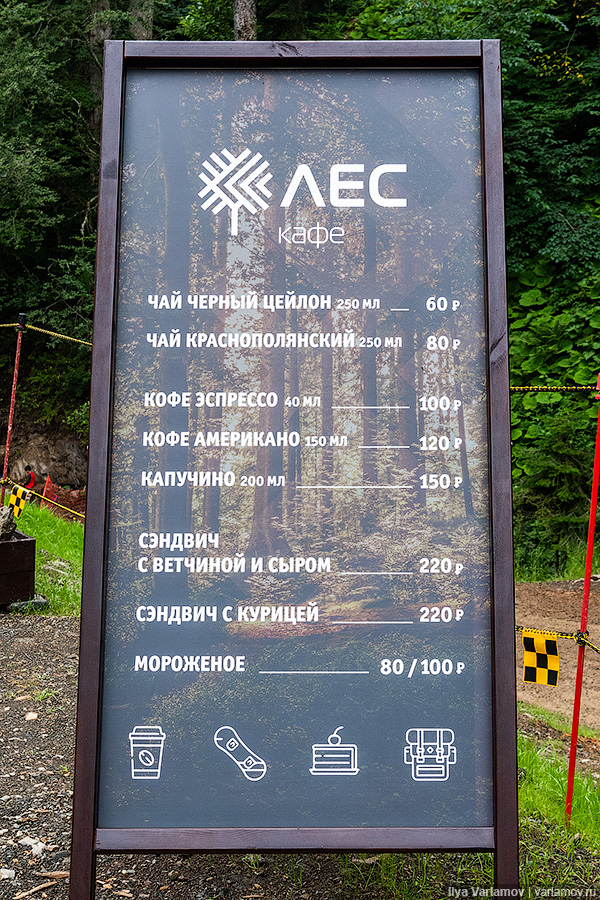 63. Prices in the cafe on the "Rose Peak"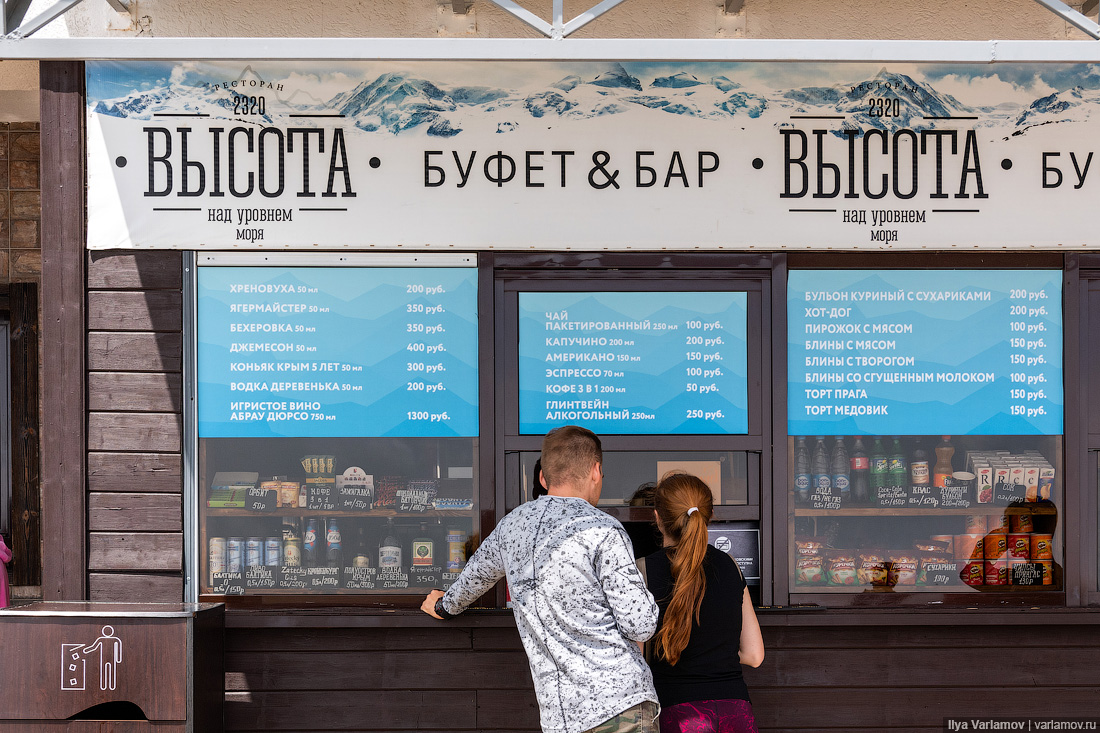 64. In Rosa Khutor itself there is also a track, called the "Health Path".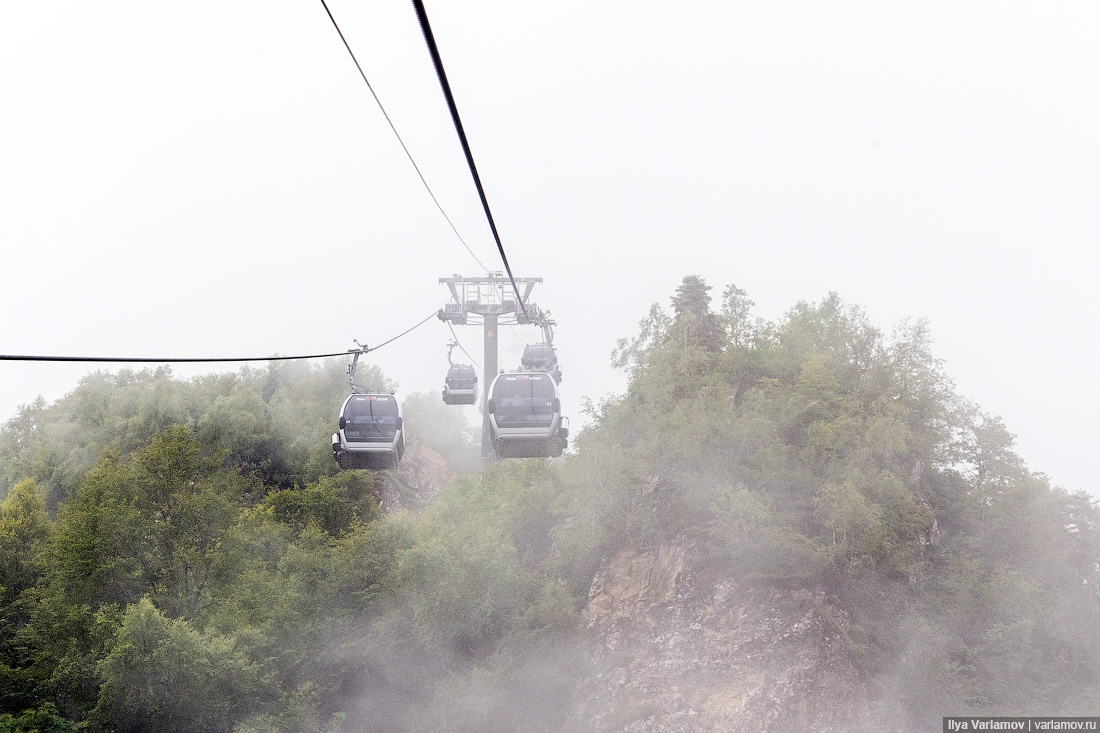 65. There are 3 route options: for 2 hours, for 1.5 and for 15 minutes.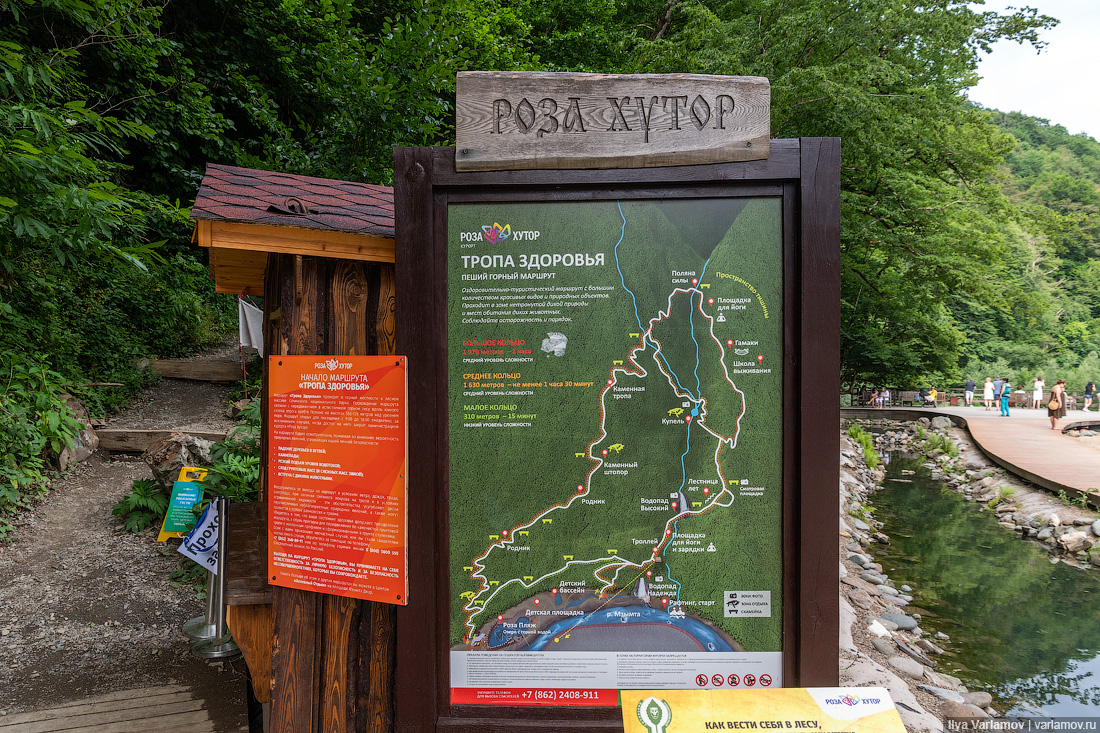 66. Very nice track. Since the tracks are dirt, and after the rain, shoes can be stained, it was pleasantly pleased that before entering all tracks there was a special brush to clean the shoes. Again, like in New Zealand!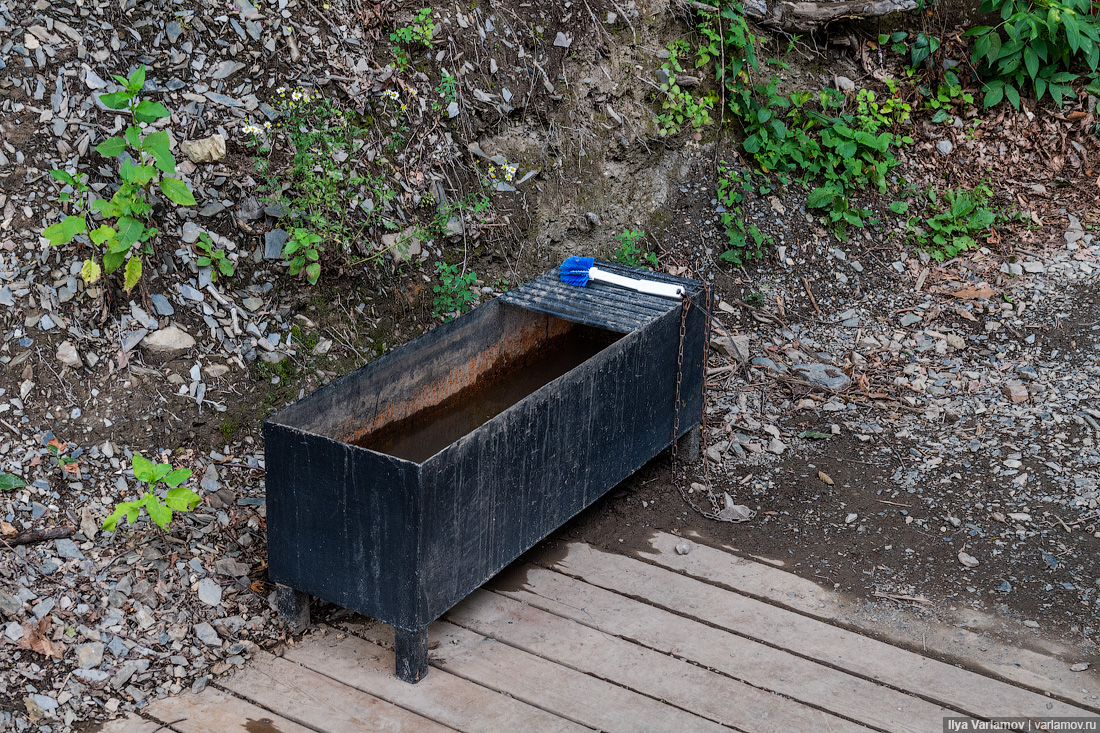 67. Paths to the maximum equipped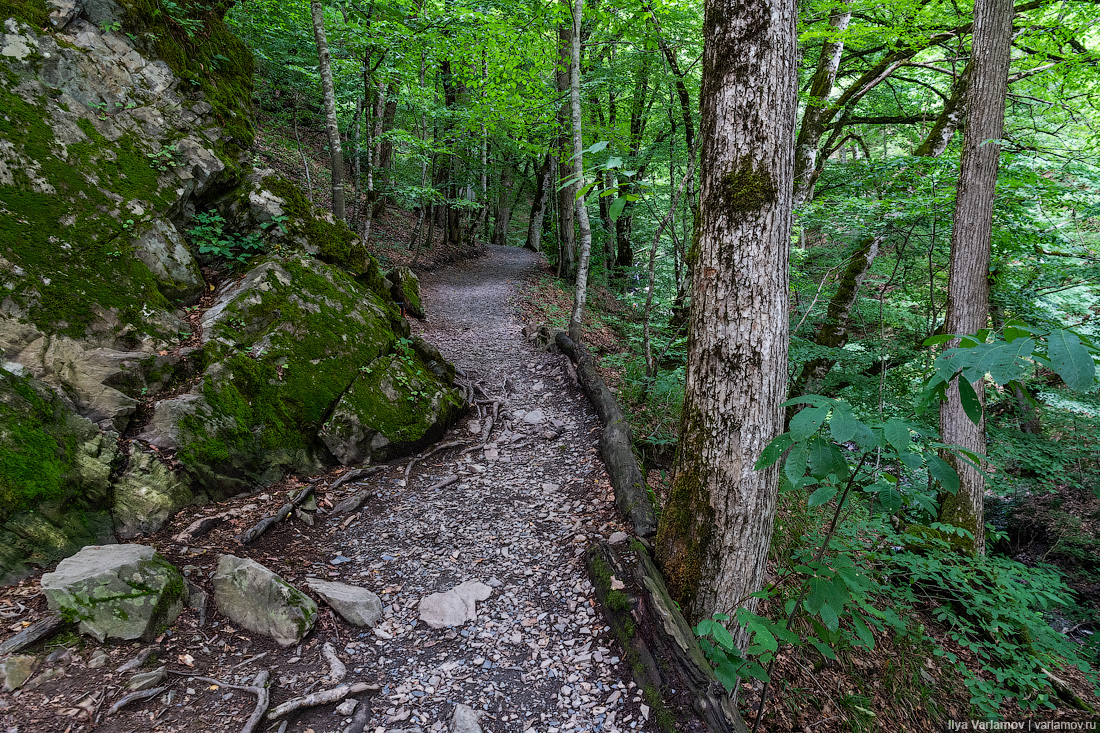 68. Everywhere there is a railing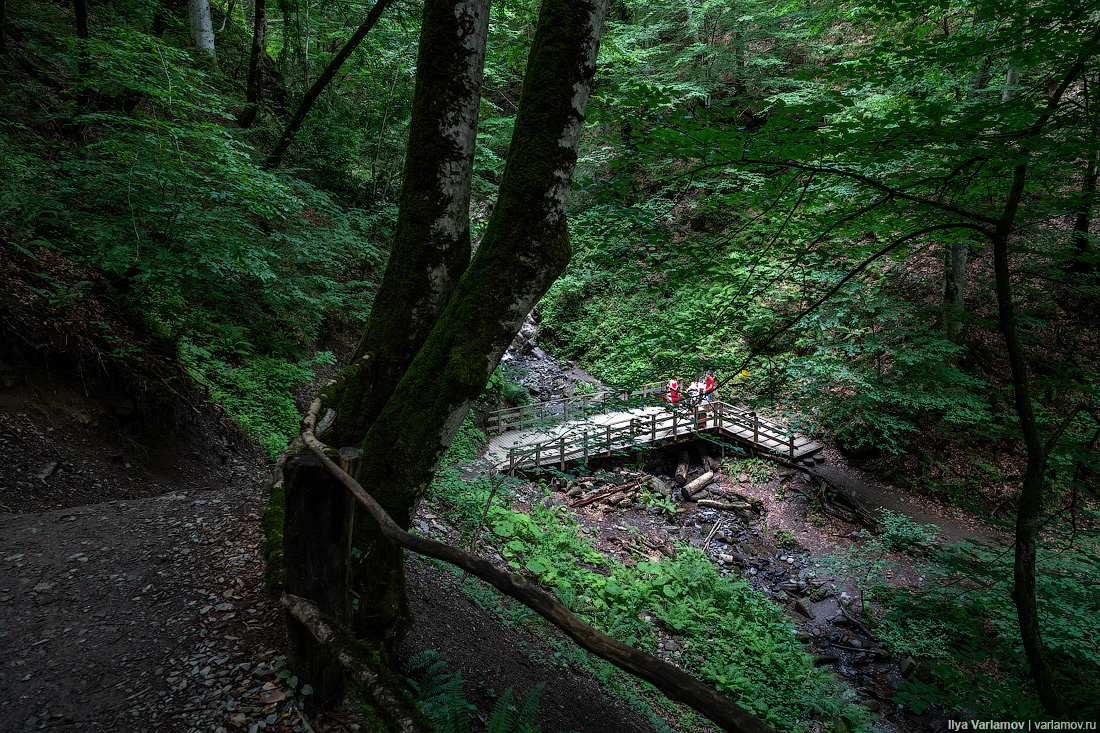 69. Everything is made of wood and stone.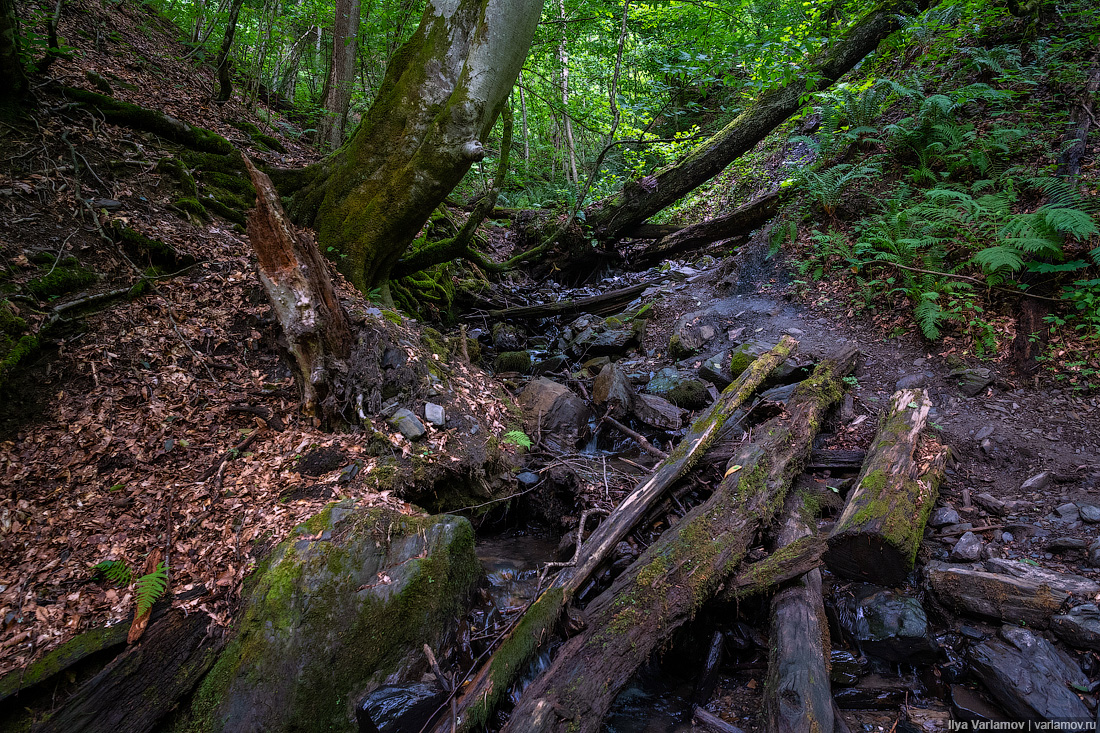 70.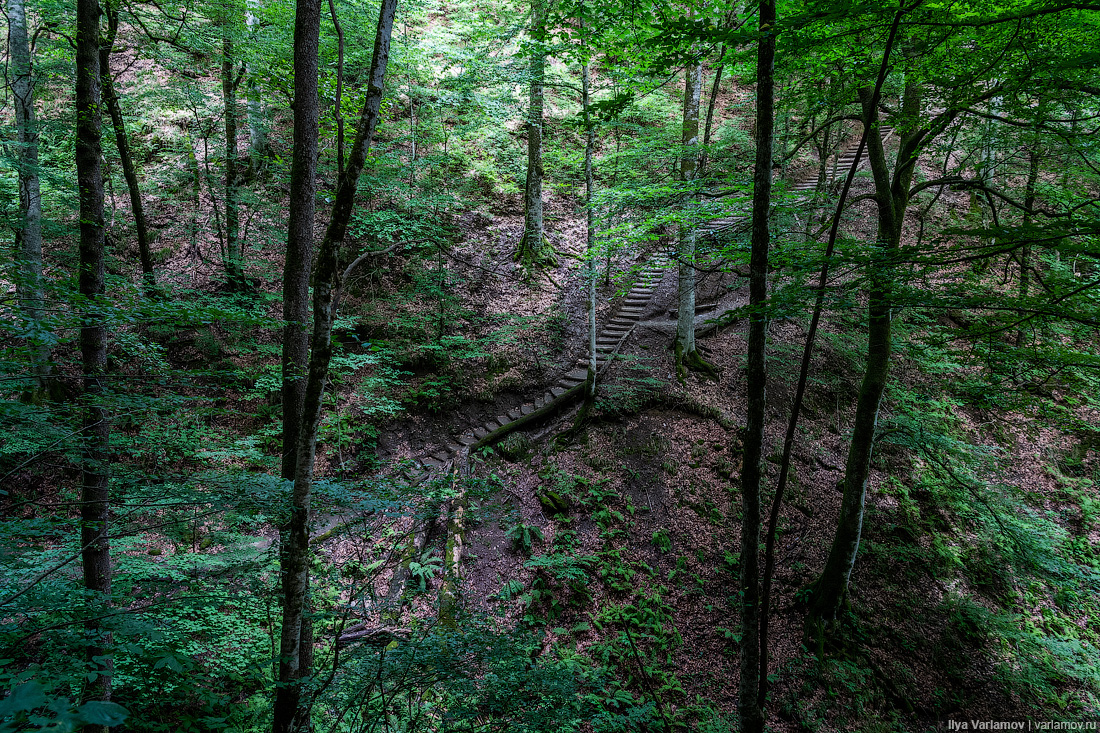 71.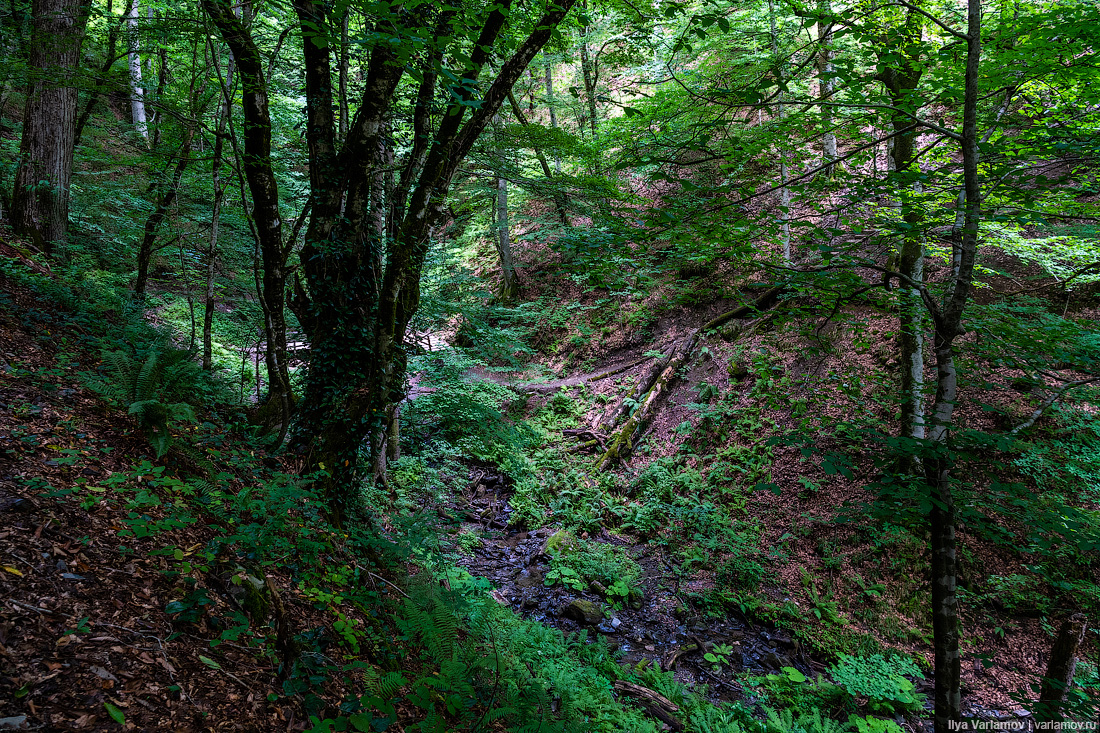 72. Thank you AZIMUT for helping to distract from football for a day, take a break, recharge your batteries to further illuminate the World Cup. Come to Rosa Khutor.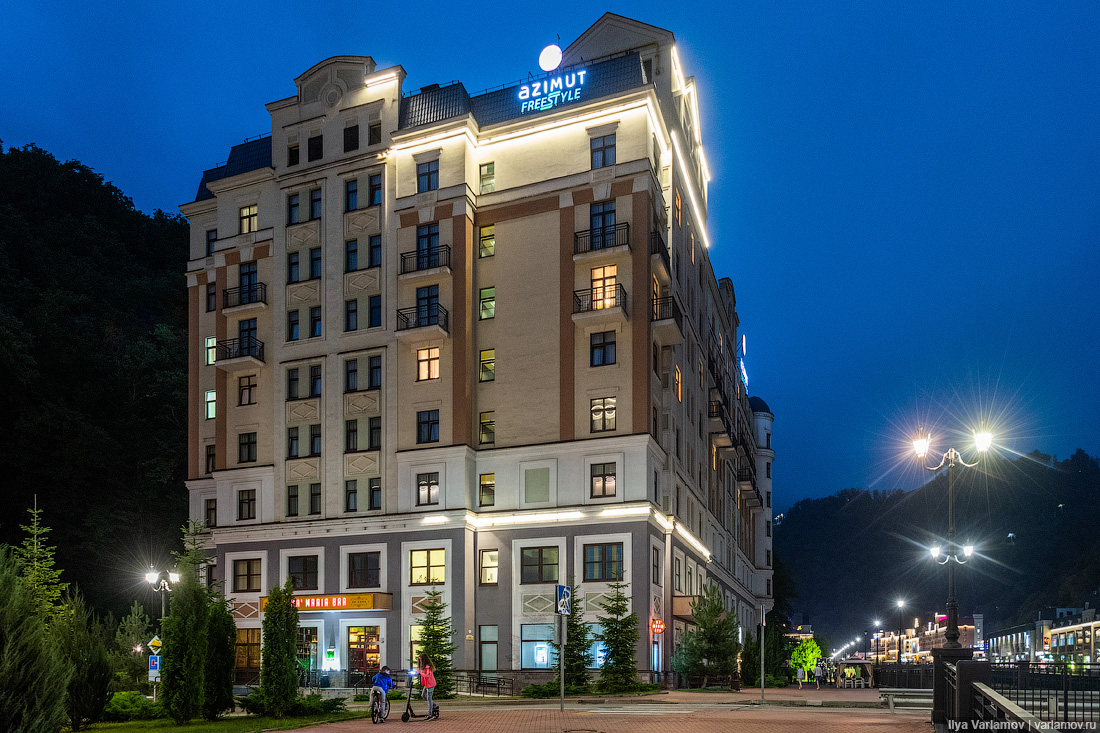 Taken:
unique templates and modules for dle
Mass descent in bathing suits at the resort Rosa Khutor in Sochi
Winter sports enthusiasts spent the weekend taking part in the BoogelWoogel festival at the Rosa Khutor resort in Sochi. About 20,000 people took to the slopes, 1
- How am I to you in this perspective? How kind? - I bent in the back, a little bit otkrychiv buttocks. From that set of vowels that I heard in response, I understood - it's really a kind
Concluding the topic of Rosa Khutor and winters in general, I publish several photographs that were not included in previous editions. For the most part we were hanging out on Rose Plateau. One evening I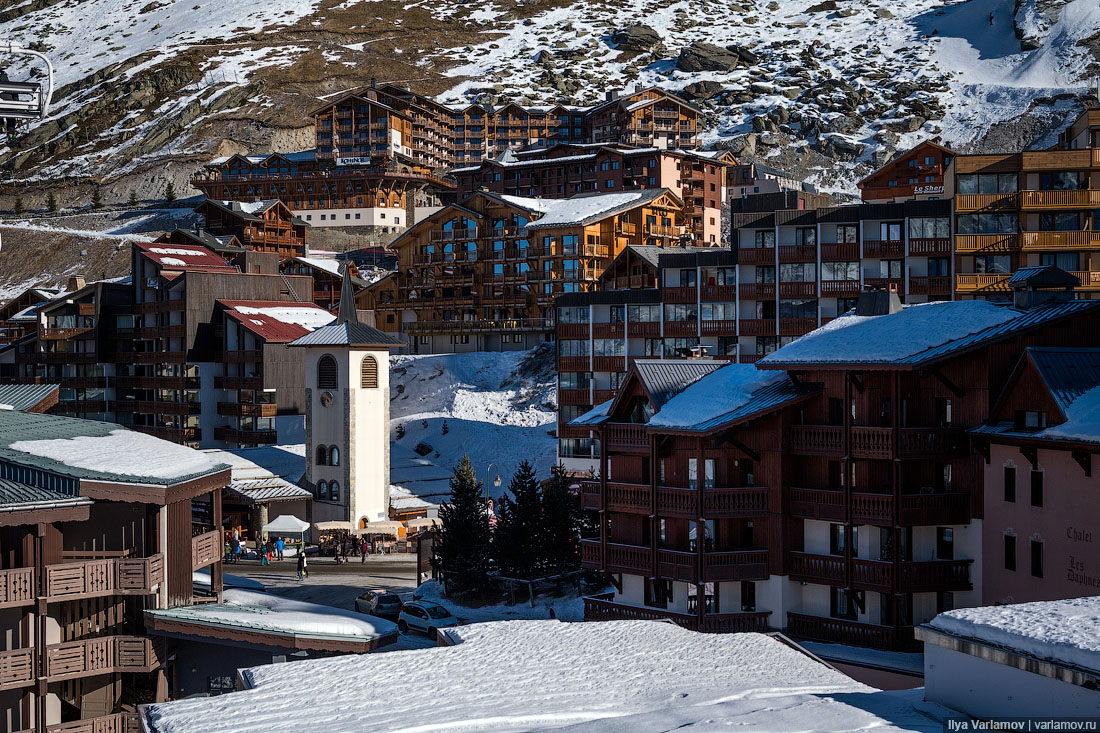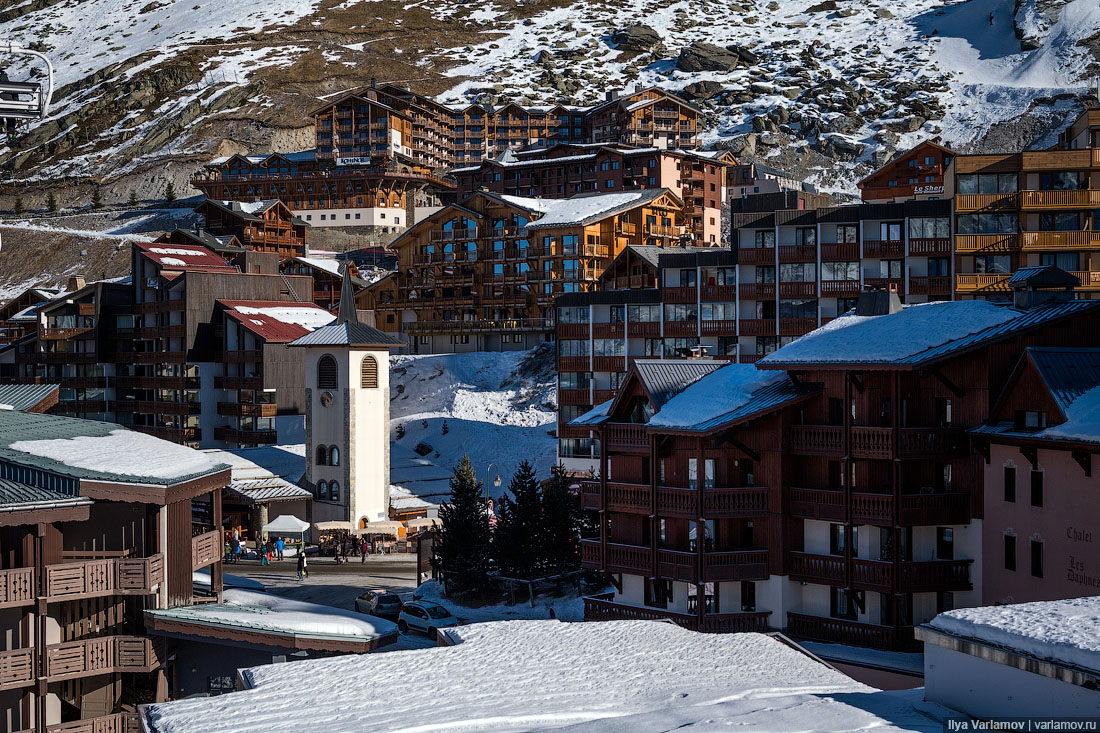 New Year holidays: the architecture of the ski resorts
Travel notes, day 3 Remember how they built the ski resorts in Sochi, "Rosa Khutor" and "Gorki Gorod".
Related news
See how beautiful the world is without football image, picture